Manenberg in dire need of more police
One of South Africa's most dangerous areas has far less police than it did a decade ago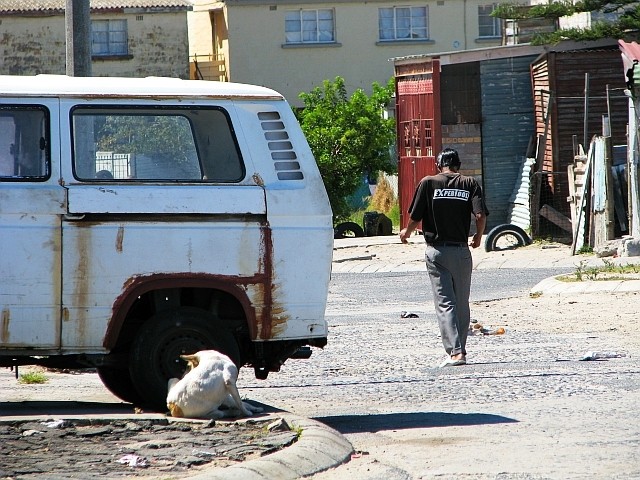 Manenberg is a community severely affected by violent crime and gang violence. The SAPS staffing policy of cutting essential personnel needs an urgent rethink. According to official statistics, the area accounted for 63 murders and 89 cases of rape in 2014/15.
With an estimated 56,301 residents living under the constant threat of gang violence and a rate of murders far higher than the national average of 33 per 100,000, it is one of South Africa's most dangerous places. A resident of Manenberg is roughly three times more likely to be murdered than anywhere else in South Africa.
If anything, these figures should have triggered massive inflows of resources to stabilise an area in desperate need of safety. Manenberg offers a glaring view on how South Africa is gradually losing the fight against crime, and how simple solutions are not implemented.
Falling police numbers
The police station in Manenberg has 50 less officers than it did six years ago. Visible policing and detective services are the hardest hit. The direct implication of this staffing policy is that there are not enough officers to patrol the streets – a fundamental part of any crime prevention strategy – and not enough detectives to solve crimes.
This station has 40 less visible policing officers (approximately 30% less) than what it did almost a decade ago, while the area grew in terms of population by an estimated 38% during the same period.
In the last six years, Manenberg station has also lost 13 detectives (more than a quarter of the total). This means that even though the 'norm' of dockets to detective is at an already high 40 dockets per detective, in Manenberg the detectives are dealing with over 170 dockets per person.
To be perfectly clear, the officers working at the Manenberg station are doing their level best, however they simply do not have enough man-power to make a significant and lasting impact on crime.
The constitutional nuance on policing policy is often lost. The SAPS is a national competency, which means Provincial and Municipal governments have no direct way to influence how police stations are run. While there are many factors that determine crime levels, like job opportunities and social support structures, the most fundamental remains conventional policing.
Any crime consists of three elements: motive; opportunity and a lack of capable guardians. Where policing is concerned, removing the opportunity for a crime to occur can be achieved through visible policing. Police presence and the presence of capable guardians will in most likelihood deter would-be offenders from committing an offence.
The motivation of would-be offenders to commit crime can be reduced through good conviction rates - the likelihood of being caught and punished for one's crimes directly impacts on an offenders' motivation and decision making when deciding whether to commit a crime. Good detective work which leads to convictions in court is essential.
Socio-economic conditions
As mentioned, crime rates are often also related to socio-economic factors, and while poverty, poor service delivery and unemployment are contributing factors, it is difficult to understand the high murder rate in comparison to similar areas in South Africa. The number of people living in informal housing and the annual household income in Manenberg is comparable to the national average. Service delivery, however, is better than the national average.
Access to water, electricity and flush toilets are 25%, 20% and 50% higher respectively than the national average. Although the socio-economic realities in Manenberg are far from perfect, with unemployment marginally higher than the national average, these numbers show that they cannot in any way explain why crime is so much worse than in the rest of the country.
The only explanation can be that a lack of policing resources has led to such high levels of violent crime. The SAPS clearly needs to turn the tide and work towards a well-resourced Manenberg police station. Unfortunately, the latest police budget tabled in Parliament for the next three years only provides for 20 additional posts nationwide. Take a second for that to sink in.
Manenberg is however not alone. Police stations like Nyanga and Khayelitsha have also faced large staff shortages in the past six years, and in response saw increases in violent crime. Many of the worst crime-affected communities have police stations that are critically under-resourced.
The Western Cape is one of the most under-resourced province with 85% of our stations being under-staffed. Under-resourcing has a negative impact on crime prevention and on the safety of citizens.
This is not about a DA run municipality versus the ANC national government, it is about prioritising the safety of our people. Crime prevention needs a holistic response, and part of this response is proper policing. There can be no doubt that Manenberg, and many places like it in the Western Cape, need a shot in the arm with more police officers and detectives.
© 2016 GroundUp.

This article is licensed under a Creative Commons Attribution-NoDerivatives 4.0 International License.
You may republish this article, so long as you credit the authors and GroundUp, and do not change the text. Please include a link back to the original article.