Man behind failed Soweto sports centre has fingers in several Lottery pies
R750,000 paid to Petrus Sedibe's private company two days after multi-million rand grant landed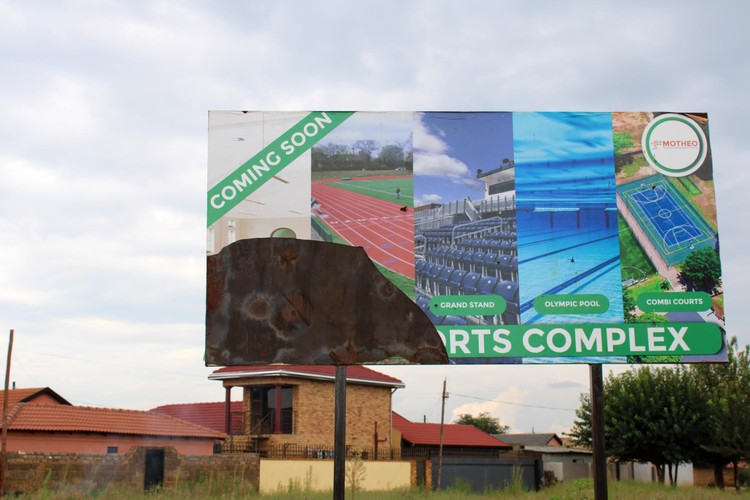 The National Lotteries Commission paid R6-million towards a sports facility that has never been built.
The money was paid to Motheo Sports and Entertainment Foundation even though permission had not been granted by the landowner for the land to be used.
R750,000 of this grant went to the private company of Petrus Sedibe, who is linked to at least eight NLC grants being investigated by the Special Investigating Unit (SIU).
The NLC has laid intimidation charges after staff who investigated the project were threatened.
Within days of the National Lotteries Commission (NLC) paying a non-profit R3-million of a multimillion-rand grant to build a sports facility in Soweto, money started pouring out of the organisation's bank account. Two payments totalling R750,000 were paid to a private company belonging to Petrus Sedibe, who played a key role in the failed project.
GroundUp previously reported how the NLC approved a grant of R9-million in 2021 for Motheo Sports and Entertainment Foundation to build a "sports complex" in Protea Glen, Soweto.
Two years later, the still undeveloped site is being used as a dumping ground. The Gauteng Department of Education (GDE) says Motheo was refused permission to develop the sports facility on the property as it is earmarked for a new school.
Two days after the NLC paid the R3-million into Motheo's account, the non-profit organisation (NPO) made two payments on the same day, one for R500,000 and another for R250,000, to PSKO, a private company of which Sedibe is the sole director, according to Companies and Intellectual Property Commission records.
Several purchases of goods, which appear to have nothing to do with the funded project, were also made using a Motheo FNB bank card. Cash withdrawals ranging from R1,000 to R5,000 were made at ATMs in the days that followed. On 11 June, Motheo paid R2,000 to Hi-Q, a tyre, exhaust and parts franchise. The next day there were purchases of R2,200 from S + K Legends, a clothing shop specialising in "limited edition premium sportswear, sneakers & apparel", and R752 was paid to dry-cleaning company Levinger.
A R100,000 cash withdrawal was also made at FNB Southgate Mall branch in Johannesburg.
Sedibe, a Soweto resident, identified himself either as Motheo's "chairperson" or as its "deputy secretary" in correspondence relating to the grant.
GroundUp has identified several other grants for non-profit organisations of which Sedibe is an office bearer or where he assisted with applications for NLC grant funding, totalling over R12.6-million.
NLC stops funding Motheo
Two tranches of R3-million of the R9-million grant were paid to Motheo by the NLC. The second was paid even though a site inspection would have shown that no work had been done.
But things changed at the NLC after a new board and Commissioner were appointed. Unlike the previous board and executives which obstructed Special Investigating Unit (SIU) investigations, their replacements cooperated.
SIU head Andy Mothibi told Parliament late last year that the unit was investigating dodgy grants worth over R1.4-billion.
Motheo's grant for the Soweto sports facility was flagged in a review by the new NLC team.
When an NLC monitoring and evaluation team conducted a site visit in January, it found an empty field and no sign that any of the work funded by the Lottery had begun.
The NLC stopped payment of the final R3-million tranche after its requests for Motheo to submit progress reports were ignored. Steps have also been instituted to recover the R6-million already paid out.
Intimidation
The NLC has confirmed that a complaint of intimidation was laid with police after two of its staff investigating the Motheo grant were threatened.
Sedibe initially spoke freely to GroundUp and admitted that he had assisted some organisations to apply for Lottery funding, but then he failed to answer detailed written questions emailed to him.
After receiving the questions, Sedibe demanded that GroundUp "prove" how it obtained its information, saying he would "then gladly respond" to our questions. He also demanded "proof that indeed you followed the right process to obtain information from NLC".
Sedibe accused one of GroundUp's reporters of being "racist" and having "no respect for black people", and threatened to "expose" him.
GroundUp subsequently received a letter from Sedibe's lawyers claiming that GroundUp reporters were "harassing" him. It said Sedibe was unable to "respond to matters which are under investigation by SIU. We kindly request you to wait for the outcome of the investigation so that you can obtain the side of the story of our client".
No permission to build
The NLC had paid millions to Motheo even though the NPO did not have permission to build the sports complex on the land.
Since GroundUp's initial report on the sports complex, it has come to light that the property is held by the Gauteng Department of Infrastructure Development (GDID).
The Gauteng Department of Education said it was approached by Motheo in 2022 for permission to build the facility.
Sedibe claims he had held several meetings with GDE and sent GroundUp a memorandum of understanding – a copy of a site usage and maintenance agreement which he said granted Motheo permission to build the sports facility. The document was signed by Sedibe in his capacity as "chairperson" of Motheo, but it was not signed by any education department representatives.
After GroundUp sent a copy of the document to the Gauteng education department, its spokesperson Steve Mabona said the department had informed Motheo in April 2023, two years after the NLC had already paid out R6-million, that the land was not available for the sports facility as there were plans to build a school on the property.
Mabona also said the agreement Sedibe had sent was not valid as it was only signed by one party, and furthermore that the department could not enter into agreements with third parties for the use of vacant land administered by the GDID.
According to the unsigned document, Motheo would construct a full FIFA-accredited artificial turf soccer field (40m x 80m), four combi courts, 15 toilets, four change rooms, four showers, an Olympic swimming pool, and a community hall.
R9-million was never going to be enough for such a grandiose project.
GroundUp has also seen a letter dated 27 May 2020 from then ward 135 Councillor Elliot Sithole granting Motheo "permission" to build the sports complex on the empty property. The two contact numbers listed on the letter both belong to Sedibe, according to Trucaller. The email address has been disabled.
Questions sent to Sithole via SMS about the letter as well as phone calls to him were not answered.
Initial grant rejected
Motheo originally applied in 2020 for R61.6-million to develop the sports complex but was only allocated R70,000.
Sedibe, calling himself Motheo's "deputy secretary", appealed this decision in September 2020 in an email addressed to NLC officials Marubini Ramatsekisa, who has been suspended pending a disciplinary inquiry, and Tsietsi Maselwa, who was acting as NLC COO at the time. (A luxury home in a gated estate in Pretoria owned by a trust controlled by Maselwa, who resigned in 2021, has been frozen by the Special Tribunal after it heard evidence that it was paid for with money from a Lottery grant.)
In the email, Sedibe said that Motheo could not accept the grant because "the amount allocated is just 0.1% of the requested amount". Accepting the grant would be tantamount to encouraging fraud because the amount allocated suggests that Motheo's proposal, in which the cost of the sports complex was set at about R61-million, had not been read by the NLC adjudicators, he wrote.
He said the budget for the project was developed in consultation with a construction team, an accountant and community members who would make use of the sports complex.
"Our Sports Complex will not be a white elephant and we have laid out in detail the expected usage of the facility by different sporting codes, clubs, young people, the elderly and the community as a whole," he wrote.
Following meetings, email correspondence and community protests, the NLC revised its allocation and approved a grant of R9-million for the project.
Nonhlanhla Matshazi, whose company assists non-profit organisations to set up projects and compile funding applications, said she worked with Motheo for three years on a consultancy basis as a project administrator.
"My role was to help put the organisation's vision into a project proposal and budget. This included a study to support the feasibility of the project, putting together a credible team for the costing and the possible implementation of the project, compiling relevant motivational and statutory documents provided by the client, as well as assisting with presentation and motivation for the project."
Matshazi said she was paid for her services and the "initial agreement was that I would continue to provide my services during the implementation of the project".
"However, once the first tranche [of R3-million] was received, I became concerned about how the funds were being managed. So I … resigned from the project," she said. "My resignation on 23 June 2021 was in writing and I have not spoken to Mr. Sedibe or anyone from Motheo Sports and Entertainment Foundation ever since.
"I have moved onto other work and clients and would prefer that I not be contacted any further on this matter."
Fingers in other Lottery pies
A GroundUp investigation has revealed that Sedibe is linked to several other organisations that have received lottery grants.
A source at the Special Investigating Unit (SIU), who asked not to be identified as they were not empowered to speak to the media, said the unit was investigating "at least eight grants" in which Sedibe was involved.
Department of Social Development (DSD) documents show that Motheo shares an NPO number with the Simphiwe Ukufika Day Care Centre. Sedibe's email address is also given as the contact email for the centre.
Another is the Kgatelopele Foundation which received R375,000 from the NLC charity sector in 2020/21. Sedibe told GroundUp: "We bought the company from its owners."
TS Sedibe Foundation
Lebo Odigeng, a freelance events producer, told GroundUp she assisted Sedibe to apply for NLC funding to stage charity events in the Eastern Cape and in Limpopo, and that she would be paid for her services.
"I helped him plan the events, and to fill out and submit the NLC forms. In September 2021, we went to the NLC offices in Polokwane to sign forms as the grant had been awarded," she said.
After they signed the forms, Odigeng said she would frequently check in with Sedibe to find out whether the money had been paid so that they could proceed with the funded events.
There were two grants to TS Sedibe Foundation: one for over R1-million in 2021/22 from the NLC charity sector, and a second for nearly R1.9-million in 2019/20 from the arts and culture sector, according to the NLC annual report.
Sedibe has denied that the foundation received the second payment. But the NLC says that both payments were made and that a progress report is outstanding for the most recent grant.
The foundation "offers food parcels to children from disadvantaged households in Soweto" according to a Payfast channel set up for donations. This is the only page on the foundation's website.
For "months" Sedibe would tell Odigeng that the money had not been paid out, she said. Last year, he "eventually" told her that the money had been paid out and the projects were implemented. Odigeng, who said she doubted whether the events actually happened, said she was not paid for her services.
"He called me saying we needed to submit reports to the NLC about the events but I was shocked because he told me the events had taken place without me, so I was not sure what he expected me to say in the reports," she said.
Zanendaba: The Institute of African Storytellers
Another non-profit organisation that Sedibe became affiliated with is Zanendaba: The Institute of African Storytellers. One of its founders is cultural activist and storyteller Gcina Mhlophe.
It received funding from the NLC almost annually between 2001 and 2013 for storytelling and literacy outreach projects in schools, according to NLC records, before Sedibe was involved.
It then did not receive further Lottery funding until Sedibe was elected as the chairperson of Zanendaba. The NPO then received an NLC grant of R388,000 in 2018/19.
Although official DSD records list him as "chairperson" of the NPO, Sedibe says he was "just helping in terms of the submission of the grant."
In 2020, Zanendaba filed a notification of non-compliance with the Department of Social Development, stating that it did not have funds and its bank account status was inactive.
Isambane Arts Production
Isambane Arts Production received R508,000 in 2020/21 and R1.4-million in 2017/18, both awarded by the NLC Arts and Culture sector. Sedibe was definitely involved in the second grant, but Groundup was unable to confirm if he was also involved in the first.
Again, Sedibe says he was "just helping" with the submission of the grant. He is not listed with DSD as an office bearer of the NPO.
An Isambane Arts Production officer bearer, who asked not to be identified, said Sedibe was not a member of the NPO, but was introduced as someone who could assist NPOs with funding applications and submissions. They said Sedibe was paid for his services.
© 2023 GroundUp. This article is licensed under a Creative Commons Attribution-NoDerivatives 4.0 International License.
You may republish this article, so long as you credit the authors and GroundUp, and do not change the text. Please include a link back to the original article.
We put an invisible pixel in the article so that we can count traffic to republishers. All analytics tools are solely on our servers. We do not give our logs to any third party. Logs are deleted after two weeks. We do not use any IP address identifying information except to count regional traffic. We are solely interested in counting hits, not tracking users. If you republish, please do not delete the invisible pixel.