Love and marriage in the midst of hateful xenophobia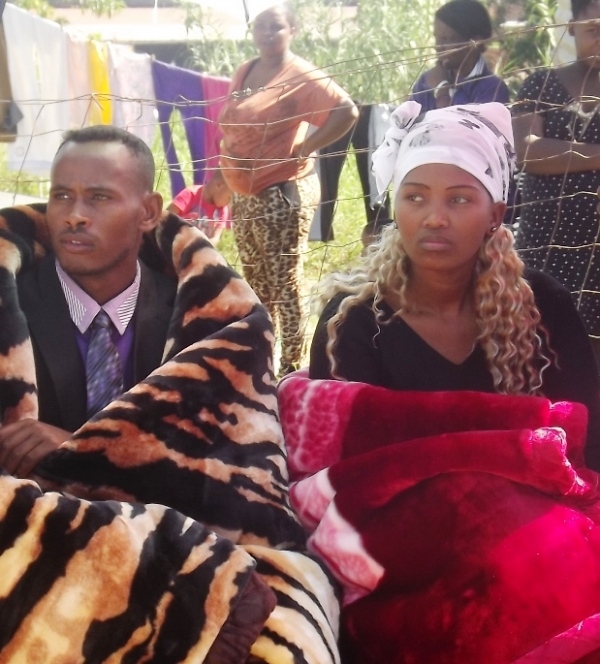 Not even a series of xenophobic attacks in the city of Pietermaritzburg could stop the preparations for an Ethiopian man and South African woman to tie the knot. 27-year-old Thandeka Mkhwanazi and Mali Wondawock, 26, hosted neighbours and residents at their home in Cinderella Park at their Umembeso ceremony on Saturday.
Umembeso is a traditional Zulu ceremony, where both the bride and the groom's family exchange gifts as a sign of welcoming one another, usually performed prior to the white wedding ceremony.
Despite the robbery of an Ethiopian shop owner on the day, the Umembeso went ahead. Mkhwanazi and Wondawock met four years ago at Cinderella Park, where Wondawock has two businesses.
Mkhwanazi said, "I didn't care about his nationality … I started having butterflies when he was around and as a woman I knew that those were the signs of being in love.
"Giving birth to our daughter Ganita in 2013 created a bond that made our love concrete. Women have the strongest instincts and with what I was feeling it became obvious that what we were sharing was something that was legitimate."
Regarding the xenophobic attacks in the city of Pietermaritzburg, she said, "My husband is not going anywhere, we have a family here and he can't leave his family. We have a two-year-old daughter and that means South Africa is his home now. He is not going back to Ethiopia just because there are selfish people who attack people of their own skin color.
"Not even xenophobic attacks will stand in our way. We love each other. I will stand by my husband through thick and thin and I'm going to marry him. People will be watching as they were watching today. Our love is stronger and it can conquer anything. I vow that nothing will separate us," said Mkhwanazi.
Wondawock was accompanied by his brothers, who battled a bit to perform the Zulu dance.
He said, "Something about the Zulu culture caught my eye. I came to South Africa in 2009, a year after there had been xenophobic attacks in Gauteng. I had my own fears, but with the love and hunger for a better life, I remained positive.
"I met my wife and she became a pillar of strength. I am fully aware of the xenophobic attacks that have spread to the Pietermaritzburg city. I am not scared. I'm now a family man and I have to be with my family and take care of them, no matter what.
"I have learned isiZulu; I understand IsiZulu better than English. My wife is also my teacher and there is a lot that I have adopted so far. I see myself as one of the South Africans," he said
His wife said, "He won me with his good heart and he is a human being like any other South African. God blessed me with a husband and a caring father to my daughter and a good son-in-law to my family. They accepted him from the beginning; not even once they treated him as a foreigner."
Mother of the bride, Mumsie Mkhwanazi, said she is happy to see people ululating and dancing. "What we are seeing on television and hearing on radio stations is a shame. This is devil's work; he is trying to divide people who have the same blood and the same skin color. We have heard reports that the attacks are crawling in to our peaceful area. We won't allow that in this area; we will stand together and fight against such activities. I wish that all people come together and fight against these xenophobic attacks … It is unacceptable and the elderly must act against this wrong doing."

Mali Wondawock at his wedding. Picture by Ntombi Mbomvu.
Community Policing Forum member Charles Dlamini said Cinderella Park will set an example. "As the community, we have agreed that we will do anything possible to avoid the attacks from spreading to this ward. We have been living with foreign nationals for years and they have never caused any problems for us. We sit with them and have conversations about culture and other things. There was one incident that just occurred and we responded to it by calling the police. One boy from the area tried to rob an Ethiopian owner of a shop. He was unfortunate that there were community members watching. They stopped him and immediately called the police and he was arrested."
Dodgy people are suing us. Please support us by contributing to our legal costs and helping us to publish news that matters.
© 2016 GroundUp.
This article is licensed under a
Creative Commons Attribution-NoDerivatives 4.0 International License
.