Sundays River business owners demand more state contracts
Hundreds march upon municipal offices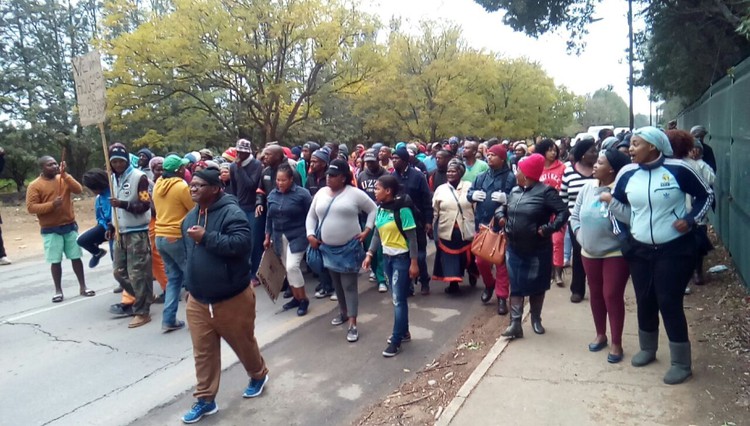 Nearly 300 entrepreneurs from the Sundays River Valley Municipality in the Eastern Cape marched to municipal offices on Wednesday to demand that more state contracts be given to local businesses.
The group, led by the Sundays River Valley Business Forum (SRVBF) — which is an amalgamation of various business owners operating in Kirkwood, Addo and Paterson — say the municipality has sidelined them and awarded "lucrative" business contracts to companies outside the region. They are demanding that this practice be stopped. The municipality has denied the claims by the protesters.
The business owners who were joined by residents, filled the streets of Kirkwood as they marched to the mayor's office on Wednesday. Mayor Nombulelo Hawu accepted their petition and promised to respond to the group in 14 days.
Cloud Jovuka, chairperson of the SRVBF, said that the municipality was discriminating against emerging black business owners. "We are not happy with the way the local municipality is treating business people, especially the black people. We expect to benefit from the municipality's procurement and tender processes. It is baffling that we are always left out of the process," he said.
"How can we contribute towards job creation in this area when we are not being given projects to do? We always find that municipal jobs have been awarded to companies that do not belong to the Sundays River area," he said.
Jovuka said the forum met regularly with its members to discuss their concerns. "The government's law stipulates that a 30% portion of a contracts should be reserved for local and emerging businesses. The municipality is not doing this."
Sundays River Valley Municipality spokesperson Vuyiseka Mboxela denied the allegations.
"We are guided by the Constitution and the National Treasury regulations on Preferential Procurement. We adhere to quality and redressing the imbalances of the past," she said.
Mboxela said the Sundays River Valley Municipality population was 70% black, 25% coloured, and 5% white. "It would be very impossible not to take into consideration the economic inequalities," she said. She said that a number of construction projects underway in the municipality were being done by local companies. "Local emerging business people are involved in upgrading roads in Nomathamsanqa, Moses Mabhida and Paterson townships.They are also involved in the upgrading of the Msangeni tax loop and the Zuurberg projects," she said.
Dodgy people are suing us. Please support us by contributing to our legal costs and helping us to publish news that matters.
© 2017 GroundUp.

This article is licensed under a Creative Commons Attribution-NoDerivatives 4.0 International License.
You may republish this article, so long as you credit the authors and GroundUp, and do not change the text. Please include a link back to the original article.