Education department shuts down unregistered rural school. But parents say they cannot afford to send their children elsewhere
Volunteers did the teaching and the principal paid for the building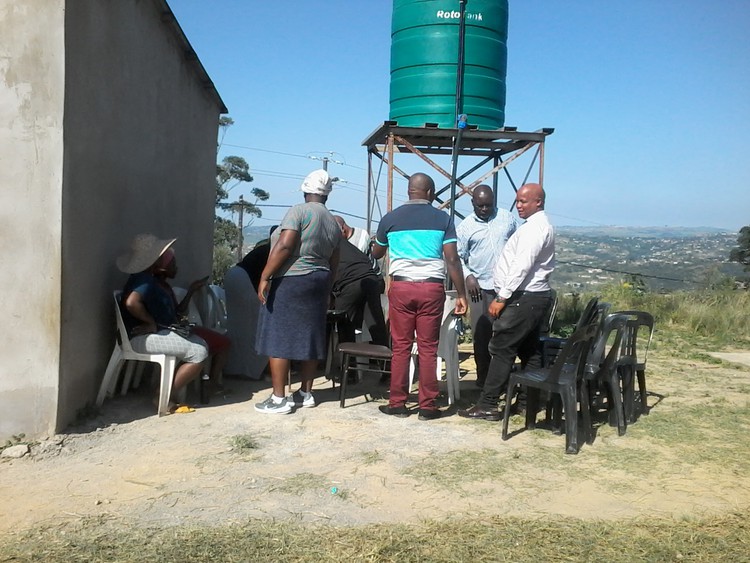 The KZN education department has shut down a rural school in Ndwedwe north of Durban after it was discovered to be operating unlawfully.
Learners are expected to be transferred to other schools in surrounding areas this week but parents say they cannot afford transport fees.
The nearest primary school is nearly 4km away.
A parent says she is scared to send her children, aged 6 and 8, to walk alone on a pathway where they will have to cross a river and go through "crime ridden areas".
---
Learners from Inkosi Sipho Primary in Ndwedwe, north of Durban will be placed in other schools nearest to their homes this week after it was discovered to be operating unlawfully.

This follows a visit to the school by the KwaZulu Natal Department of Education iLembe District director on Wednesday.
When GroundUp visited the school earlier this month, several learners were doing classwork at desks outside. The school, which is not registered with the department, consists of two classrooms that look weathered and do not have windows or doors. Parents said the school was started in 2016 out of necessity because most of them could not afford transport to send their children to other schools.
Volunteers did the teaching and the principal personally paid for the two classrooms.
In a report sent to the MEC for Education, Kwazi Mshengu, the district director recommended that the preschool continue operating on the premises but that classes for grades 1 to 7 learners be stopped "with immediate effect".
Department officials also discovered that the school was operating at two sites, in Pinetown (ward 60) and in iLembe district (ward 14).
According to the report, the closest schools to Inkosi Sipho Primary are Oakford Primary which is 3.5 kilometres away, Ezindlovini Primary is 4.4 km away, and a school in Ndodeni which is 5.8 km away. But parents and community members were adamant that the distances were too far for the young learners to walk.
The district director in the report claims that he had no prior knowledge of the school, but parents say they spoke to him on several occasions about issues at the school.
Ndwedwe circuit manager Thandeka Simamane on Friday met parents and informed them of the decision to close the school. Several issues were raised during the meeting which centred on the fact that most of the parents are unemployed and cannot afford transport. This means that the young children will have to walk long distances alone which might not be safe.
Simamane promised to facilitate the transfer of the learners to the other schools.
Parents then insisted that the department also provide transport by 16 April.
Bongiwe Dube's two children aged 6 and 8 attend Inkosi Sipho. Commenting on the closure, she said, "It is so painful but another person would not understand how we feel. We are scared for our children to walk long distances. They have to cross rivers and the area is riddled with crime. Children are being raped, it is a big risk. I don't want to lie and say I am happy, I am really hurt by this decision."
Dube said transport is R250 per child every month. "I cannot afford this as I survive on child support grants for my three children."
More meetings are expected this week between the department and parents.
© 2021 GroundUp. This article is licensed under a Creative Commons Attribution-NoDerivatives 4.0 International License.
You may republish this article, so long as you credit the authors and GroundUp, and do not change the text. Please include a link back to the original article.
We put an invisible pixel in the article so that we can count traffic to republishers. All analytics tools are solely on our servers. We do not give our logs to any third party. Logs are deleted after two weeks. We do not use any IP address identifying information except to count regional traffic. We are solely interested in counting hits, not tracking users. If you republish, please do not delete the invisible pixel.