Khayelitsha students sent home for not paying voluntary fee
|
Mary-Anne Gontsana
News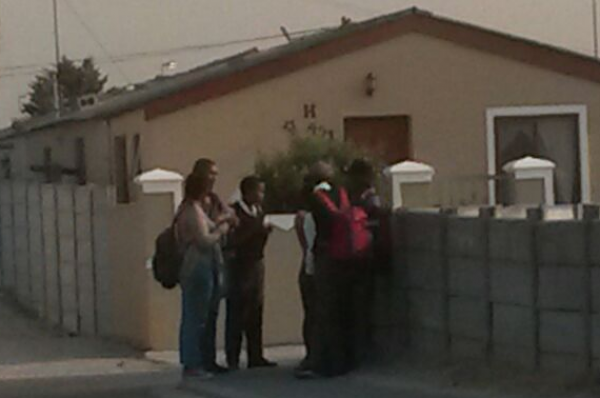 Dozens of Grade 12 students were sent home on Tuesday from Qhayiya Secondary School in Khayelitsha because they were unable to pay a "voluntary fee" to the school.
The students were told by the school's principal to leave the class and school and to go home and fetch their parents, or to bring R200 as a contribution to the school. Qhayiya Secondary is a no-fees school.
A Grade 12 learner at the school, whose name GroundUp has decided to withhold, said during fourth period on Tuesday at around 11am, the principal came to his class and called out a list of names.
"We are 46 learners in our classroom and after she called out the names, only 14 learners were left in the classroom. She told us to go home because we had not paid the R200 contribution fee which she said was compulsory. Today (Wednesday) the same thing happened, but it was less learners because some of them had managed to bring half of the fee (R100)."
He said the students had only been allowed back into class after Equal Education (EE) organisers intervened. But some students had not returned.
The student said he had missed classes in three subjects.
EE's Nishal Robb said organisers had been to the school on Wednesday to talk to the principal. "The principal came out only to shout at the learners who were speaking with us, and refused to speak to us at all."
She said EE had tried to reach the Western Cape Education Department's circuit manager responsible for Qhayiya but without success.
"These learners are approaching exams and need to be in class," said Robb.
When GroundUp contacted the principal, her secretary said she was in meetings all day and would only be available tomorrow. Her response will be added when it is received.
Jessica Shelver, spokesperson for education MEC Debbie Schafer, said she had not been aware of the incident but would contact the district officer responsible for Qhayiya.
Dodgy people are suing us. Please support us by contributing to our legal costs and helping us to publish news that matters.
© 2016 GroundUp.
This article is licensed under a
Creative Commons Attribution-NoDerivatives 4.0 International License
.