Khayelitsha child care principals ask for fee increase
40 principals dressed in black protested outside the Department of Social Development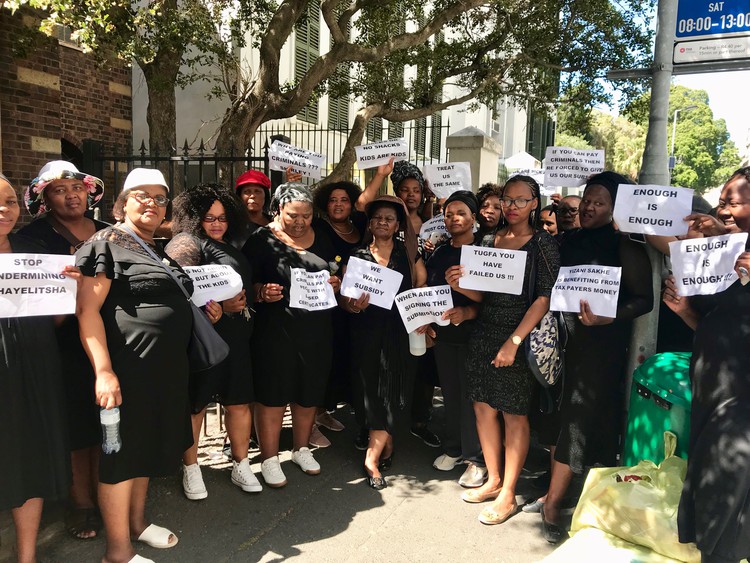 On Friday morning, about 40 principals of educare centres in Khayelitsha, all women, all dressed in black, protested outside the Department of Social Development (DSC) of the Western Cape in Queen Victoria Street.
"We are dressed in black because we're mourning the children's suffering," said one of the protestors.
The principals want better pay and an improved system of allocating funds to fee-free child care centres.
The principals say they get paid R15 per child per day, which is too little. Their memorandum requested R25 per child per day.
"Some of us are not being paid at all," said Tobeka Ratya, a principal from Daisy Educare Centre. "Some didn't get money for almost a year."
The principals also want the department to notify them before making financial decisions on behalf of the centres.
Ratya said the ministry expected teachers to be responsible for the safety of the school buildings, which are often informal structures. "We are all living in shacks, but the department is saying our children cannot live in shacks."
The principals spoke to Head of DSC Robert Macdonald, who asked for a list of all of the educentres affected by mismanagement.
Macdonald told GroundUp: "There's a lot of things we can do to improve the situation." He said communication with the centres needed to improve.
Once the principals give the department a list of educare centres that have stopped receiving funding, Macdonald said the department will investigate.
He said that if the department were to increase the principals' wages to R25 per child, it would cost the department an extra R200 million, 10% of its R2-billion budget.
"Our department oversees 1,100 educare centres. They're battling with a high capacity. We are in the process of getting more staff to manage all of these contracts. They're very thinly stretched, unfortunately," said Macdonald.
He said more staff are required to address the Khayelitsha principals' legitimate concerns.
"It's not about us, it's about the kids," said Pearl Lubisi who participated in the protest. "They must eat."