Informal couriers beat Zimbabwe import ban
"Malaicha" explain that prices include cost of bribes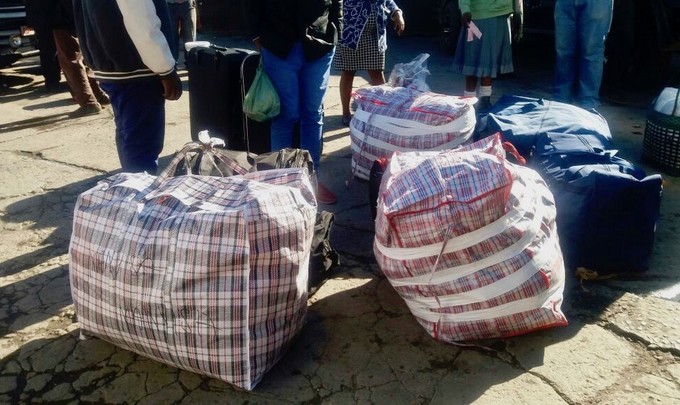 Zimbabweans working and living in South Africa are getting around the ban on imports of some goods into Zimbabwe by using the informal "malaicha" delivery services.
Malaicha are Zimbabweans offering unregistered courier services from South Africa to Zimbabwe.
Zimbabweans interviewed say the service is expensive yet convenient. But, says a malaicha courier, the costs are reasonable because they have to cover bribes to police and immigration officials.
"My costs may seem unrealistic but the expenses I incur are high. I have to pay toll fees, fuel and bribes all the way. At times I end up using my own money. But customers never believe me," says the courier, who did not want to be named.
Domestic worker Noma Gombedza, who has used this service twice this year, says, "I send my stuff by malaicha because it is convenient for me. Malaicha come straight to my doorstep, collect all the goods I want to send home, and deliver to the doorstep."
Gombedza, 48, says she bought groceries worth R1,200 in August and paid malaicha services R600 for delivery from Cape Town to Masvingo, in south-eastern Zimbabwe.
She says the price depends on bargaining. "Most of the time malaicha win, because they propose very high charges before negotiations. In my case for these groceries they had asked R800," she says.
Since earlier this year, Zimbabwean law restricts the import of some goods, including blankets.
According to Gombedza the malaicha couriers charge R300 to deliver a blanket that costs R600.
"I sometime gave bus drivers my groceries, but it inconvenienced my children [back in Zimbabwe]. Bus drivers often do not honour their promises … At times, my children had to spend the whole night awake at the bus stop waiting for the goods."
Another Zimbabwean, who wished to remain anonymous, says she will never use malaicha services again, because a secondhand table and set of chairs that she had struggled to buy and then send by malaicha services were all broken by the time they reached Zimbabwe, and she was not refunded.
The furniture cost R1,500 and the courier service cost R1,000 from Cape Town to Harare.
"Because of the border restrictions on imports, if I am to send groceries or any other stuff home, I prefer using malaicha, because I am sure the goods will not be confiscated at the border," says another domestic worker. "Malaicha guys negotiate with immigration and police officers."
© 2016 GroundUp.

This article is licensed under a Creative Commons Attribution-NoDerivatives 4.0 International License.
You may republish this article, so long as you credit the authors and GroundUp, and do not change the text. Please include a link back to the original article.