Residents stop IEC registering voters in Philippi
Community leaders say elections make no difference to their terrible living conditions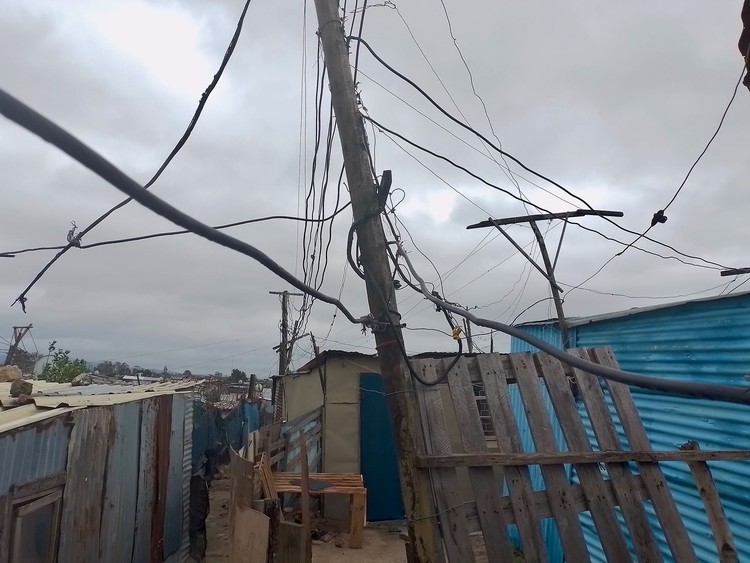 Aggrieved residents of Marikana informal settlement in Philippi East, Cape Town, chased away Independent Electoral Commission (IEC) officials who came to register voters this past weekend.
Residents told GroundUp they have given up on the electoral process.
An IEC station had been set up to enable tens of thousands of shack dwellers to register as voters for the upcoming general elections.
Resident Aphiwe Bilatye told GroundUp there was chaos at the registration station minutes after the IEC set up their systems, when members of the community came to chase them away.
"The officials walked out of the station, of course scared for their lives, because they were intimidated, but the community leaders protected them," said Bilatye.
"Politicians have failed us dismally," he said.
Community leader Lihlumelo Apleni told GroundUp they will not allow the IEC to operate in Marikana until their living conditions improve. He said it was the "first step of many to come, to show that we are fed up with being bullied".
"We have been staying here for almost a decade but still we don't have the simplest basic services, one being electricity."
Some residents told GroundUp they had wanted to register. They asked not to be named for fear of intimidation.
"Yes, the decision was taken in a community meeting weeks before this weekend. But not everyone is happy about that decision, because to change the current government one must vote them out. But if we don't register and we don't vote we can't change the status quo," said one.
"It is a little bit foolish not to take part in elections but at the same time want to see change," said another.
In 2015, Marikana had over 60,000 residents and 12,000 households. Community members estimate there are now over 100,000 residents.
Basic services such as water, sanitation and refuse removal are very limited. Illegal electricity connections are common. The settlement is prone to flooding and shack fires.
Residents have for years demanded that the City of Cape Town buy the privately owned land so that it can install services, and in 2017 – in a landmark decision – the court ruled in their favour. But years later they still sit without basic services.
IEC comments
Michael Hendrickse, IEC provincial electoral office, said, "In the interest of the safety of the staff, the owners of our venues and the community members, the decision was taken not to open."
"Other voting stations in ward 35 were operating," he said.
"It is not acceptable that members of the community cannot make use of the opportunities provided by the IEC to participate in our democratic processes".
"We call on members of the community to always allow the IEC to operate across the province while they resolve their concerns with the relevant role players," said Hendrickse.
He said there was still an opportunity for people eligible to vote to utilise the online registration facilities.
© 2023 GroundUp. This article is licensed under a Creative Commons Attribution-NoDerivatives 4.0 International License.
You may republish this article, so long as you credit the authors and GroundUp, and do not change the text. Please include a link back to the original article.
We put an invisible pixel in the article so that we can count traffic to republishers. All analytics tools are solely on our servers. We do not give our logs to any third party. Logs are deleted after two weeks. We do not use any IP address identifying information except to count regional traffic. We are solely interested in counting hits, not tracking users. If you republish, please do not delete the invisible pixel.