"I was fearing for my life" officer tells court during homeless murder trial
Her colleague is on trial after Dumisani Joxo was shot and killed in 2022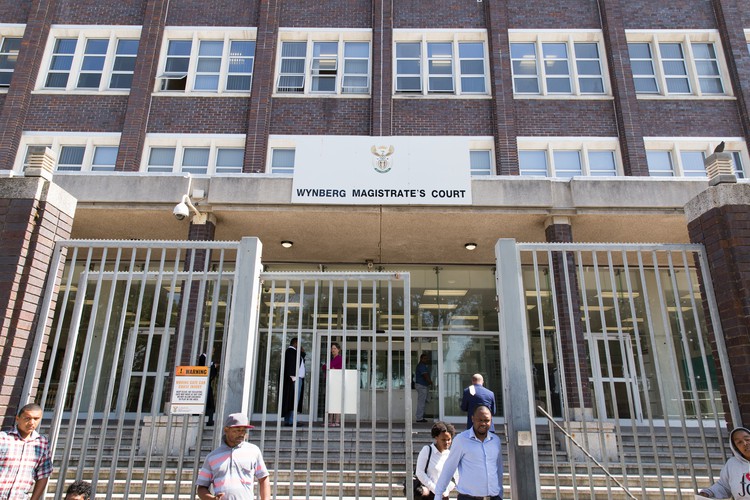 The murder trial of a Cape Town law enforcement officer is expected to continue at the Wynberg Regional Court on Wednesday.
The officer, Luvolwethu Kati, shot and killed Dumisani Joxo, who was homeless, in Rondebosch in January 2022.
On Monday, Unathi Govuza, who was Kati's colleague on the day of the incident, testified in court that she had feared for her life.
She said they had been threatened by Joxo and another homeless man.
A Cape Town law enforcement officer has told the court that she was "fearing for her life" during an altercation which resulted in the death of a homeless man last year.
Unathi Govuza was testifying in the murder trial of her colleague, law enforcement officer Luvolwethu Kati, who shot and killed Dumisani Joxo, who was homeless, in Rondebosch in January 2022.
Govuza was partnered with Kati on the day Joxo was shot.
During testimony at the Wynberg Regional Court on Monday, she described the chaotic scene on the day of the incident. She and Kati were on patrol duty when they received a call that there was an open fire near Chester Road.
Upon arrival, "We approached the fire and [Kati] shouted, 'Brother you are not allowed to make a fire here. Put your fire out'. The guy who answered (Linda Mbuqe) did so in a very nasty way and said 'I'm busy cooking here'," said Govuza.
She said her colleague had asked Mbuqe again to extinguish his fire, but he "was swearing saying 'I'm not going to put out this fire. What are you going to do about it?'"
She said when Mbuqe refused to extinguish the fire, on which porridge was cooking in a pot, Kati pushed aside one of the stones around the fire. This angered Mbuqe who then approached them with a pickaxe.
"Kati asked him not to come closer, but he proceeded to come forward. Kati then took out his firearm and pointed it to the ground to show him that he also had something to deter him from coming closer," Govuza said.
When she saw that "things were getting heated", she stood between Mbuqe and Kati, and had to hold Mbuqe back, Govuza said.
Prosecutor Ebrahim Arend asked what Mbuqe was doing that she saw the need to hold him back. "He was pointing at [Kati] with the pickaxe and intended to assault him with it," Govuza responded.
While she was holding Mbuqe back and trying to calm him down, Kati started retreating, she said. "Another male [Joxo] then came out from the shelter, approaching Kati. His left hand was behind his back," Govuza said.
Govuza told the court that Mbuqe screamed at Joxo, indicating that they should take Kati's gun from him. She said Joxo then started walking towards Kati.
Govuza said Mbuqe then broke free from her grip, and ran to Joxo. Kati kept moving backwards and "raised his voice saying 'don't approach me' so that both of them could hear him", Govuza said.
Mbuqe and Joxo then "cornered Kati" and Mbuqe told him, "You are not going to leave here today with that gun," Govuza told the court.
"I slowly approached Kati…That's when I heard the gunshot." She said Mbuqe then dropped the pickaxe and fled.
During cross-examination, Kati's lawyer John Riley asked Govuza about Kati's demeanour when he arrived. Govuza said he "very calmly" told Mbuqe that he "wasn't looking to start a fight".
Riley asked her whether Kati had kicked the porridge pot over as previous witnesses had testified. Govuza said "no". "The pot only lost its balance a little, but it did not fall over".
"What did you think would happen if they got the gun?" Riley asked Govuza. "I was fearing for my life and that of Kati. They wanted to assault him and take his firearm and there was nothing I could do. I was in shock," she said.
The matter is expected to proceed on Wednesday.
© 2023 GroundUp. This article is licensed under a Creative Commons Attribution-NoDerivatives 4.0 International License.
You may republish this article, so long as you credit the authors and GroundUp, and do not change the text. Please include a link back to the original article.
We put an invisible pixel in the article so that we can count traffic to republishers. All analytics tools are solely on our servers. We do not give our logs to any third party. Logs are deleted after two weeks. We do not use any IP address identifying information except to count regional traffic. We are solely interested in counting hits, not tracking users. If you republish, please do not delete the invisible pixel.