Hunters FC player's big dreams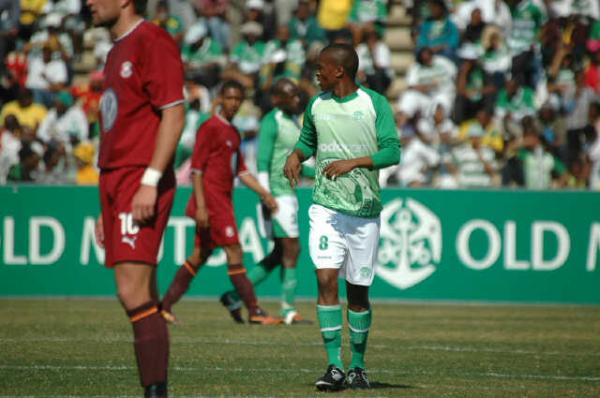 GroundUp spoke to Hunters FC striker Ipeleng Seepamore about how he keeps his mind and body in form to play.
GroundUp: What is your training schedule like? Do you practice every day?
Seepamore: I normally train five days a week, that's if the game is over the weekend.
GroundUp: Who is the sports icons that has influenced you the most?
Seepamore: Kagisho Dikgacoi who's currently playing for Crystal Palace in London and also for our National Team - Bafana Bafana .
GroundUp: Do you have a favourite professional soccer team?
Seepamore: I have two teams that I follow each and every day and that has to be Orlando Pirates and FC Barcelona.
GroundUp: Do you practice a certain diet while you are training and during the soccer season?
Seepamore: I have my own diet that I use. Most athletes will tell you that its very important to look after your body so it can look after you.
GroundUp: With so many amazing goals and victories, what has been your proudest moment on the field?
Seepamore: I can mention few moments that have been part of my life during my soccer career. First is representing my country (SAU20) and second is making my debut in the PSL.
GroundUp: Do you have a special routine or any superstitions before you play a big game?
Seepamore: I believe in God, so prayer and I play some Hillsong before the game. That always plays an important role in how I perform.
GroundUp: How did you start playing soccer?
Seepamore: I was introduced to soccer in the early days when I was still in primary school, but I fell in love with the game because my father was a footballer as well. So I wanted to be like him, follow his footsteps and even go one step further.
GroundUp: What Division do you play in?
Seepamore: I'm currently playing in the SAFA Second Division, but I also played for Bloem Celtic and Vasco Da Gama.
GroundUp: Do you have any advice for GroundUp readers who wish to play professional soccer?
Seepamore: All I can say is they must just follow their heart, believe in their ability, work hard and stay focused on positive things in their environment. They must have goals and ambitions, dream big and stay positive and most importantly they should have faith and invite God into every little things they do.
What is the Vodacom League
The SAFA Second Division, known as the Vodacom League between 1998-2012, was founded in 1998 as the current Second Division and the overall third tier of South African Football. The competition is regulated by SAFA, and until 2012 was been sponsored by Vodacom. There are 144 teams divided into 9 provincial divisions. Each provincial division contain 16 teams. The winner of each provincial division qualifies for the annual Promotional Play-offs where the winners of two streams get promoted to the National First Division. In each Province, the two lowest ranked teams by the end of the season, will be relegated to the U21 SAB Regional League, which in return will promote two play-off winners from the Regional Championships. Source: Wikipedia.
© 2016 GroundUp.
This article is licensed under a
Creative Commons Attribution-NoDerivatives 4.0 International License
.