Hundreds of protesters close Limpopo roads
Villagers want Musina-Thohoyandou road tarred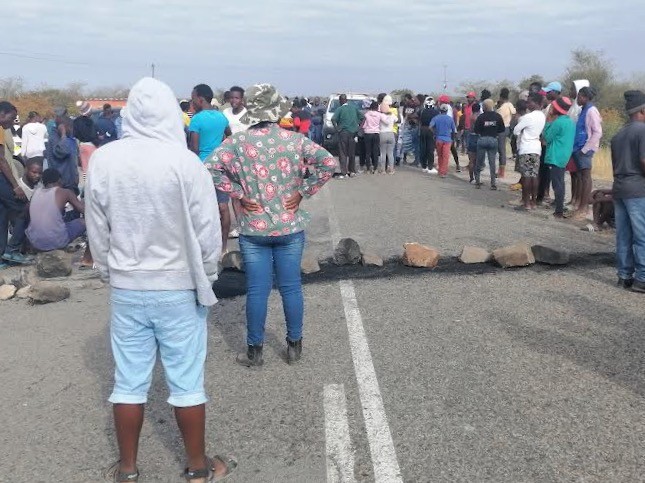 Hundreds of protesters from four Limpopo villages closed two main roads on Tuesday demanding that the road from Musina to Thohoyandou be tarred.
The protesters, from Tshikhudini, Folovhodwe, Tanda and Tshisimani villages, closed the R525 connecting Musina to Masisi and the D3675 connecting Musina to Thohoyandou. They want the provincial Department of Public Works, Roads and Infrastructure (DPWI) to tar the D3675.
They used stones and burning tyres. Police put out the fire and the roads were opened around midday.
"No-one seems to be willing to take responsibility for this road," said Joseph Manyuha, one of the organisers of the march. "We visited our local municipality several times but were referred to the Limpopo DPWI. DPWI would refer us to the Road Agency Limpopo."
Manyuha told Groundup that farmers lost business because the road was impassable on rainy days. South of the villages are two primary schools, a secondary school and a clinic. On rainy days learners do not attend school, a grade 10 learner at Dzimauli secondary school in Tshikhudini village said. Anyone who is sick has to travel 70 km to Musina hospital.
"This time we are not going anywhere until we hand over our memorandum to the MEC," said Manyuha.
Protesters had gathered at the intersection of R525 and D3675 by 4am. Spaza shops and schools were closed. Workers who usually travel to Musina,Thohoyandou or Masisi could not report to work as no vehicles were allowed through by the protesters except army and lawyers' vehicles.
One of the farmers who identified himself only as Jonasi told Groundup that on rainy days buyers' trucks cannot reach the farms. "We get customers from as far as Johannesburg but they get stuck here. At times we have to throw away rotten tomatoes. We are demanding the department tar this road," said Jonasi.
"I cannot blame the protesters, but today I will not be able to make the usual four trips from Nwanedi farms to Musina," said Moses Ngwena, driver of a truck loaded with tomatoes for Musina. Ngwena had been stuck for two hours.
Manyuha read out the memorandum and handed it to Koti Donald Rankwe, manager of Infrastructure in the DPWI.
Later the DPWI delegation inspected the stretch of road that the community wants tarred.
Witness Tiva, spokesperson for the provincial DPWI, told GroundUp the department would respond within seven days.
© 2023 GroundUp. This article is licensed under a Creative Commons Attribution-NoDerivatives 4.0 International License.
You may republish this article, so long as you credit the authors and GroundUp, and do not change the text. Please include a link back to the original article.
We put an invisible pixel in the article so that we can count traffic to republishers. All analytics tools are solely on our servers. We do not give our logs to any third party. Logs are deleted after two weeks. We do not use any IP address identifying information except to count regional traffic. We are solely interested in counting hits, not tracking users. If you republish, please do not delete the invisible pixel.