Hundreds of extended public works employees picket in city centre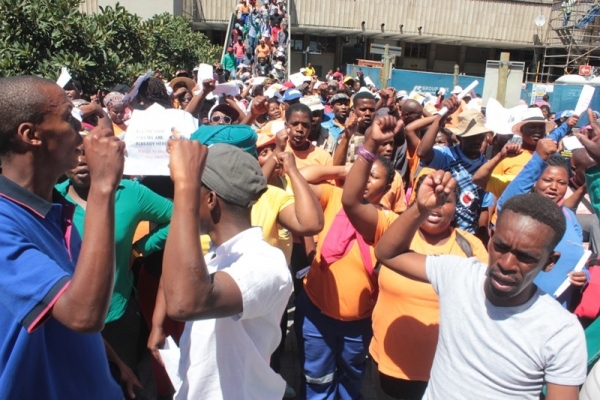 Extended Public Works Programme (EPWP) employees came in their hundreds to picket outside the City of Cape Town offices in the Civic Centre on Thursday. They were demanding permanent employment. Protesters went to several entrances to the building while waiting for their representatives who were meeting with the City officials.
Nangamso Ndlazi said she has been a casual worker for EPWP for three years. Ndlazi came from Du Noon to protest because she wants a permanent job with benefits. She said EPWP does not offer them any benefits even though they are doing the same job as municipal staff. Ndlanzi said, "We are here to tell [Helen] Zille that R8 for an hour is not enough, we also have families to feed, we have children and dependents [to support] on this small amount that they pay us."
She said that she understands that Zille is not the mayor, but she hopes the message will reach her since she has power as premier of the province.
Thamsanqa Khuthu was among the organisers of the protest. He said he has been working for the City through EPWP for the past 13 years. Khuthu said, "The function of EPWP was to train us and then move us from being casuals to permanent employment. But this has not happened."
Some members of South African Municipality Workers Union joined the protest in solidarity with the EPWP workers. SAMWU's Deputy Regional Secretary Mpolokeng Lesiea said they understood the workers' plight.
Lesiea said, "They organised themselves; we are just here to give them support and we are fully behind the idea of decent jobs."
She said the majority of the City's solid waste staff came from EPWP, because they were cheap labour.
SAMWU shop steward Xolani Diniso told the protesters, "We are here not to beg but demand what is rightfully ours." He said the municipality should first give jobs to EPWP workers before advertising vacancies.
In response, Councillor Xanthea Limberg, Mayoral Committee Member for Corporate Services writes:
It is also important to note that the Expanded Public Works Programme is a National Government initiative, similarly run by numerous other municipalities throughout the country. In order to ensure the programme's success, the City of Cape Town has invested significant resources into ensuring that we not only meet, but exceed the targets set for us by National Government.

To this end, over the past three financial years, the City of Cape Town has created in excess of 100 000 jobs.
Unfortunately, it would be neither financially viable nor responsible for the City to make each EPWP opportunity a permanent job opportunity, given that the City has a staff complement of nearly 26 000 full-time staff members and simply cannot afford to accommodate over 100 000 extra employees.

However, by providing short-term income and training, we have ensured that thousands of our EPWP beneficiaries are able to subsequently find permanent work in the private sector. The EPWP programme is designed to address the age-old conundrum of needing experience to get a job, but needing a job to gain experience. This programme provides the opportunity to gain work experience and an income, so that workers stand a much better chance of finding permanent employment – not only in government but in the private sector as well.

This morning's protest was both illegal and unauthorised and thus, due to the failure of the protest organisers to provide the City of Cape Town with notice to march, a decision was taken not to engage. This will remain the City's position until there is a dialogue.

Furthermore, the protestors' claim that the City's Solid Waste Management Department has in excess of 5 000 vacancies is simply untrue. The Solid Waste Management Department has an entirety of 3 010 full-time positions. Of these, only 259 are current, rolling vacancies – all of which are in the process of being filled according to standard operating procedure (a procedure which requires suitable skilled personnel who are fit for purpose to be employed).
© 2016 GroundUp.
This article is licensed under a
Creative Commons Attribution-NoDerivatives 4.0 International License
.