Human rights work is not about the fees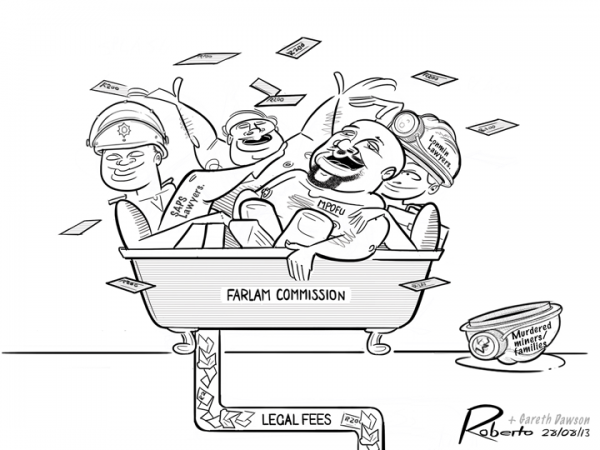 The debacle around Dali Mpofu's fees at the Farlam Commission is an important moment.
It comes as Zwelinzima Vavi is under attack by the pro-Zuma camp; as Zuma continues to try to evade declaring the evidence on which he manipulated the National Prosecuting Authority not to prosecute him; as Johannesburg has a three day power outage caused by sabotage; as the head of the Independent Electoral Commission is shown to be corrupt; as Dina Pule is finally exposed, but still not indicted … and the list goes on.
After his team received R2.8 million from a donor (with another R2m on offer) Mpofu withdrew his legal representation of the miners at the commission because he claimed he needed additional funding to continue working until the end of the commission, probably in October.
This raises the equation between having deep pockets and being able to obtain justice. That there is limited justice for the poor in many instances goes without saying. Even the Constitutional Court has expressed its shock at the high cost of justice. In a case in which Camps Bay's ratepayers succeeded in having a legal bill reduced from R700,000 to R300,000, the court wrote, "We feel obliged to express our disquiet at how counsel's fees have burgeoned in recent years. … No matter the complexity of the issues, we can find no justification, in a country where disparities are gross and poverty is rife, to countenance appellate advocates charging hundreds of thousands to argue an appeal."
And this raises a broader point about the unequal distribution of wealth in South Africa, the nature of the state and the responsibilities of human rights and left activists.
I grew up politically in the Marxist Workers Tendency of the ANC. Finance was at the centre of the organisation, as it must be of any revolutionary outfit. It was a principle that the members should fund the organisation and do their best to obtain many small donations from supporters. As a junior lecturer at UWC in the 1980s, I earned, as I recall, about R4,000 and something after tax. And I gave R1,000 per month to my political organisation. I did it because I really wanted to contribute to the struggle for socialism and against oppression, and I realised that money was needed. I didn't feel the academic life offered me a career. Rather it was a space that was flexible enough to engage in things that really mattered while earning a living.
There were many academics who made much bigger sacrifices — one only has to think of Rick Turner, the Durban academic and labour movement pioneer assassinated by the apartheid security forces — to see that. The struggle lawyers in particular were often role models, starting with Nelson Mandela and OR Tambo, through Dullah Omar (who went on to become Minister of Justice in Mandela's cabinet), Arthur Chaskalson, Bennie Kies (a committed Unity Movement man in Cape Town in the 1970s and 80s), Shun Chetty (a member of BCM in the 1980s), Griffiths and Victoria Mxenge and many others who offered their time and services either free or without ever asking up front how they would be paid. It is in this context that Dali Mpofu's fee demands should be judged.
At the fall of apartheid I resigned my tenured job for life at UWC (much against my late mother's wishes) and went into independent filmmaking. In the 1990s I did a series of documentaries supporting the cause of gay and lesbian equality and eventually worked in NGOs doing public health education mostly on HIV. In the light of government supported AIDS denialism (something for which Thabo Mbeki has still not been held accountable), this was urgently needed public interest work. Doing such work was the reason I had left academia and went into media production. I wanted to talk with a larger audience and with greater impact than academic lectures and publications allowed.
In 1998, I started Community Media Trust (CMT), which today publishes GroundUp. We began very small; a struggle outfit working from my house. We expected staff to work for the cause and attracted great people who felt that the mainstream was not for them and agreed to work at much lower rates, often less than 50% of what they could have obtained elsewhere. They did so mainly because they were outraged at the callous neglect of people living with HIV. For years we worked for very low salaries, sometimes taking home reduced pay in a collective effort to make the budget stretch that little bit further. This is what many people committed to a cause opposing the policy and action of the state often experience.
Gradually CMT established a reputation for quality, frugality with public funds and good accounting. We started to attract funding from large donors like USAID/PEPFAR, the Global Fund and DFID to name the most well known. At its height CMT turned over perhaps R35 million a year, putting it in the top 7% of NGOs in South Africa according to a recent survey. I am proud to say that CMT passed all its audits with flying colours - even the ultra stringent "Yellow Book" audit required by USAID from selected grantees involving squads of Ernst and Young auditors moving into our offices and scrutinizing every document and petty cash slip (normal audits are based on samples).
Yet even with these big donors the salaries we offered to management and skilled staff remained well under private sector and even NGO norms. We did this as a matter of principle for two reasons: Firstly, that the differential between the top and bottom of the organisation should not be more than 10 to 1. Differentials in the private sector can easily be higher than 50 to 1. We employed many community health workers which provided the floor salary. (By the way, these workers in my opinion are underpaid for the vital work they do, but more money was and is not available.) Secondly, working for the poor and disadvantaged should involve a measure of sacrifice.
When I accepted voluntary retrenchment (I wasn't close to retirement age but felt it was time to go) at the end of last year, I earned R41,000 per month total cost to company — no medical aid, no company pension, nothing extra. This was I suspect well below what would normally apply to an organisation in the top 10% of NGOs in the country; one survey I found showed this to have been about average for 2007. Still, I felt good about it. By keeping management salaries modest we attracted people who were there not there for the money only. They were often slightly off-centre people who thrived in the tolerant, creative atmosphere we encouraged. We always tried to do more with less. Those who applied to be part of this work accepted earning under "market rates". The sacrifice came with the territory.
The point of all this is to say that when you sign up for a cause and take on a struggle against the authority of the state you have to accept the need to make sacrifices. Perhaps the size of the sacrifice depends on the circumstances and how dire the situation one is confronting. I would have thought that representing the mine workers in the Farlam Commission is vital human rights work and should be done at a basic rate. If you cannot afford to take it on alone, share the work with colleagues prepared to do semi-pro-bono work. One would expect that had Mr. Mpofu asked for colleagues to pitch in he would have had a positive response. I can understand his frustration at sitting in a lengthy commission while possibly passing up other lucrative commercial opportunities. But he should have managed that situation. That is what being part of a struggle entails.
One cannot use the rates charged by lawyers representing the SAPS as the standard by which lawyers representing mine workers should be paid. Unless of course one actually doesn't realise that it is the state itself which is the problem here. Unless you think the state is fine and dandy and see what happened at Marikana as only a "tragic mistake", which it undoubtedly was, except it was also more than a "mistake".
Marikana was also a product of a particular kind of state and the type of relationship it enjoys with the ruling party and big business. That our state is staffed by many incompetents who should not be in the positions they are in is part of the systematic abuse of human rights in South Africa today — of which Marikana is one tragic outcome. When you step up to represent the mine workers in this matter it is not just another case. You accept certain responsibilities and the political charge that it entails.
Those who seek to make this an issue of legal fees risk failing to ensure justice for the Marikana miners. Instead they should encourage Mpofu to find a solution that would allow the miners and their families continued representation, while working out the fees question afterwards. This is what Dullah Omar would have done, as well as others still practicing human rights law.
Dodgy people are suing us. Please support us by contributing to our legal costs and helping us to publish news that matters.
© 2016 GroundUp.
This article is licensed under a
Creative Commons Attribution-NoDerivatives 4.0 International License
.