How to organise support for mental health in places where there is none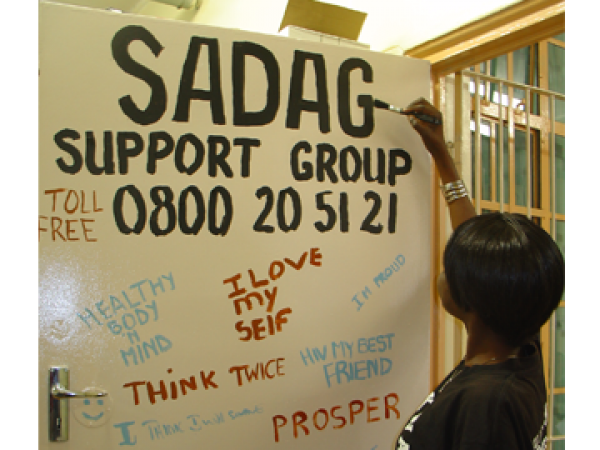 For many South Africans living in rural communities and urban townships, counselling and support for mental illness and distress is unavailable. Information and resources on mental health, including depression, anxiety and suicidal tendency, is difficult to access.
The South African Depression and Anxiety Group (SADAG) is Africa's largest mental health support and advocacy group. SADAG runs various outreach projects that reach out to people without resources. They help treat and support people with mental illness or who have substance use (drug/alcohol) problems.
Living conditions, particularly, in urban townships can be overwhelming and very stressful. Depression, anxiety, and substance abuse are common. These conditions are affect a person's ability to work and interact with their friends and family. People with mental health problems desperately need the support and understanding of their communities to recover. This is where SADAG often steps in.
While it is the public health sector that ought to promote mental health awareness and provide health-care for people with mental health problems, this is a much neglected part of public health spending.
In an e-mailed response to GroundUp; the Western Cape Health Department admitted that there "has been a disparity in terms of attention to mental health." However the department also says, "in accordance with the South African Declaration of Mental Health of 2012, the province hopes to better address mental health with its health care 2020 plan."
Alexa Scher is a SADAG Cape Town representative who assists support group leaders. "Many people suffer mental distress alone, thinking they are the only ones," said Scher. The support groups offer a place to speak out and deal with mental illness together. Many people "do not have access to psychologists, so the support groups offer a financially viable solution."
SADAG have set up 180 support groups across the country. They aim to set up a further 300. In Cape Town they have set up support groups in Mitchells Plain, Kayamandi, Atlantis, and other communities. SADAG is supported by the Department of Social Development, however, most of their funding comes from donations.
GroundUp talked with Naazia Ishmail of SADAG.
GroundUp: What are SADAG's objectives?
Ishmail: We try to make information and resources for mental health and combating depression and anxiety available to all South Africans. We mostly work in communities where people are not aware of the path to recovery and have no access to information and assistance for mental illness and distress.
GroundUp: How do you go about doing this?
Ishmail: We set up community support groups. We also have free-of-charge hotlines so that people in distress can talk to a counsellor. We have information about managing mental illness on our website. We also organise talks and workshops, presented by experienced speakers, in communities that need more mental health resources.
GroundUp: Who runs the support groups?
Ishmail: SADAG finds a suitable community member, someone capable of managing a group and sensitive to people's individual needs. The support groups are managed and run by the community, and the support group leader in particular.
GroundUp: What kind of skills do support group leaders need?
Ishmail: Support group leaders are trained by us and taught people skills needed to help the support group members and people suffering from mental health issues or substance abuse.
GroundUp: What is the process for starting a support group?
Ishmail: First people in a community will contact us and we will begin to train a leader. Second, we help run the initial meetings. Lastly we help the support group to be sustainable.
GroundUp: What challenges do support groups typically face?
Ishmail: Support group leaders are exposed to trauma, so SADAG provides debriefing (counselling) for them. If there are people with particular disorders or desperate situations, the support group can ask us to help and we then put the person in touch with a professional.
Ishmail says that anybody from any community that needs a support group can contact SADAG.
SADAG contact details
Information: info [at] anxiety.org.za; www.sadag.org
Hotline: 0800 20 50 26 (Trauma); 0800 567 567 (Suicide line)
Dodgy people are suing us. Please support us by contributing to our legal costs and helping us to publish news that matters.
Letters
Dear Editor
Greetings.I have a much interest creating a support group in the community Orange Farm. We already an organization that gives support and counselling to victims of domestic violence and abuse. Mental health is one of social issues that need to be addressed in our community and your guidance will be highly appreciated.
© 2016 GroundUp.
This article is licensed under a
Creative Commons Attribution-NoDerivatives 4.0 International License
.