Hospital CEO under fire after baby's body found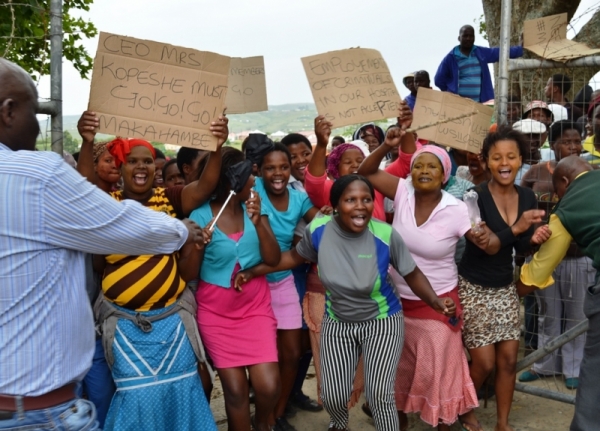 Residents of Xhorha in the Eastern Cape marched to Madwaleni hospital yesterday, demanding the departure of the CEO after a baby was found buried in the hospital grounds.
About 100 residents of Madwaleni, Mdiza, Hlaluthi, Lwane and Mjiva in Elliotdale, also known as Xhorha, including pupils in school uniform, called for the departure of hospital chief executive Nomvula Kopeshe.
The body of the stillborn baby was exhumed last Tuesday after a court order from Elliotdale Magistrates' Court, according to Mqanduli cluster police spokesperson Zamukulungisa Jozana. No details have been released about the baby's identity.
Hospital board chairperson Xolile Gabada said that Kopeshe had given orders for the baby to be buried there.
Kopeshe did not want to speak to GroundUp at the hospital yesterday.
Eastern Cape Department of Health spokesperson Sizwe Kupelo said Kopeshe and other members of the hospital staff had been given five days to give reasons why they should not be suspended.
Angry residents accused Kopeshe of ignoring problems in the hospital.
They said medical waste was being burned inside hospital premises and human waste from blocked toilets was being dumped near their houses and causing the death of their cows.
"We want her out," some residents shouted, while others sang outside the hospital entrance carrying placards. They were not allowed onto hospital premises.
Gabada told GroundUp much had gone wrong since Kopeshe had taken over in 2013.
"We do not know how she was hired as there were no interviews conducted in this hospital. We were told that interviews were held in Bhisho," said Gabada.
"About 15 staff members have left here since Kopeshe took over because they were not happy with the way she runs the hospital. We kept quiet because this is the only hospital we had in this area. But now this is enough," he said.
"As residents we demand that Kopeshe and her management leave."
Madwaleni hospital,16km from Elliotdale, serves five surrounding areas.
Residents said there was a shortage of ambulances, and at night patients had to hire a driver for R500 to take them to hospital. Some said they used a wheelbarrow.
Community leader Sibongiseni Tupa said the baby's grave had triggered the protests.
"We believe lots of wrong things are happening in this hospital. There's a mortuary at the back and we just discovered that there are dead bodies who have been there since 2013. It's only now that Kopeshe is starting to look for the relatives. When we asked her what took so long to look for the relatives she refused to talk," said Tupa.
The hospital has flush toilets but staff said they were often blocked. There are also mobile toilets outside the building.
A resident who identified herself only as Thuliswa said when the hospital unblocked the toilets the waste was dumped next to her home.
"I'm a prisoner at my own house. I can't just open windows and doors. All the bad smell comes straight into my house," she said.
"What makes me so angry is that not a single day has the hospital management come to us to explain the situation. They do not care. Sometimes they unblock the toilets during the day. They do not care about health," she said.
Residents handed a memorandum to Kopeshe and gave her seven days to respond.
She told them she would look into all the grievances and respond within the allocated time.
© 2016 GroundUp.

This article is licensed under a Creative Commons Attribution-NoDerivatives 4.0 International License.