Homeless in Durban "dumped" outside the city
Municipality spokesperson says "vagrants" are a "scourge"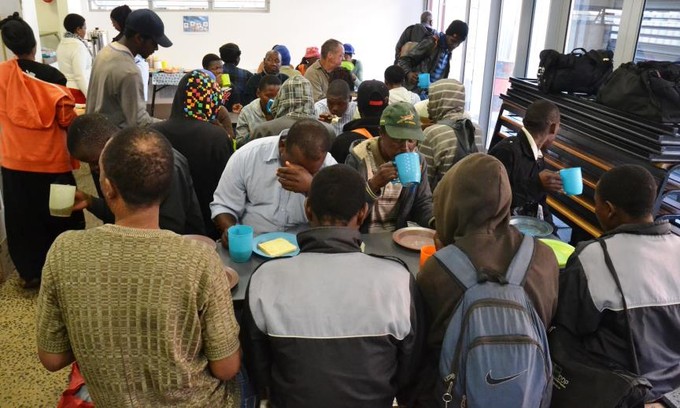 Homeless people in Durban say their rights are being violated by Metro Police in the wake of clean-up operations as the festive season approaches. And while the City says it is only responding to residents and business owners' complaints about the "scourge" of street people, its policies were slammed by a leading Durban organisation that helps the homeless.
Sirens, flashing blue lights, and loud voices jolt a dozen street people out of their sleep early one morning, while it is still dark, outside a Durban tyre business.
They react surprisingly quickly for half-awake people – although many have been sleeping with practically one eye open – and make a run for it, arms full of the personal belongings they managed to scoop up before bolting.
Some make it around the corner of the building under whose roof they had been seeking shelter from the rain. It is drizzling and there is a chilly breeze.
"I didn't take my blanket," laments one of them.
Meanwhile, those who were too slow to escape the Metro Police net, consisting of four vehicles, have had blankets, sleeping bags and pillows confiscated.
One of them regrets the loss but is relieved that they are still here – glad that Metro Police this time did not bundle them into vans and drop them miles out of the City. That has happened frequently over the past few months and is the reason many were here that night – they have been hounded from one place to another.
While politicians and bureaucrats debate what to do about Durban's homeless people, street people say the City's police have already decided on the best policy – forcibly remove them from the streets and dump them miles outside the City or confiscate their blankets, or both.
Blessing Kuzwayo, 21, recalls a recent experience: "There were about ten of us. We tried to run but they caught us and put me in a van which was already full of people they had picked up off other streets. They drove around with us from about 3am until 10am then drove out to Stanger and left us there."
"I had no money for bus fare. I had to walk back."
Such Metro Police operations have occurred on and off during the year but have escalated recently as the festive season approaches. Hardly a day goes by without an incident.
And the day of the events described above took place in November.
On 7 December, the City's Launch of the Festive Season took place with the City promising that law enforcement would be out in full force over the season. The raid took place outside a business where there is a large covered parking area. Up until a week or two ago it was the latest "in place" for many of the city's homeless who seek shelter on rainy nights. Most of them had fled from other places, such as the International Conference Centre, where they had also been repeatedly targeted.
This is the lot of Durban's homeless population – constantly the target of a Metro Police force obsessed with getting rid of them, and private security guards who they claim harass and threaten them.
Durban has a serious homelessness problem - everyone knows this from the mayor down to the street people themselves and in between a motley crue of interested parties – NGOs, academics, researchers and activists. But no-one seems quite sure what to do about it.
The City has yet to come up with an official policy on the homeless problem but the actions of the Metro police sometimes seems to be at odds with the City's claims that it has a compassionate approach to the problem, offering social assistance during these operations.
The City has spent a lot of money on research to aid it in making decisions. The full results have not been made public but the little that was revealed emphasised that that the problem is a massively complex one with no single solution.
And while the issue is analysed and discussed ad nauseam there is another agenda that influences policy decisions and the festive season is a clear example of it. It's all about the money. The poor are not welcome in a City which derives most of its income from the tourist industry.
Law enforcement will be out in full force to ensure that visitors to the city will not only be safe from crime but also from being bothered by unsightly homeless beggars.
During the AIDS conference earlier this year beggars were banned from standing at robots on the roads leading to and from the beachfront and the International Conference Centre.
Although they have been chased away from time to time by Metro Police and private security guards, beggars ply their trade along these roads for most of the year.
But this time they were not allowed to set foot near the robots for the entire five days of the conference because foreign delegates attending the conference would be using these routes. The ban was even enforced by the SAPS, who at any other time of the year don't bother the homeless even at the robots directly outside provincial police headquarters.
Some homeless people are looking towards the festive season with mixed feelings. On the one hand the influx of tourists is going to be a possible cash cow for beggars but it is also going to mean more security and a cleaning up of the City.
A spokesperson for Durban Municipality defended Metro Police operations saying that "vagrants" were a "scourge" and people were complaining about them.
"The City's Metro Police Unit conducts daily Nuisances and Behaviour in Public Places By-law enforcement operations," Head of Communications Tozi Mthethwa said.
"During these operations the vagrants, many who are also beggars are removed along with their belongings."
She said that Metro Police together with Durban Solid Waste also removed "tons" of old blankets and cardboard, used by homeless people to sleep.
"The operations also target areas where residents and business owners have complained about vagrancy and asked that Metro Police intervene."
"Law enforcement agencies will continue to monitor and combat the scourge daily and conduct regular operations in the affected areas."
The manager of Super Tyres, Dean Horn, confirmed that he was unhappy about the street people sleeping there as they left a mess behind them every morning. This issue has been a bone of contention among street people upsetting many of them who agree that some people do make a mess and that it causes trouble for everyone. But they generally agree that this does not justify the inhumane methods being used by the Metro Police and that they were treated as if they had no rights at all.
Riaan Swart, 36, recalls being picked up at North Beach. "We were sleeping near the mosque. They came in the early hours of the morning picked us up and dropped us off in the sugarcane fields in Scottburgh. He says Metro Police have been doing this sort of thing the entire time he has been on the streets which is a year. "The community does complain but sometimes I think they [Metro] do it for fun. Some of them abuse their authority. Not even the police treat us like that."
"We all get a bad reputation because of a few who don't have discipline and they don't listen when we tell them to keep the place clean."
The City claimed to be offering social assistance to the homeless during these operations and had referred hundreds of them to the Denis Hurley Centre.
However the Director of the Centre Raymond Perrier has slammed the City's policies saying that it said one thing and did another. He pointed out that the Centre dealt with up to 300 homeless people a day but received no support from the City.
Perrier confirmed that over the past two weeks he had been hearing the same stories of homeless people being dumped outside the City. "Some people who we usually see here have also disappeared and we think it is because they were dumped somewhere," he said.
Perrier said this happened every festive season and every time there was a major conference. He said that during this year's AIDS conference homeless people had been deprived of their antiretrovirals due to being removed from the City. "Even during the most important conference on AIDS the city had policies in place that make people unhealthy."
He added that City policies effectively criminalised poverty. For example it is illegal to urinate in public but there are no public toilets open from 5pm to 6am.
According to Perrier there was also a distinct lack of interest in the homeless issue from the Department Health and the Department of Social Development, neither of which sent representatives to a local homeless forum.
And there was also inconsistency within departments – for example Metro Police sent representatives at the forum but at the same time others were being told to dump people outside the City.
This article has been corrected: the events described in the opening paragraphs took place in November, not on 7 December. Raids have continued.
Letters
Dear Editor
I would like to mention that the homeless are totally out of hand in the city of Durban. I live in a shelter as a geriatric
awaiting a place in Tafta, which is full. The homeless are begging at the robots daily and at night come into the shelters
and behave extremely badly. The loudest voices are those who have come in on begged money and this is terrible.
Something needs to be done urgently to stop the begging both at the robots and in the streets generally. Life is hard
and people have to use their money carefully to come out in a month, especially those who have pensions and being begged from and then sworn at because one does not give is unacceptable behaviour. I believe that the SAPS and Metro Police must do their jobs and be allowed to do what it takes to deal with these terrible people who do as they like and behave as they like with no real consequences.
I appeal to the Mayor and those in charge to issue a mandate to sofrt this whole situation out one and for all.
© 2016 GroundUp.

This article is licensed under a Creative Commons Attribution-NoDerivatives 4.0 International License.
You may republish this article, so long as you credit the authors and GroundUp, and do not change the text. Please include a link back to the original article.