Home Affairs detentions challenged in Concourt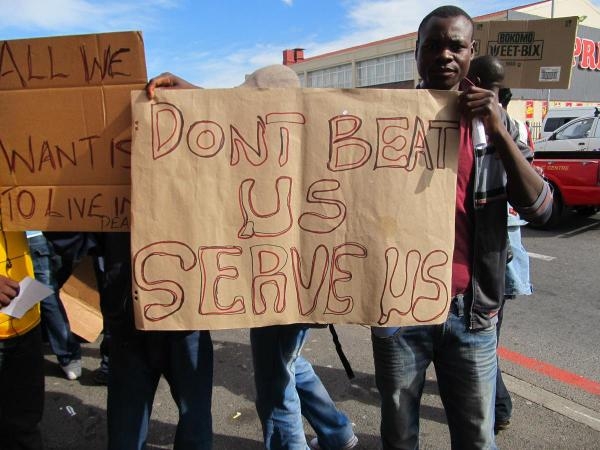 On Thursday, the Constitutional Court will hear the matter between Minister of Home Affairs v Rahim and Others, concerning the detention of foreign nationals in places that are not designed as immigration detention facilities, such as police holding cells. The Legal Resource Centre (LRC) will appear on behalf of People against Suffering and Oppression (PASSOP).
Copies of the court papers filed by the prin­ci­pal par­ties.
A 23-year-old Zimbabwean man was arrested on 13 November, allegedly because he did not have the correct documentation, and held in a police cell for ten days before he was transferred to Lindela Repatriation Centre in Krugersdorp.
The detained man's brother, whose identity is known to GroundUp, claims his younger brother has a valid Zimbabwean passport with an entry stamp giving permission to stay in South Africa until January 2016.
He says that his brother and other immigrants were apprehended in Johannesburg by men who were not Home Affairs officials but wore T-shirts from a neighbourhood watch and a police community forum. He says the men also did not seem to know what an official Home Affairs point of entry stamp and work permit looked like. They demanded the foreign nationals they had detained each pay R300. His brother refused, asking why he should pay when his passport was valid. Some of the arrested people who had valid papers nevertheless did pay the R300 and they were let go.
"They drove off with my young brother and other arrested immigrants," says the man.
"On Saturday, we went to Johannesburg police station for help, but the police said we should return on Monday. When we returned on Monday, Home Affairs officials arrived at 12pm. They went through a few holding cells and released only five people. The cell which housed my young brother was not searched … When I complained to the police station officials, they said they could not help. We should wait for Home Affairs officials to return again."
That Saturday night, his brother was transferred to Lindela for deportation, he says.
Thabo Mokgola, spokesperson for Home Affairs said, "The Home Affairs Inspectorate division is investigating the matter."
While this story is not specifically dealt with in Thursday's Constitutional Court hearing, it exemplifies the allegations that are at the root of the case.
A similar case was heard on 10 November in the Gauteng High Court in Pretoria where Lawyers for Human Rights (LHR) challenged the manner in which suspected undocumented foreigners are detained under Section 34 of the Immigration Act.
The current case before the Constitutional Court was filed in June 2014 after the introduction of the new immigration regulations. It seeks to ensure that in future there is court oversight of immigration detention as provided for under the Constitution.
LHR's arguments are based on the provisions of the Constitution that ensure that anyone arrested must appear before a court within 48 hours of arrest, and other prohibitions stemming from the abusive use of detention under apartheid.
GroundUp has reported on several cases of immigrant detentions that appear to flout the Constitution:
Peeing into a plastic bottle on the long road from Lindela
Zimbabwean kids detained after being smuggled into SA
Tried twice for expired asylum papers: bureaucratic nightmare for Zimbabwean farm workers
Home Affairs violates court order - man arrested despite effort to be lawful
© 2016 GroundUp.
This article is licensed under a
Creative Commons Attribution-NoDerivatives 4.0 International License
.