Health department has not fully implemented court order, say lawyers
The department was ordered to put notices up in hospitals and clinics stating that children under six and pregnant and breastfeeding women are eligible for free health care irrespective of nationality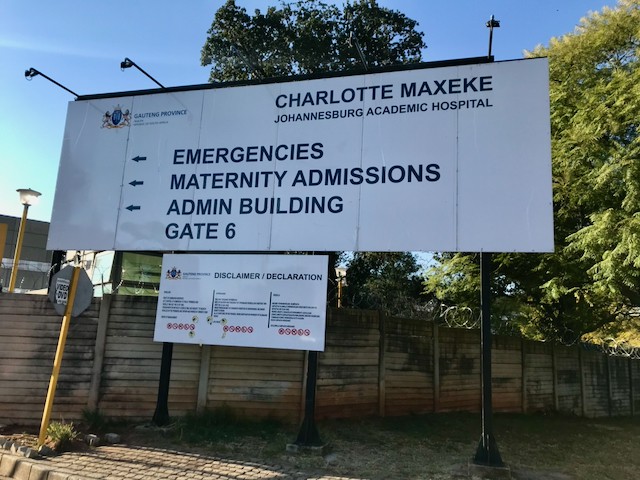 In April 2022 SECTION27 filed an application to allow pregnant and breastfeeding women and children under six access to free health care at public health institutions, regardless of nationality or documentation status.
The application argued that treatment was a matter of chance, depending on the hospital or the member of staff, and that the official policy was unconstitutional.
Operation Dudula blocked foreign nationals from hospitals and clinics in Gauteng from late 2022 to mid-2023.
In April 2023 the Gauteng High Court upheld SECTION27's application and ordered every public hospital in the country to display a notice.
SECTION27 reported to the court that some Gauteng health facilities had failed to put up these posters by the October deadline.
The court has given the relevant hospitals until 6 November to fully comply with the order.
Judge Roland Sutherland will visit hospitals that fail to comply on 20 November.
SECTION27, a public interest law organisation, has called on the Gauteng health department to do a better job implementing a court order affecting the rights of immigrants.
The national health department was ordered by the Gauteng High Court in April to put notices up in all public health facilities across the country stating that pregnant and breastfeeding women, as well as children under six, were entitled to free health care irrespective of whether they are citizens or properly documented.
The court specifically ordered the Gauteng health department to put up these posters before appearing in court chambers on 23 October.
SECTION27, which brought the application in April 2022, has been monitoring the implementation of the court order. And while it has complimented the government on implementing it widely, it has also accused the Gauteng health department of failing to fully comply.
Many hospitals and clinics have not put up posters or have failed to make them properly visible, says SECTION27. The hospitals and clinics have until 6 November to comply. If they fail to comply, following more monitoring from SECTION27, Judge Roland Sutherland will visit the relevant hospitals and clinics on 20 November.
Now, public health institutions can only turn away women and children if they are insured by a medical aid scheme or came to South Africa specifically seeking free health care.
At the beginning of the year, Operation Dudula blocked immigrants from clinics and hospitals in Johannesburg and Tshwane. In August, Dudula allegedly performed ID, accent and skin colour checks on patients and staff at Kalafong Hospital in Tshwane. Police were called to enforce an interdict obtained by the Gauteng health department against Dudula.
The group is now running as a political party in the upcoming 2024 elections. The party's spokesperson told The Guardian that it will no longer engage in its previous tactics, that it is "demilitarising" but that its core ideology has not changed and that it views "illegal immigrants as criminals" who must "go back to their countries".
Umunyana Rugege, director of SECTION27, claimed that the department's "discriminatory institutional policies and systemic xenophobic practices and attitudes have detrimental and sometimes fatal consequences" within public health institutions.
The application showed that the policy excluding pregnant women and children under six was applied by Gauteng health care centres on an "arbitrary and ad hoc basis". Even within hospitals, access to treatment depended on the day and the official on duty.
According to SECTION27, Gauteng hospitals and clinics would sometimes require migrants and refugees to establish their means and nationality before accessing treatment and the Gauteng health regulations allowed this.
The court order found the regulations to be inconsistent with the National Health Act.
SECTION27's application describes specific incidents. At eight-months pregnant, Kamba Azama, an asylum seeker from the Democratic Republic of the Congo, was referred to Charlotte Maxeke Hospital because her high blood pressure posed a risk to her baby. She was told to pay R20,000 to receive treatment and give birth at the hospital. SECTION27 was able to secure her an appointment, but the unborn child died the night before.
In the application, Rugege said that Azama probably would have delivered a healthy baby if she had received urgent treatment under a consistent hospital policy.
SECTION27 has been receiving cases like this since 2013.
According to SECTION27's media release, the amended policy now allows asylum seekers like Azama the same access to health care as refugees. Other than pregnant and breastfeeding women and children under six, refugees are means-tested to determine how much they should pay for healthcare.
The application was supported by the Jesuit Refugee Service, The Southern African HIV Clinicians Society, and Doctors Without Borders.
The respondents included the MEC and head of the Gauteng health department, the national minister and national director-general of health, and Charlotte Maxeke hospital.
A request for comment from the Gauteng health department was unanswered at the time of publication.
© 2023 GroundUp. This article is licensed under a Creative Commons Attribution-NoDerivatives 4.0 International License.
You may republish this article, so long as you credit the authors and GroundUp, and do not change the text. Please include a link back to the original article.
We put an invisible pixel in the article so that we can count traffic to republishers. All analytics tools are solely on our servers. We do not give our logs to any third party. Logs are deleted after two weeks. We do not use any IP address identifying information except to count regional traffic. We are solely interested in counting hits, not tracking users. If you republish, please do not delete the invisible pixel.