Harare residents find ingenious new ways to survive
Faltering economy prompts tricks of all sorts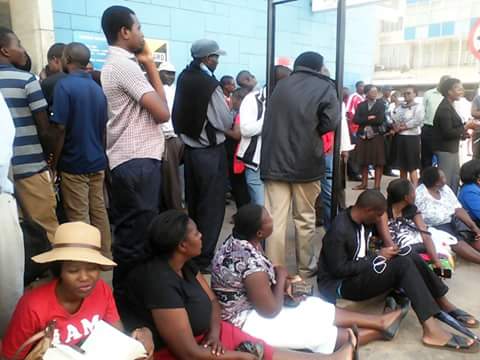 As Zimbabwe's economy falters, some residents of Harare have found ingenious ways to survive. From petrol station attendants who help customers get precious cash, to street people who sell places in bank queues and nurses who treat patients in their cars, hard-pressed Zimbabweans have found solutions to the crisis.
At petrol stations, men and women in their early 20s, immaculate in uniform, work the petrol pumps, clean windscreens and empty car ashtrays. But beyond the scan of fuel station CCTV cameras, they whisper to motorists: "Do you need cash, sir, your whole salary at once? For a fee of course? Shall I make a plan?"
This is a tempting offer in an economy so short of cash that customers sleep on the steps of banks to be first in the cash queue, and where some banks have limited daily withdrawals to $20 (all amounts in US dollars).
If you agree, the petrol station secret deal proceeds this way: you surrender your bank or fuel coupon card to the attendant. And your PIN code. When a motorist pays cash, perhaps $200, to get his tank filled, instead of the cash going to the till of the garage owner, it is given to you. The cost of the motorist's fuel is deducted from your bank card.
"Pay me a cut, 20 dollars," whispers the fuel attendant later when he passes on the money. A "cut" is Zimbabwean lingo for a bribe.
Jimalo*, 23, a diesel attendant at a liquefied gas station in Harare, says: . "The trick is to fool fuel station accountants into thinking that motorists are paying for diesel with bank cards. Every day I sell some of my employer's cash to about four motorists. I take my 10 dollar cut and secretly profit 60 dollars for the three days I am at work every week."
Scores of young Zimbabweans are working only three or four days a week as industries downsize their work forces.
After the deal at the pump, Jimalo mingles with waiters and diners in the restaurant attached to the gas station. He is secretly working with waiters on a similar scam. He or a waiter collects cash from hungry diners but they don't deposit the cash into the employer's till box. He uses your bank card to settle the diners' bills electronically and keeps the hard cash for himself – and you.
"The hard cash, I sell for a small premium, just two dollars." He means he subtracts $2 from every cash amount he secretly gives you when he finishes work. The "premium" on the restaurant meal is lower than on the petrol deal because the restaurant bill is lower.
He walks back to the petrol pumps, whistling, and picks up a windscreen brush. . "Troubled economy? This is best time to make bucks."
Bank security guards
Guarding a bank has become one of Zimbabwe's hottest professions. Forget law, dentistry, or teaching – Zimbabwe's professionals pay homage to the bank security guard.
"I pay the security guard a six dollar juice monthly," says Stacy*, 31, a civil claims lawyer in Harare, referring to the bribe he pays. "The trick is to soften the bank security guard and jump queues daily. It works for me," says Stacy.
Arnold*, 38, a church pastor in Bulawayo says the same. "Once a month, I drive with my bank's security guard to our church's braai meat outings and pamper him with drinks."
Arnold, who uses a South African-owned bank in Bulawayo, says the secret arrangement works for him. "I never waste time in winding bank queues. Just a wink of an eye, and the guard smuggles me in past the door. One hand washes another in Zimbabwe. The security guard pretends I'm a senior bank employee."
Malvin*, 31, a front door security guard at a building society in Mutare, Zimbabwe´s third biggest city, brims with satisfaction at his job. "My secret notebook has ten vendors, nurses, engineers, drivers, in its pages. Once a month each offers me gifts of six dollars and above to dodge bank queues."
Malvin says he employs five street people to sell bank queue spots. "They pay me 50 cents late at night to get paper cards with bank queue numbers. In the morning they sell their fake queue spots for 150 dollars to rush-hour bank clients who wish to jump queues. It works!" Malvin makes these tiny numbered cards at his home by cutting up a grey cardboard box.
"Cash shortages in Zimbabwe? Not in my pocket," he laughs, waving a rubber baton to police the rural customers who are scorched by the sun in the bank's queue.
Fake pregnancy queue hoppers
"She is pregnant, gosh – open the way for her to enter the bank first," shouts Malvin, the bank security guard. Weary customers retreat to let Grace, 49, enter the banking hall. Grace's stomach is expanding, she says her baby is due in two weeks.
But Grace is not pregnant.
"At 6am every day I carefully roll old clothes around my stomach to create a fake stomach. I work in league with Malvin, the bank security guard. Clients pay me five dollars each time I use my fake stomach to ghost past bank queues and withdraw 200 dollars for them."
"I've been doing this for four months. I work with two other people in their fifties. Daily they come to the banks, pretend to be in their 60s, ghost their way through queues to withdraw money on behalf of rushing clients."
In Zimbabwe, the etiquette is that 60-year-old citizens are shuffled to the front of bank queues.
"I've no choice," says Grace. "My husband died of tuberculosis in 2016. This is how I buy food for my 12-year-old daughter."
Fake remittances
After the introduction of Zimbabwe's controversial Bond Notes currency in December 2016, global money transfer agencies like World Remit and Western Union have been offering a 5% "incentive" to encourage Zimbabweans in South Africa and other countries to send more money home.
According to a recommendation of the Reserve Bank of Zimbabwe, for every $1 remittance sent by Zimbabweans living in South Africa, the European Union or America, families at home will receive an extra 5% of the total, paid out in "Bond notes."
"This is attractive. We are making a killing from the incentive program," says Goddie*, a cash dealer at Harare´s Roadport currencies market.
"It's easy. I have four Visa and MasterCard cards from high worth businessmen and politicians whom I act for. Every month, I travel to South Africa, and wire large amounts like 5,000 dollars back to them in Zimbabwe."
"The money appears like a diaspora remittance. They get the extra 5% incentive. Imagine the free money. And I get paid a cut and get paid for my bus expenses."
Nurses who sell places in hospital queues
Tinotenda, 37, is hounded by a bout of malaria. "The flood rains have raised a bevy of mosquitos in the capital," he says. He waits quietly in his Toyota Corolla outside Parirenyatwa, the largest public hospital in Harare. There are 270 patients lined up ahead of him on the benches.
But from his car, parked outside the hospital's gate, Tinotenda will receive pills first, ahead of everybody.
"You give six dollars to a nurse. The nurse secretly sorts the diagnosis card. The nurse comes out of the clinic, to take your temperature, measure blood pressure, and test for sugar. You remain seated in the car. She brings the pills and extra injections to the bush where your car is parked."
"She treats you far from the clinic like a personal sauna."
"Money has won. Poor Zimbabweans have lost," says Tinotenda, before he gulps the sour anti-malaria pills brought swiftly by a bribed nurse.
Water sellers
Harare is a water-stressed city. In townships where pipes can go dry for five months at a time, the city council has a few boreholes where water still trickles. But municipal authorities rarely maintain the boreholes, leaving bullies to take them over and charge women and children a fee to fill their containers.
"These thugs demand one dollar for every ten litres of water," says Janet Gara, 46, a mother from Mufakose, one of the capital's driest suburbs.
Precious Shumba, head of the Combined Harare Residents' Association, the largest civic group in the capital, says, "These thugs terrorise until one pays for water that must be free. They are usually unemployed young men. After payment the thugs are calm and swing the difficult water pumps for women and children."
George Muranda, an independent economist in Harare, is dismayed. "Things have come to a head in Zimbabwe. Our current levels of corruption would leave a visitor from Mars breathless."
* Not their real names
© 2017 GroundUp.

This article is licensed under a Creative Commons Attribution-NoDerivatives 4.0 International License.
You may republish this article, so long as you credit the authors and GroundUp, and do not change the text. Please include a link back to the original article.