GroundUp journalist harassed at Home Affairs
|
Mary-Anne Gontsana
News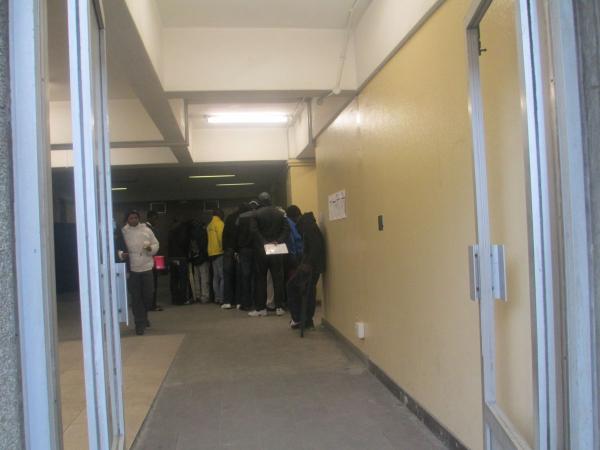 A GroundUp journalist was left shaken after she was harassed by security guards at the refugee reception centre in Cape Town while reporting a story.
Tariro Washinyira went to the centre on Tuesday to take a photograph which would accompany her article on the Department of Home Affairs rejecting Zimbabweans with refugee status. But she came back empty handed after two security guards harassed and deleted the photographs. Her account of what happened follows:
"I arrived at the centre and stood at the doorway in order to take a photograph of a queue of people inside. As I took the photo, two security guards, a man and a woman, came to me and asked me rudely why I was taking pictures. I responded that it was for an article and the woman rather harshly told me I was not allowed to take pictures because the centre was a government building.
"I was told that I needed permission to take the photos. When I asked where to go for permission, they said I must find out for myself.
"I was then told to delete the photo I had taken. I said I didn't know how, while showing them the camera. This is when the woman grabbed my arm, told me she is taking me to her supervisor, and that she would detain me. Then the man, pressed the camera while it was still in my hand and not only deleted the photo I had taken, but he deleted all the photos that were on the memory card. The woman then mocked me saying, "You can't even use your own camera". They then turned around and started patrolling the premises, I left," said Washinyira.
William Kerfoot from the Legal Resources Centre said looking at the legality of the matter, they found nothing in the legislation that says a person cannot take pictures in a government building. He said what the security guards did was unlawful.
Department of Home Affairs provincial manager, Yusuf Simons, said the security guards belonged to a security company employed by the department to render services at the refugee centre, but stressed that the matter would be investigated.
"Thank you for bringing this incident to my attention. Can you please arrange for your reporter to urgently meet with our Head of Investigation, so that a full scale investigation can be launched into the incident and the conduct of the security guards. We don't condone any such incidences as alleged by your journalist. We will therefore take the investigation very seriously," said Simons.
© 2016 GroundUp.
This article is licensed under a
Creative Commons Attribution-NoDerivatives 4.0 International License
.