Groot Constantia workers complain of unfair treatment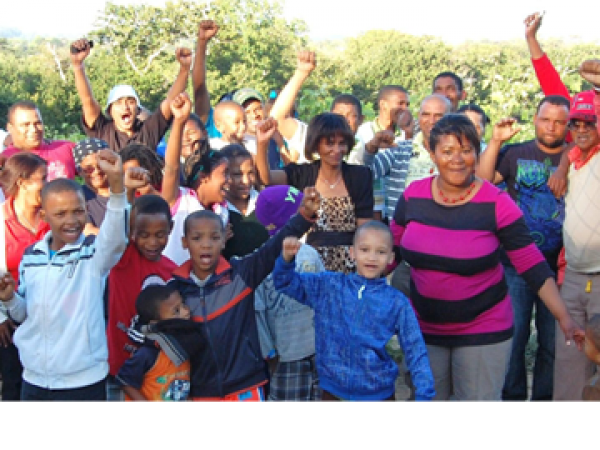 Its fine wines are known around the world and the City Sightseeing bus takes regular journeys through its beautiful grounds beneath Table Mountain. But the community who live and work at Groot Constantia estate say that the charitable trust that owns the farm pays female vineyard workers less than their male counterparts. They also accuse management of reducing their benefits.
We spoke to eight members of the community who live and work on the farm who say that men who work in the vineyards earn R1,400 per fortnight while women who work earn R950. Another employee added that there was no grading in the vineyards meaning everyone is paid the same –whatever their role– except for the distinction between men and women.
However this was denied by the farm's Human Resources Manager Wendy Prins. She said that the rate of pay is not gender based but based on responsibilities and duties performed. "As per the workers request and past agreement woman start an hour later to tend to family needs."
The oldest wine farm in South Africa was made a charitable trust in 1994. It had previously belonged to the state. The Groot Constantia website states it, "is an ideal example for the preservation of the cultural and historical heritage of the country." But according to some of the employees who live on the farm, it preserves too much of its history. One employee who has worked on the farm since 1988 complained that before 1994, workers received food in-kind, blankets, land to grow food and many other things. Today, most of these benefits have been taken away. "Things were actually better on the farm under Apartheid in many ways," the employee said.
In the Trust's December 2011 Annual Report, it said: "Turning the company from a loss making entity to breaking-even this year was therefore a result of internal changes, making it more profitable." It continued that export makes up more that 60% of their total production, which made their economic position vulnerable during the recession. Workers now accuse the farm's management of having made the internal changes that turned around the farm's profitability at their expense.
A woman who has worked in the vineyards for many years said that just two or three weeks ago the farm's management told her that Groot Constantia would no longer pay for her medical needs for an injury she sustained while working on the farm ten years ago. She explained how the wires used to hold up the vineyard fences are very old and often snap when they are removing them. In her case, it snapped and the spiky point of the inner tube of the wire went straight into her eye. She has lost most of her site in one eye and needs regular visits to the ophthalmologists – this is a common problem on the farm with the same happening to another women only one month ago. Another women has suffered severe rashes from the pesticides regularly sprayed in the vineyard. The farm's management have always provided medication for this but she has been told this will now be discontinued.
In response to these allegations Prins said, "Workers are covered by the provisions of the Compensation for Occupational Injuries and Diseases Act for injuries sustained at work. Medication is not administered to workers on site as this could pose a threat to their health and safety," and, "We do have trained first aiders on site and every department has a controlled first aid box."
Workers also complained that they are not given opportunities. They said that many of the young women who have passed matric are not given the opportunity to apply to be tour guides, while those from the community who work in the tasting rooms are not given the opportunity to apply to be floor managers. Instead the management look outside to fill these positions. But according to Prins, all vacancies are advertised internally and externally with the requirements specified for each vacancy.
A male employee said that things have become particularly bad in the last few years since a change of management. He said that the 13th cheque and bonuses they received were stopped or made conditional. He also said that the number of permanent workers is being cut and replaced by teams of temporary workers. He said that labour brokers were introduced two years ago. He asked, "Why is a not-for-profit trust that is meant to belong to us all diverting wages to a labour broker?"
In response Prins said, "We are a farm that carries on seasonal work. Temporary employment services provide us with the much needed flexibility where more labour is needed during peak season." She denied that there have been any changes to current benefits. She said that employees get a guaranteed 13th cheque but that this is affected when employees exceed sick leave or annual leave without authority.
An employee said, "When we asked for a wage increase it 2008, it was denied. However, shortly after they renovated both buildings that were open to the public and began hiring a go-cart for vineyard tours that is hardly ever used. "So, it is clear that we are bearing the brunt of the internal changes that have been made."
Another complaint is that the transport available to workers on the farm is inadequate. They complain that currently workers and school children who live on the farm get on an open-top lorry if they need transport to reach somewhere outside of the farm. They must wait for transport to be provided to drop them off at the local bus stop or train station, but the farm used to provide transport all the way to their destinations. They explained that their wages don't go very far because food is very expensive at the local Pick and Pay and not much is left after that. A boy explained how he and the other children used to be taken on an outing every December by the farm's management to places such as Muizenberg. But he said he was angry because since 2008 this has not happened.
In response, Prins wrote, "Employees have access to transport. Groot Constantia provides transport to 29 kids to five different schools (Voortrekker, Wynberg Secondary, Grassdale, Cafda & Constantia Primary, for doctor and hospital visits, bi-weekly trips for grocery shopping, sport and school activities and in the event of illness of immediate family members."
Prins says they provide several benefits, including free accommodation on the estate, free electricity and water, a crèche for farm workers' children at no cost. The farms says they have invested in a qualified crèche teacher and assist school children with homework. She says they are also contributing to Constantia Primary School, where some of the farm children attend, in various ways.
Many workers on the farm have joined the the Commercial Stevedoring Alliance Allied Workers Union (CSAAWU) over the last year. The union is calling for R4,500 monthly salaries for both men and women, land to plant food, decent transport to access public services and an end to labour brokering. They are also calling for the countries that trade with Groot Constantia to boycott the farm if the workers' demands are not met.
Employees asked to remain anonymous when speaking to GroundUp.
Dodgy people are suing us. Please support us by contributing to our legal costs and helping us to publish news that matters.
© 2016 GroundUp.
This article is licensed under a
Creative Commons Attribution-NoDerivatives 4.0 International License
.