Gauteng learners demand replacement of asbestos buildings
29 schools constructed of asbestos were supposed to be fixed by November 2016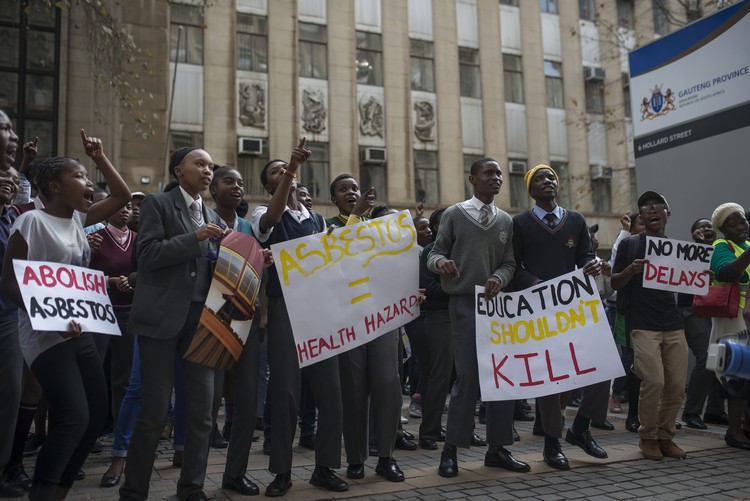 High school learners from across Gauteng affiliated with Equal Education picketed outside the offices of the Gauteng Department of Education in the Johannesburg CBD on Thursday. They demanded the eradication of school infrastructure built with asbestos. The demonstrators expressed frustration with the department's failure to meet the deadline set in the Minimum Norms and Standards of School Infrastructure promulgated by Minister of Basic Education Angie Motshekga in 2013. This policy committed the department to rebuilding or revamping all schools built out of inappropriate materials such as asbestos by 29 November 2016.
"We have found that in these schools the walls and roofs made of asbestos are broken, which is resulting in the asbestos being exposed. This means learners, teachers, school staff and the community are inhaling the dangerous fibres," said Gauteng Equal Education co-head Naadira Munshi. "These are not safe and conducive environments for learning and in the long term this exposure can have negative life consequences for learners."
South Africa used to have one of the highest rates of mesothelioma, a cancer linked to exposure to asbestos. Mining of the material stopped in 2001 and South Africa outlawed all types of asbestos by 2008. The World Heath Organisation estimates that world-wide there are more than 100,000 asbestos related deaths per year.
On 17 March Equal Education met with Gauteng Education MEC Panyaza Lesufi who committed to fixing schools and provided a plan to fix 29 schools built entirely with asbestos by 2020. The department has currently started fixing five schools, with twelve schools earmarked to be replaced over the 2017/2018 and 2018/2019 financial years. The remaining twelve schools are to be replaced in the 2019/2020 financial year. "The plan the department has provided us has extended the deadline to 2020 which means that it will be another three years of inhaling asbestos for learners and teachers in those schools," said Munshi.
Protesters also raised concerns about the department's lack of prioritisation for schools built partially from asbestos materials. "We demand that all schools partially made of asbestos be given equal prioritisation and that the GDE fix all schools made of asbestos by the seven year deadline for Norms and Standards, 29 November 2020," said learner Philisiwe from Amos Maphanga High as she read out the memorandum outside the offices of the department.
MEC Lesufi was attending a memorial for the 18 learners who died in a vehicle accident last week and was unable to accept the memorandum in person. A representative from the department accepted and signed it on his behalf.
In a tweet replying to Equal Education's call for no more delays in the process of eradicating asbestos schools Lesufi said: "I gave you the plans, give me space and time to eradicate these schools once and for all. We have no choice but to destroy them. We can't remove them over-night with the limited budget allocated. If we had the budget we will remove all of them immediately."
Demonstrators remained outside the offices till late afternoon protesting while being watched over by a police contingent. They later dispersed but indicated that they would return if they noticed delays in the implementation of the new plan.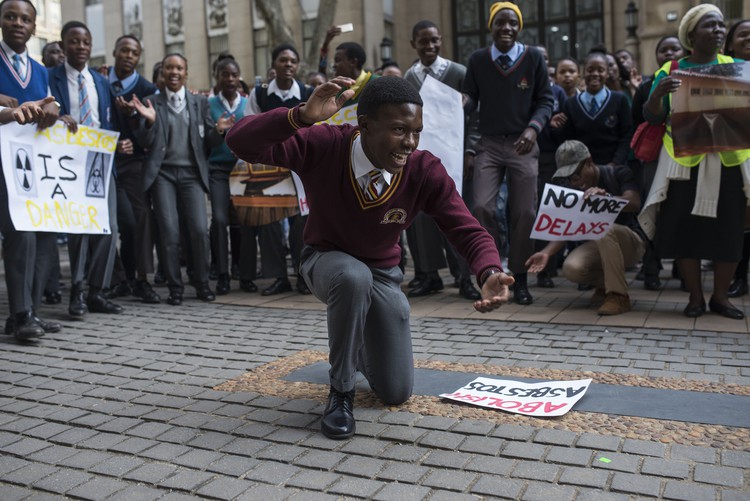 Dodgy people are suing us. Please support us by contributing to our legal costs and helping us to publish news that matters.
© 2017 GroundUp.

This article is licensed under a Creative Commons Attribution-NoDerivatives 4.0 International License.
You may republish this article, so long as you credit the authors and GroundUp, and do not change the text. Please include a link back to the original article.