Limpopo residents collect water from construction pit
Municipality says work on a water project in the area will commence in two weeks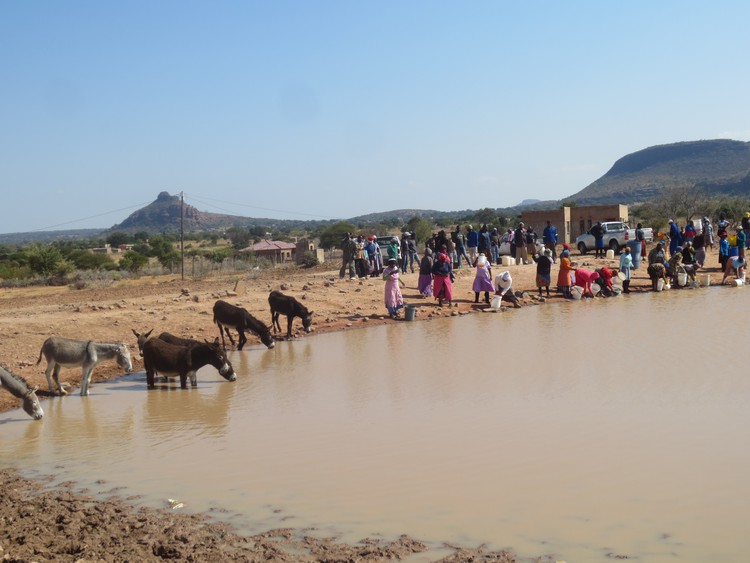 Every day Dorres Molalakgotla from Ga-Kobe, Limpopo, walks to collect water from a large flooded pit, kilometres away from her village. At the pit, donkeys, sheep, goats and cattle drink while people fill their buckets.
She takes three 25-litre containers by wheelbarrow on each trip, and she does about four trips a day. By the end of the day she has unbearable back pain, she says.
The pit was created by Public Works employees while tarring a road through the village. It filled with water from heavy rains and has remained a water source for people from the surrounding villages for more than ten years. There are several communal taps in their village, but they have no water. Residents say the taps were installed three years ago but never connected.
"We have called our municipality several times to no avail. This is really serious, especially this time of lockdown. The community is forced to leave their homes several times a day for fetching water," said resident Phellimon Maletie.
Maria Mothemane, a mother of five, said, "Myself and my husband are unemployed. We cannot afford to buy water from those who drilled boreholes at their yards … I carry a 20-litre container on my head so I have to go several times. By the end of the day I feel very tired."
Ga-Kobe village is in the Blouberg Municipality and falls under Capricorn District. Jabu Masondo, spokesperson for the district, said that while he felt for the community's plight, he denied that they had been left without clean water for a decade. He said the community gets water by water tanker. But residents told GroundUp it had only come once since the start of the lockdown.
"Ga-Kobe was supposed to be benefiting from a multi-million rand water project of Blackhill Water Scheme. The project, which started in 2017/18 financial year, was expected to be completed in January this year," said Masondo.
"Brana community vandalised the package plant. The other main challenge is that ground water in that part of the community has a lot of salt content that is clogging or damaging the infrastructure," said Masondo.
He said that the project was being "resuscitated" and a booster pump was underway. "As soon as the refurbishments are completed, water will be pumped to a new steel tank at Ga-Kobe and distributed to homesteads. The refurbishment is expected to start in two weeks," he said.
The municipality has also requested additional funding from the Department of Water and Sanitation to unlock bulk water infrastructure projects. Masondo warned villagers that water collected from the pit was not for human consumption but rather for construction and livestock.
Dodgy people are suing us. Please support us by contributing to our legal costs and helping us to publish news that matters.