Furious residents confront Kariega officials after child drowns in sewage
"You only come to us when our children die," deputy mayor is told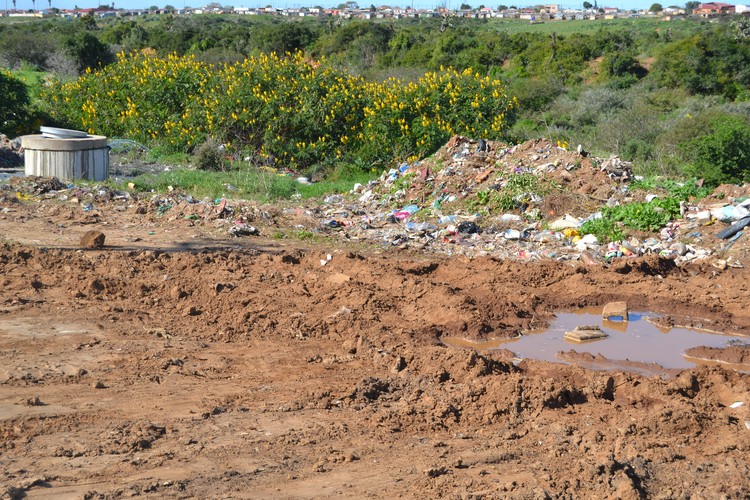 A six-year-old child drowned in a hole filled with sewage last week in Kariega.
Likamva Nzewuza was apparently playing with friends when he fell into the hole.
Residents of the area, who have been complaining about problems with sewerage and drains for years, confronted the deputy mayor and her delegation when they visited the family.
Angry residents of KwaNobuhle, Kariega, confronted the deputy mayor and her delegation at the weekend after a six-year-old boy drowned in a hole full of sewage last week.
The child, Likamva 'Liyema' Nzewuza, is to be buried on Tuesday morning.
Likamva was apparently playing soccer with his friends on an open field next to busy Bucwa Street last Tuesday when he fell into a hole and drowned. The area has broken drains and dirty water oozes down the road, coming from ward 45 and running down past wards 43 and 44.
Residents of the area have been complaining about the sewage for years.
Firefighters used a ladder to pull the child out of the hole. An eyewitness told GroundUp that Likamva's friends had not been able to pull him out and had alerted parents who called the firefighters.
"On arrival, the firefighters had to feel for the body underneath using the ladder. When they finally felt something heavy was underneath, they pulled him out through the ladder… and the boy was lying dead on the ladder while his clothes were drenched in sewage. Many people broke into tears," she said.
Mayco members visiting the area on Friday led by deputy mayor Babalwa Lobishe were confronted by angry residents. "You only come to us when our children die," said resident Phindile Teyise.
Mayco member Yolisa Pali promised that the municipality would help the family with the funeral. She said the sewerage system would be complicated to fix but "we will send engineers to make an intervention and fix it tonight".
Deputy Mayor Babalwa Lobishe echoed the same promise. "We will have it fixed," she said.
Ward 45 Councillor Sabelo Mabuda told the crowd that he had been driving around the area, taking photos of the stream of sewage running down Bucwa Street. "I do report all leaks including this sewer canal. Engineers are going to have this fixed permanently," he said. "They are working on a strategy to solve this once and for all."
On Friday the municipality sent trucks to clear out the canal and workers to cover it with soil.
But when GroundUp visited the child's family on Monday afternoon, the hole was already opening again and the drain next to it was oozing dirty water.
The family said they were too traumatised to speak further.
© 2023 GroundUp. This article is licensed under a Creative Commons Attribution-NoDerivatives 4.0 International License.
You may republish this article, so long as you credit the authors and GroundUp, and do not change the text. Please include a link back to the original article.
We put an invisible pixel in the article so that we can count traffic to republishers. All analytics tools are solely on our servers. We do not give our logs to any third party. Logs are deleted after two weeks. We do not use any IP address identifying information except to count regional traffic. We are solely interested in counting hits, not tracking users. If you republish, please do not delete the invisible pixel.