Fortune: "Nothing beats playing for your country in the World Cup."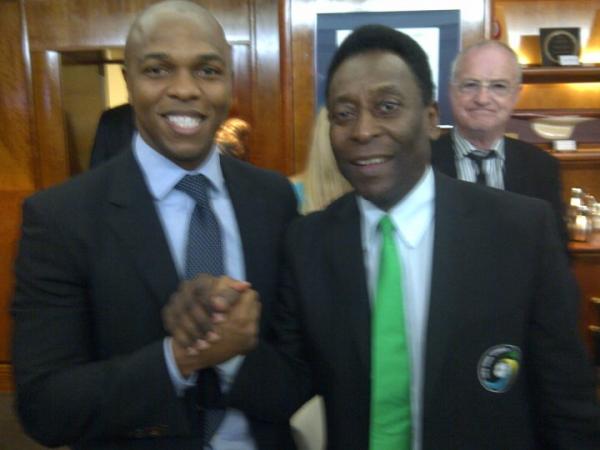 Former Bafana Bafana star, Quinton Fortune, is now 35. He talked to GroundUp about his time playing for the national team, his new work with Manchester United and what South Africa needs to become a soccer powerhouse.
GroundUp: Where did you grow up?
Fortune: Kewtown, Athlone
GroundUp: What were the main positions you played?
Fortune: Centre back, left back, left wing, centre midfield and striker.
GroundUp: How old were you when you got involved in soccer?
Fortune: 4 years old.
GroundUp: What soccer players inspired you as a kid?
Fortune: My brothers Deon, Peter, Colin and Desmond, but especially Deon because at that time he was the best football player in the family. Otherwise I was really inspired by Duncan Crowie, Rhee Bop, aka Richard Korkee, and of course the great Pele.
GroundUp: Was it tough growing up on the Cape Flats?
Fortune: No it wasn't tough at all. I had my family there, food on the table and a roof over my head. Yes there were gang fights and drugs, but my parents made sure that I never got involved in that life. I also truly believe that football played a huge part in my life as a way to keep me out of trouble.
GroundUp: How old were you when you realised you would one day be good enough to play for South Africa?
Fortune: I never really thought whether I was good enough or not to play for SA. I just knew that when I played football that I wanted to compete and win.
GroundUp: What factors in your youth played the biggest role in your development as a soccer player?
Fortune: I was very fortunate to grow up just next to a football stadium (Athlone). I used to play football every day next to the flats with my friends but I also loved competing against older players in my area. I just wanted to be the best and I wasn't afraid of competing with them. I think those factors as well as having older brothers loving football just developed my skills.
GroundUp: What were your highs playing for Bafana Bafana?
Fortune: My highlights were when I represented my country during the World Cup in France in 1998. It was the first time that our country played in the World Cup and I felt very blessed to have been a part of it. Another highlight was during the World Cup in Japan/Korea 2002, when I managed to score a last minute penalty.
GroundUp: And what was the lowest point?
Fortune: That was when I wasn't able to play the world cup qualification game against Ghana at home because of a knee operation. Despite the confirmation of the doctors before the operation that I would completely recover for the game, I didn't. If I knew at that time I would have not have had the operation. I just thought that I would have been able to perform better for my country.
GroundUp: What were the hardest challenges you encountered during your career?
Fortune: I encountered a lot of challenges during my football career but my injuries were one of the hardest. Not being able to play football was very hard for me. Another challenge obviously was when I moved to the UK at 14. It was very hard to be apart from my family in another country that at that time I barely knew. Otherwise I think that it's very important for a football player who plays at this level to be surrounded by the right people and I think for me It wasn't always the case, which has created the biggest challenge in my life.
GroundUp: Most people think that Bafana Bafana should do a lot better. What needs to be done to improve South African soccer?
Fortune: I think a way to improve our football is to invest in projects that could discover talented players at a young age everywhere in SA. Creating academies could be an answer. We are so blessed in our country, and I truly believe that the next Messi will be South African and one day South Africa will be known worldwide for providing great footballers and hopefully I will be a part of it.
GroundUp: You've played for Manchester United, Bolton Wanderers, Bafana Bafana and several other clubs. Which one did you enjoy playing for the most? Which meant the most to you?
Fortune: Playing for Manchester United was a great honour and I had an amazing time there. I was able to play with some of the best players in the world and work under the best manager. But nothing beats playing for your country and competing in the World Cup.
GroundUp: What are your thoughts on the Van Persie move to Manchester United?
Fortune: It is a great move. Currently he is one of the best players in Europe and he's got lots of experience. So I think he will bring a lot to Manchester United.
GroundUp: Your thoughts for the upcoming season?
Fortune: Hopefully we will get the Premier League title back and win the Champions League. Despite losing our first game, I am confident that the team will be successful this season.
GroundUp: How was playing the Charity Match in Bernabeu it's been a while since you played? (Manchester United played a charity game against Real Madrid a few weeks ago.)
Fortune: It was great to play for such an amazing cause and with such great players like Zidane, Figo and Roberto Carlos. We had a great time there. The organisation and hospitality were excellent.
GroundUp: What message would you give to up-and-coming young soccer players, especially those living on the Cape Flats?
Fortune: Dream big. It doesn't matter where you come from. Work hard in everything you do. Dedication, determination, believe in yourself always. Never let anyone tell you that you are not good enough. Never ever give up. No matter what you achieve in life, always stay humble. Most important of all, put God first.
Disclaimer: The interviewer is related to Quinton Fortune.
Dodgy people are suing us. Please support us by contributing to our legal costs and helping us to publish news that matters.
© 2016 GroundUp.
This article is licensed under a
Creative Commons Attribution-NoDerivatives 4.0 International License
.