Taxi strike death toll mounts as minister and mayor hit stalemate
Five people have died in incidents related to the taxi strike, announces police minister Bheki Cele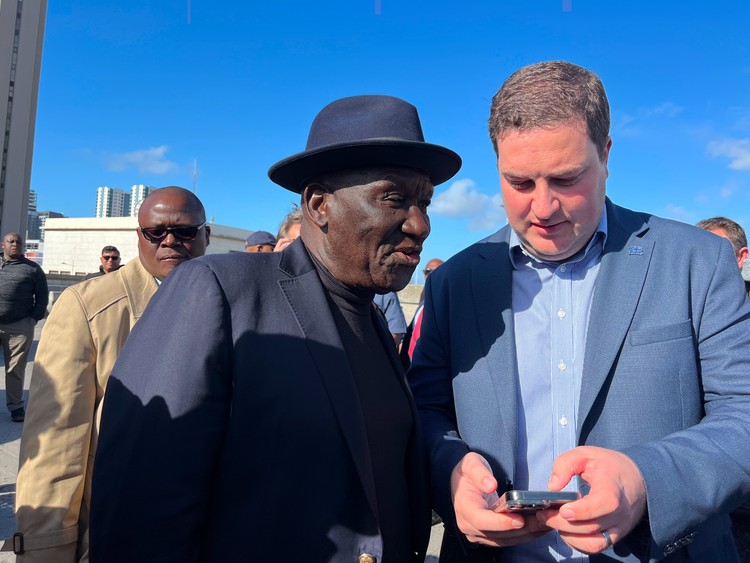 Five people have died as a result of violence related to the taxi strike which began on Thursday last week, announced police minister Bheki Cele at a press briefing on Tuesday.

Cele called on the taxi association, SANTACO, to return to negotiations, but Cape Town mayor Geordin Hill-Lewis said the rule of law was "sacrosanct" and the City would not negotiate with a gun to their heads.

Cele said violence not related to the taxi strike had taken place partly as a result of police having to divert their resources.
At least five people have been murdered as a result of the ongoing violent taxi strike in Cape Town, according to Minister of Police Bheki Cele, who briefed the media at Cape Town station on Tuesday.
Minister Cele also dismissed claims that he was involved in the strike in any way due to his presence at a South African National Taxi Council (SANTACO) meeting last week Thursday. He said that he was mandated to be there after he was approached by the community.
Thousands of commuters were left stranded at taxi ranks across the city and have been unable to move around freely since SANTACO called a strike last week.
The media briefing was tense due to the unexpected presence of Cape Town Mayor Geordin Hill-Lewis. The two disagreed on the way forward in terms of negotiations with the taxi associations.
According to police, the incidents which led to the deaths of five people, were:
On Thursday, at the Ntlangano Crescent, Nyanga, a 40-year-old male was shot and killed. Police investigations have revealed the man was a British National.
On Friday, a LEAP Officer was shot and killed in Nyanga while on duty.
On Saturday, a yet-to-be-identified male was killed in Mfuleni.
On Monday on the Airport Approach Road another yet-to-be-identified male was shot and killed.
Also on Monday, another yet-to-be-identified male was shot and killed on Borcherds Quarry Road, Nyanga.
Cele said violence not related to the taxi strike had taken place partly as a result of police having to divert their resources.
He called on the City, the Province and SANTACO to return to the negotiating table.
"If those two [the City and SANTACO] don't come to the table, we are not going to resolve this matter. We will be wasting our resources and diverting our resources from dealing with crime. Since it started, there's been a hell of an upsurge. People here have been dying. Everybody must come down from their high horse and swallow [their] pride."
"The people that are suffering are the ordinary black child who can't go to school. Women are walking 35 kilometres [to get home]," he said.
In response, Hill-Lewis said the City would not negotiate when it came to following the law and rules of the road. He cited a recent taxi accident where seven children died as a result of a taxi jumping a red robot as an example. He said taxi associations had asked for their vehicles not to be impounded for traffic violations.
"We will not negotiate on that. The rule of law is sacrosanct in this city. We want it to be sacrosanct across South Africa, but it is sacrosanct here. We will uphold the rule of law come what may," he said, adding that the City's "negotiating partners" would learn that they had to negotiate in good faith, "not while they have a gun to our heads".
"We have this peace and quiet, albeit for only 10 or 12 hours, because the taxi industry knows it will get nothing from government, no answer whatsoever, so long as this violence continues."
Hill-Lewis said commuter safety was a priority, and law-enforcement officials were guarding 72 bus routes to make sure that no further violence took place.
Hill-Lewis said the City would return to the negotiating table if peace continued for the foreseeable future.
"The City will always act in the interests of commuter safety, including impounding vehicles for offences under the National Land Transport Act."
Earlier on Tuesday, the Minister of Transport said the City of Cape Town should release all taxis impounded under a City by-law enacted in terms of the National Land Transport Act, but the City countered that it is not this by-law that it has been using to impound vehicles.
Cele stated that police have arrested 120 suspects for various offences including malicious damage to property, public violence and looting. He said that there had also been 26 murders in the city since the strike started "because the police are unable to do their work".
Western Cape MEC for Community Safety and Police Oversight Reagen Allen confirmed crime had risen since the taxi strike started. Current hotspots included Delft, Kraaifontein, Mfuleni, Khayelitsha, and parts of Mitchell's Plain.
The taxi strike is expected to continue after negotiations failed between SANTACO and the local government.
© 2023 GroundUp. This article is licensed under a Creative Commons Attribution-NoDerivatives 4.0 International License.
You may republish this article, so long as you credit the authors and GroundUp, and do not change the text. Please include a link back to the original article.
We put an invisible pixel in the article so that we can count traffic to republishers. All analytics tools are solely on our servers. We do not give our logs to any third party. Logs are deleted after two weeks. We do not use any IP address identifying information except to count regional traffic. We are solely interested in counting hits, not tracking users. If you republish, please do not delete the invisible pixel.