Education organisation uses technology to urge Motshekga to fix schools
|
Mary-Anne Gontsana
News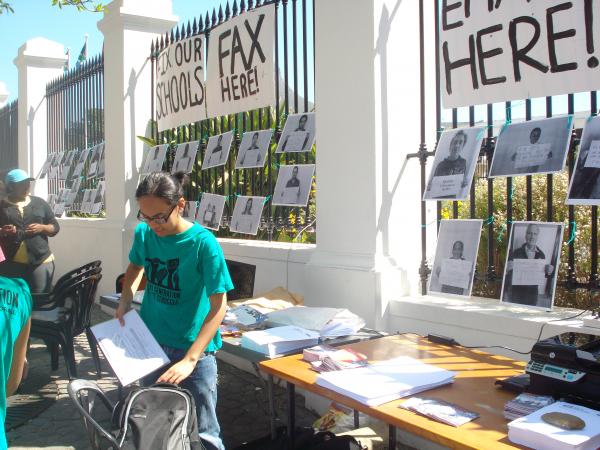 In a little over a month Equal Education (EE) head to the Bhisho High Court, to continue their fight for minimum norms and standards, and they are pulling out all the stops.
Two weeks ago the organisation launched their Fix Our Schools exhibition at the Central Methodist Mission Church. Last week they took it a step further by using technology to communicate with Minister of Basic Education, Angie Motshekga. About 50 learners from different schools gathered outside parliament to send a fax, email, tweet or letter to the minister.
EE's communication media liaison Karabo Monatisi, said the gathering at Parliament was part of the lead up to the court case on 20 November 2012.
On 2 March, EE filed an affidavit in the Eastern Cape's Bhisho High Court against Motshekga and other respondents including nine provincial ministers of education, the Minister of Finance, the Eastern Cape government and the national government. Equal Education's court application has two parts. The first will the ask the court to order the state to provide emergency relief for two mud schools, Mwezeni Senior Primary School and Mkanzini Junior Secondary School in the Eastern Cape. The organisation argues that the infrastructure at these schools is inadequate for learning. The second part will ask the court to instruct the state to prescribe minimum norms and standards for school infrastructure.
"We will flood her (Motshegka) inbox and there is no reason for her to ignore our cries. The minister will get all the emails, faxes and letters and she will hopefully see the seriousness of this situation," said Monatisi.
GroundUp phoned the Department of Basic Education to get a response from Linda Chrisholm, advisor to the Minister. But all attempts to get hold of her failed. We also attempted to get hold of Steve Mabua, the Minister's private secretary, but his phone was consistently off.
Apart from emailing, faxing and writing letter, learners were also given a chance to write messages on A3 sized paper then have their pictures taken.
One learner who was the first to write such a message and have his picture taken, was Ndyebo Gushu, a 15-year-old from St John's Senior School in East London. "I believe that our school, as it is a public school, needs better facilities such as schools books, chairs and sport equipment. I am very happy that Equal Education is doing this," he said. He stood with his sign written "We want better school facilities", as he posed for a picture. The pictures taken would be added to EE's virtual picket which gives the public the opportunity to add their name and face to the campaign.
© 2016 GroundUp.
This article is licensed under a
Creative Commons Attribution-NoDerivatives 4.0 International License
.