Education that caters for disabled learners is attainable
But government needs to show more political will to implement its policies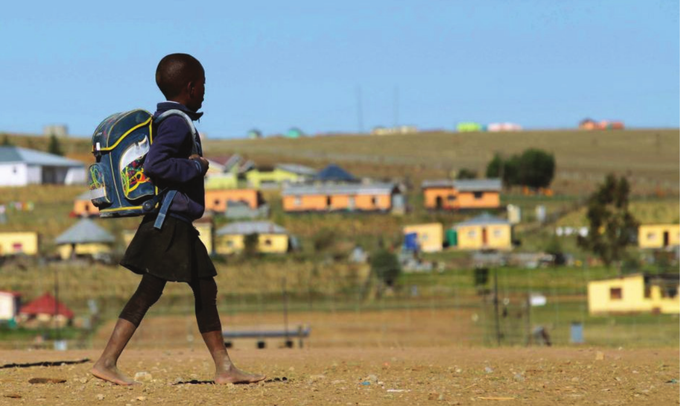 Thandi* is an HIV orphan. She was born prematurely in 2001 and two years later her mother died as a result of an HIV related illness. She was a very sickly baby, in and out of hospital. She suffers from incomplete brain development and is struggling in school. Six years ago her family applied for a place in a special school, but she is still on the waiting list.
Thandi is now in grade 5 at an ordinary public school. She is one of many learners who are falling more and more behind at school because the education system has failed them.
Disabled learners, learners stuck on waiting lists for years, learners who have not been accommodated in ordinary schools, teachers who have not been trained to teach learners who need special assistance or who don't have the resources to do so: these are the challenges facing families who approach the Equal Education Law Centre (EELC) for help.
Some of these issues are dealt with in a new overview in which the EELC highlights the legal position of the learners and the obligations of the government to see to their educational needs.
It is now one year since the publication by Human Rights Watch of its report titled "Complicit in Exclusion" South Africa's Failure to Guarantee an Inclusive Education for Children with Disabilities. Despite the report's damning indictment of the government (and particularly the Department of Basic Education), learners with disabilities and other learning barriers are still not getting access to basic education.
The Constitution guarantees the right to basic education (section 29(1)(a)) and the right to equal benefit and enjoyment of all rights (section 9(1)). The Constitution also prohibits unfair discrimination on the basis of disability. Furthermore, our Constitution stresses the importance of taking into account the needs of children by declaring that a "child's best interests are of paramount importance in every matter concerning the child" (section 28(2)). The right to education, unlike other rights, is unqualified, meaning that government cannot justify its failures with notions of progressive realisation or available resources. Government must ensure that these learners are immediately accommodated.
The 2001 Education White Paper 6: Special Needs Education asserts that the Department of Basic Education carries, "a special responsibility … to ensure that all learners, with or without disabilities, pursue their learning potential to the fullest."
But in spite of the state's undertaking 15 years ago, to realise the right to inclusive education across the country through the policy set out in White Paper 6, some learners are still being denied their constitutionally guaranteed right to basic education.
The government's failure to ensure an inclusive education system takes various forms: inadequate budget allocations; failure to develop fully-inclusive schools; failure to integrate learners with disabilities and other learning barriers into ordinary schools; poor provisioning of teaching and learning support, and of school based support teams; and failure to equip teachers with the necessary training.
Susan* is 8 years old, attending grade 2. When she was 3 years old she had to undergo brain surgery. Susan survived the operation, but according to her family, was never the same little girl anymore. One of the effects of the operation was that Susan was hyperactive and had problems with concentration and memory.
Susan started her schooling in 2013, but didn't make any progress at school. At first her parents thought that the problem might lie with her teacher, but later they learned that Susan was experiencing learning difficulties. During her time in grade 1 she could not make sense of numbers or form words out of letters, struggling even to write her own name. Her class teacher, in consultation with her parents, decided that it would be best if Susan were held back in grade 1. In her report, Susan's grade 1 teacher wrote that "the school does not have the relevant learning material and resources" to assist her, or the manpower and skills, and could not provide her "with the needed one-on-one attention that she requires".
Susan was held back in grade 1. She again did not meet the requirements for grade 2 in the 2014 academic year, but was transferred anyway. In grade 2, Susan's progress was not improving. Susan's parents are concerned as she is still only 8 years old but already tells her parents often that she does not want to attend school. Her parents are scared that she might run away from school one day.
In the Eastern Cape, we represent the families of 10 year old Busi* and 11 year old Karabo*. Busi and Karabo are autistic learners who are on a waiting list to attend special schools in the Eastern Cape. They are two of a large number of learners who are out of school without any form of access to an education. Reasons given by the education department range from oversubscription of schools to lack of teachers and resources. In the meantime the childrens' right to education is being violated and their development stunted.
We should applaud the positive steps which our government has taken toward the development of policy frameworks for an inclusive education system. But policies are only as effective as the political will and capacity to realise them. If the State turns its backs on its constitutional obligations, the right to an inclusive education system will continue to remain an unattainable dream to the half-a-million learners who need special assistance.
* Names changed
© 2016 GroundUp.

This article is licensed under a Creative Commons Attribution-NoDerivatives 4.0 International License.
You may republish this article, so long as you credit the authors and GroundUp, and do not change the text. Please include a link back to the original article.