Eastern Cape rock art vanishing due to vandals
Rich trove of cave paintings going back perhaps 20,000 years is being erased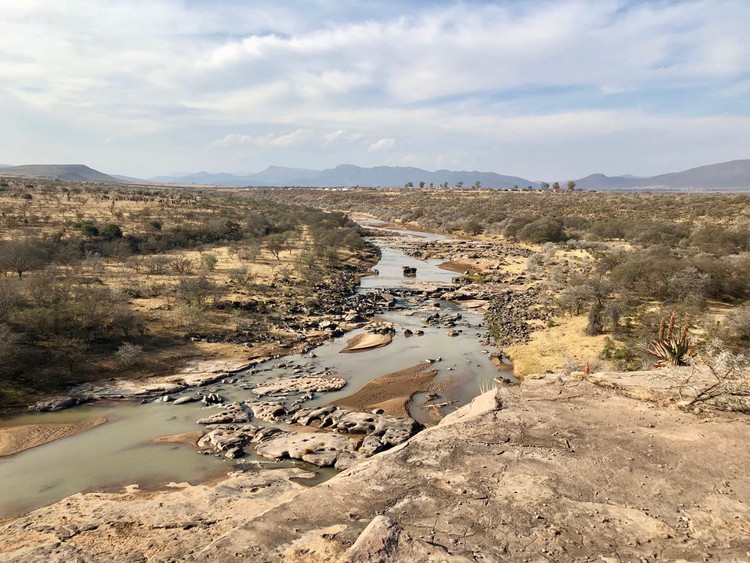 In caves along the Great Kei River and at the confluence of the White (Cacadu) and Black Kei rivers in the rural Eastern Cape, there is a wealth of rock art paintings. They are not well known and they are in danger of disappearing altogether.
The rock paintings (parietal art) stretch back in time from the 19th Century to perhaps 20,000 years ago. "These paintings are the history of our ancestors," says Dr Nomalanga Mkhize, historian and anthropologist at Nelson Mandela University. "Their significance is paramount. These artefacts symbolise a civilization spanning thousands and thousands of years … They tell San history … and we can learn from their way of life."
The paintings are not that well known to tourists. There are no guest houses or any tourist signs. People explore on their own.
But the paintings are being defaced says local resident Nyameko Somgede. He showed GroundUp paintings completely obscured with charcoal and smoke residue. Some have been scratched through.
Somgede said, "People who are doing this damage must be young kids who are herders. They need to be educated how important this area is to us for us to protect this art."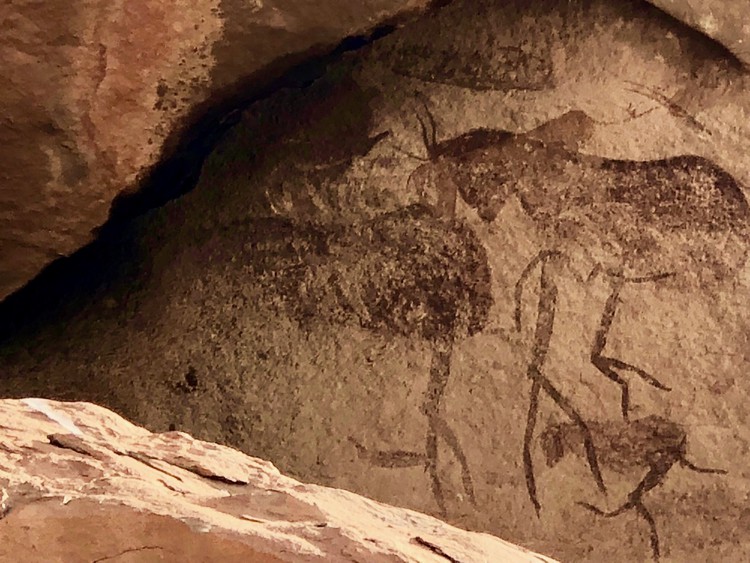 The many paintings include a number of remarkable works, such as the so-called "lost" springbok near the White Kei River and the depiction of a Victorian lady, complete with her hat, in the Xolobe River Valley. She is believed to have been a Scottish missionary who lived in this remote and isolated area.
Speaking of the significance of the paintings, Mkhize said, "The San had many clans. The Xam clan are the forefathers of the Xhosa nation. Xhosas are a mix masala nation consisting of Khoi, San and Nguni … For instance, the mother of Maqoma, the great Xhosa general was San and he married Katji, a Khoisan woman, who was with him on Robben Island."
Resident Nomabhelu Melani said, "It is a home of our ancestors. It is our spiritual home. When we were young we never played or touched that area; it was sacred."
The area is large, along about 32km of river bank, near the St Marks Anglican mission (founded 1855) and encompassing the villages of Tyelerha, Banzi, Ntsintshi, Xolobe, Hoyita , Nqwashu, Sabalela, Nqwathi and Nqolosa.
Local residents, upset by the destruction, have called on Intsika Yethu Local Municipality to do something.
Municipal spokesperson Zuko Tshangana said, "We condemn people who are defacing these murals as this is part of our heritage. People need to be reported so they can be prosecuted. Currently as a municipality we are busy mapping all our heritage sites to have a concrete tourism plan and also to safeguard these areas,"
The paintings were first recorded for the West by a British Settler George William Stow in the 1860s and later by a German Trappist monk, Brother Otto Mäeder, around 1882. There are over 60 caves. Numerous panels of rock art are believed to have been removed by members of the Cape Mounted Rifles shortly after the Frontier War of 1877.
Eastern Cape retired farmer and amateur anthropologist Victor Biggs from East London, who has also recently photographed the paintings, has a different view. "The moment we call attention to these caves it is the day we see influx of people and then they will be destroyed," he said.
King of Western Tembuland, Dalimvula Matanzima, who is the custodian of the area, said, "This area has too much historical significance. This land is under the chieftainship of the Xhosas because this place used to be the royal house of Sarhili. The history of the San in this area is very interesting because the San, Khoisan, Xhosas and Thembus you cannot separate. For years they have intermarriages. That is why within the Xhosa and Thembu you will find San clans. We were one and we still are one."