Eastern Cape parents build their own school
Xhorha community still waiting for help from government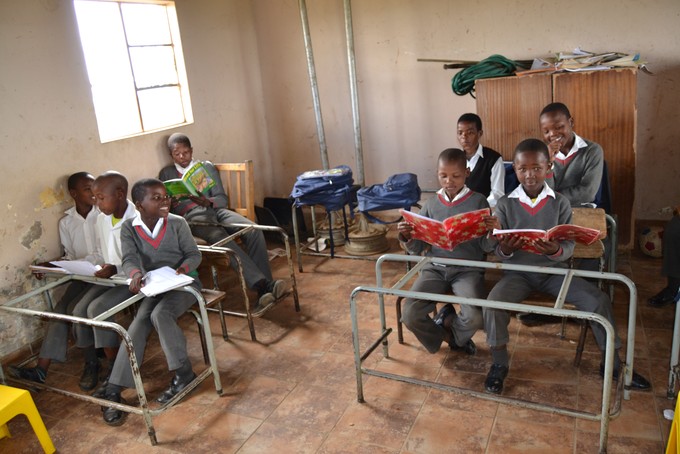 When the Eastern Cape Department of Education failed to provide their children with a school, a group of parents in Gotyibeni in Xhorha took matters into their own hands.
In 1994, Gotyibeni residents decided they needed a primary school for their children. Other primary schools were far from the area and children had to wait until the age of nine before they could go to school on their own.
Residents of this rural area near Elliotdale applied to the department of education to start a school and the project was approved. One of the teachers from the area, Nolundi Vokwana, now the principal, was employed by the department in 1994 to start the class with 25 pupils in grade one.
At the time there were no classrooms and children were taught in parents' homes and then in a local church. When in 1995 the school grew to include a grade two class, the community decided to build classrooms.
School governing body member Boniswa Mncono, a mother of two, said: "This school was built by the community from scratch. We started with two classes, thinking that the department of education was going to assist us but it never did. At that time it was still just grade one. We used to donate R50 to buy bricks, then make another donation to buy whatever was needed. We first collected all the material. Zinc was donated by a man in the area. We kept on collecting the money until we managed to build these two classrooms," said Mncono.
The two classrooms are now used as the staff room which is also combined with grade R, and another classroom is used for grades one and two. Only the staff room has electricity.
Mncono said 10 years later a businessman from the area had donated two classrooms for grades three and four.
She told GroundUp that last year parents had decided to build another two classrooms after they realised that the department of education was not willing to help them. This time each house donated R100 after a public meeting.
The two classrooms still need plastering and floors but are in use. The school now offers classes from grade R to grade six.
Gotyibeni Primary, a no-fee school, has only three teachers. Each teacher handles two classes and has to teach at least six subjects. At its peak, between 1990 and 2000, before another primary school was built nearby, the school had 500 pupils, but now the number has fallen back to 150.
Mncono said parents had been in and out of the department asking for a new building with no luck.
"The department is playing games with us. One year we are on a priority list, next we are removed. There are schools that were started after us but most of those schools have furniture and they are renovated," she said.
She said parents had bought plastic chairs and desks and had asked for old furniture from a high school not far from the area.
"When we went to the department of education to ask for a school they told us they were going to build us toilets and to us that was just an insult. We built this school, now we are maintaining it, trying to cover all the cracks. The department of education does not care about us," she said.
Grade four learner Awona Siwu showed GroundUp his broken chair. Before sitting down he had to put his bag on the chair to cover the hole, he said. Several of the desks are also broken.
"They were like this when we got them from the high school. At least they gave us desks. We used to sit on bricks and put our books down in order to write," he said.
Some of the windows are also broken.
"I wish you were here in winter when it's cold. You would see us when we are sick," he said.
He said he wished the department of education would provide proper classes with electricity.
At the time of publication the department had not responded to a request for comment. Comment from the department will be added when it is received.
© 2016 GroundUp.

This article is licensed under a Creative Commons Attribution-NoDerivatives 4.0 International License.