Eastern Cape learners tackle MEC over lack of toilets at schools
"Our toilets are in no conditions to be used. They are dirty and there are no bins to throw our sanitary pads."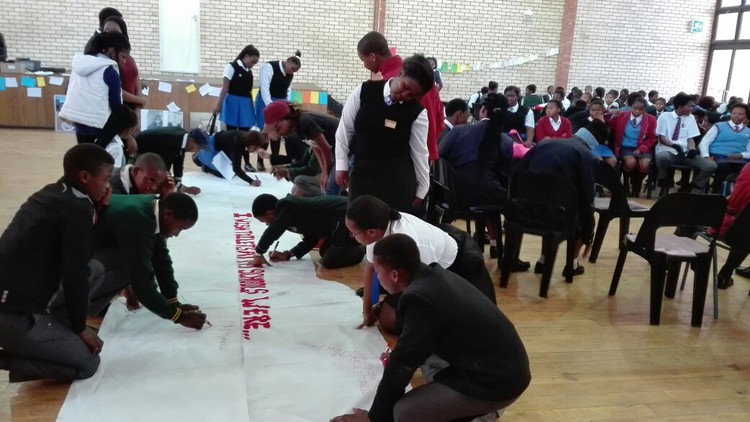 Close to 500 learners are sharing two toilets at Qonce High School near King William's Town in the Eastern Cape. This is according to a letter written by learners addressed to Mandla Makupula, MEC for Education in the Eastern Cape.
On Wednesday, hundreds of Equal Education (EE) members from schools in King William's Town, Dimbaza and Bisho gathered in Roji Skenjana Hall in Bisho to share their concerns about poor sanitation at their schools.
The learners also took the opportunity to write letters to Makupula, asking him to fix the toilets at their schools. One of the concerns raised in the letters was that the dirty toilets would pose health risks for female learners.
The event follows an investigation by EE into the state of toilets at 60 schools in the Eastern Cape last year.
EE deputy head, Amanda Rinquest, said the organisation used Women's Day to illustrate the severe impact the lack of decent sanitation had on learners, particularly young girls. "Whose bathrooms have no doors? And who has no place to discard their sanitary towels, if they have access to sanitary towels at all?" she said.
Silindokuhle January, a grade 12 learner at Dimbaza Central High School, said that there were not enough working toilets at her school and those that worked were always dirty. "Our toilets are in no condition to be used. They are dirty and there are no bins to throw our sanitary pads," she said.
Ziyanda Gaxa, a grade 11 learner at Qonce High School, said that there are only two working toilets at her school which were "not enough for hundreds of learners". Gaxa said the toilets are broken and often flooded. She said that it was not the first time they have tried to raise the issue with Makupula.
Oyisa Goba from Xolani High School in Zwelitsha, King William's Town said that in his letter, he requested that the Department build proper toilets and provide access to water at his school.
Rinquest said that following Equal Education's investigation of the schools last year, they found the following: 
There are very few toilet facilities for learners with disabilities

Only 15% of schools visited had flush toilets

The learner to toilet ratio of the Norms and Standards for School Infrastructure was not applied. At 52% of the schools, there were more than 30 learners per toilet, and at 65% there were more than 30 learners per working toilet.

At one school, the learners to working toilets ratio was 294 to one.

Toilets were filthy. Broken or too few toilets often meant that entire schools depended on two or three pit toilets.

Learners don't have toilet paper and soap, or dirt bins.

A lack of maintenance staff and funding worsen the problem.
Rinquest said the letters and the Norms and Standards drafted by learners will be sent to Makupula next week.
Eastern Cape Department of Education spokesperson Malibongwe Mtima said that they have been in talks with Equal Education about the schools. He said the Department had plans to build toilets at the schools.
Dodgy people are suing us. Please support us by contributing to our legal costs and helping us to publish news that matters.
© 2017 GroundUp.

This article is licensed under a Creative Commons Attribution-NoDerivatives 4.0 International License.
You may republish this article, so long as you credit the authors and GroundUp, and do not change the text. Please include a link back to the original article.