Eastern Cape hospital battles water crisis
Pumps fixed in 2011 break down again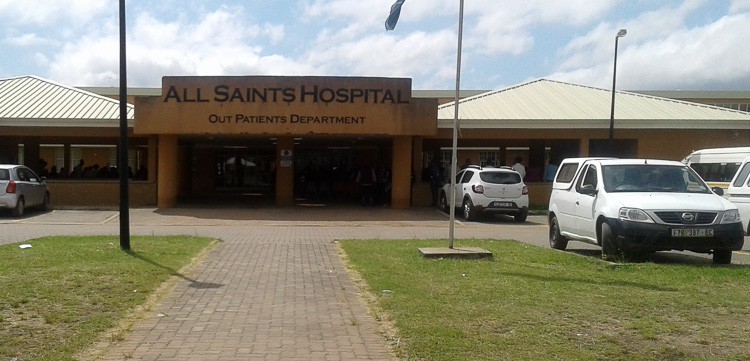 Patients were turned away from All Saints Hospital near Mthatha last month when the water supply broke down for the second time since 2011. Eastern Cape Department of Health officials have promised to fix the broken pumps but staff and patients are sceptical.
Since 1967, All Saints Hospital in Ngcobo, 82km from Mthatha, has relied for its water supply on the nearby Nxuba river. Water is pumped from the river to a water treatment dam from where two pumps send it to the hospital water tanks.
The pumps were installed in 1967, hospital staff say, and replaced in January 2011, after a pipe burst and water had to be delivered to the hospital in trucks. At the time the Eastern Cape Department of Health promised  to come up with a permanent solution.
But a few weeks ago the water supply was interrupted again when one of the pumps broke down. Over a period of six weeks several patients had to be sent to other hospitals in Mthatha, Cofimvaba and Queenstown.
When GroundUp visited the hospital last week the water supply was back to normal, but the staff said a permanent solution such as a borehole was needed. They said they were afraid the old pumps might break down again and the Department of Health should come up with a better plan. "There is no permanent solution until a borehole is built as a backup plan," said one of the doctors, who did not want to give his name.
Sisanda Tokwe from Nqumakala village in Ngcobo said she had been turned away early this month because of the water shortage. The pregnant woman said she was told twice to go to a clinic in Ngcobo town because the hospital was only accepting patients in serious condition. "Nurses told us that they were scared to keep us there since there was no water. I spent R100 going to hospital, just to be told to go back to the clinic," she said. Tokwe said the clinic was full and she had to return the following day, spending more money.
A man, who identified himself only as Ayabulela, said his uncle had been transferred to Hewu Hospital in Queenstown, 141 km from Ngcobo, because of the water shortage. "I had to spend R300 on transport just for one visit," he said.
Eastern Cape health department spokesperson Sizwe Kupelo confirmed the shortage of water at All Saints Hospital but denied that any patients had been turned away. "Doctors remained at the hospital and continued to see patients, and those who required admission were admitted and sent to other hospitals," he said.
He said the department was replacing the broken pump. Asked why the problem had arisen again when the pumps had been replaced in 2011, he said only: "We are working hard to replace the damaged pumps."
© 2017 GroundUp.

This article is licensed under a Creative Commons Attribution-NoDerivatives 4.0 International License.
You may republish this article, so long as you credit the authors and GroundUp, and do not change the text. Please include a link back to the original article.