Durban march for science
Youth, women encouraged to join science industry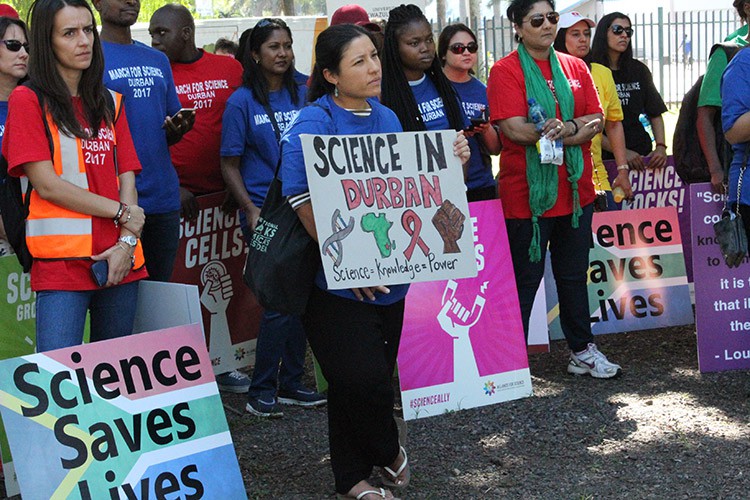 Nearly 200 scientists and science lovers took to the streets of Durban on Saturday.
This was one of a series of marches across the globe aimed at raising awareness of the importance of science. The group are also calling for better support for science by government.
During the march, which started at the City Hall to the South African Medical Research Council (SAMRC) in Gugu Dlamini Park, participants highlighted some of the ways science can be used to change people's lives.
Young people, especially women, were encouraged to pursue a careers in science.
Professor Quarraisha Abdool Karim, from the Centre for the AIDS Programme of Research (CAPRISA), said the field of science needed more women because of their crucial knowledge of communities. "Although we are in the 21st Century and make up more than half of the world's population, it's still difficult for women to contribute to innovation and discoveries. When you have women being equal partners in science, there will be a synergy and the value of work done will be substantial," she said.
Dr Hannah Motshedisi Sebitloane, Head of the Obstetrics and Gynaecology Department at the University of KwaZulu-Natal, said that science has made a significant contribution in the morbidity and mortality rates of babies in South Africa. "We have come a long way with HIV prevention and treatment, and science has allowed today to have 1 out of 100 babies born with HIV as opposed to the days before advanced science and technology where it was 33 out of 100," she said.
Professor Jerry Coovadia said: "We're here to remind people how essential science is for disease and even social cohesion. It's an exciting time to be alive in terms of science and technology. Young people need to use this opportunity for a greater change."
© 2017 GroundUp.

This article is licensed under a Creative Commons Attribution-NoDerivatives 4.0 International License.
You may republish this article, so long as you credit the authors and GroundUp, and do not change the text. Please include a link back to the original article.