Dunoon neighbourhood watch shelter set ablaze
Meanwhile communication breaks down between citizen patrols and police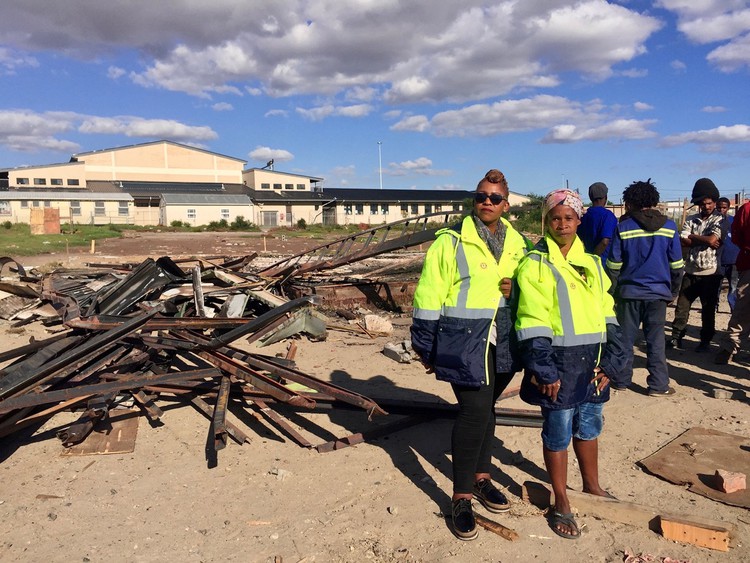 Last week a prefab mobile structure on a municipal sports field used as a shelter by the Dunoon Neighbourhood Watch was set ablaze. Earlier that day, 4 April, the City of Cape Town Anti Land Invasion Unit (ALIU) tore down, for the third time, shacks erected on the sports field. Minutes after the ALIU left, shacks were being rebuilt.
Suspicion for the blaze fell on the land occupiers, but they deny any responsibility for the fire that destroyed the neighbourhood watch offices. They refused to talk to GroundUp about anything to do with the fire.
The neighbourhood watch has opened a criminal case with the Milnerton police.
Station commander Brigadier Marius Stander said no arrests have been made; the suspects are unknown, and no information was forthcoming from the community.
Coordinator of the neighbourhood watch Noluthando Ludziya said the Dunoon Primary School had donated the prefab mobile structure to them last year July. The watch had been struggling since 2014 with no offices or shelter to change clothes or to have coffee breaks during night patrols.
"The burning of the container is going to affect us big time. Winter is coming and we don't understand how some people can burn something that is helping the community. The burning of the container has brought down the morale of volunteer neighbourhood watch members," said Ludziya.
She said the Milnerton police station is 10km away, while the neighbourhood watch was right at the residents "fingertips". She said the police often don't pitch when called.
"We resolve a lot issues. For example domestic violence; husbands chasing out their wives, throwing their clothes out the house; landlords fighting with tenants for non-payment of rentals, and also [when] people sell one RDP house to more than one person. We resolve … all these issues. We are now back to square one," said Ludziya.
"Some people don't see the importance of the neighbourhood watch; they think we harass people," said Ludziya. She accused the police of not supporting the watch and having let them down when patrol members were threatened.
Stander said the Dunoon Neighbourhood Watch had lodged a complaint against the Milnerton SAPS for not supporting them but were not willing to talk to "us or even the Milnerton Cluster Commander".
He alluded to the watch members having "certain expectations". Stander said, "Although we make every effort to work with them as partners in the fight against crime, support in terms of training and equipment etcetera falls within the ambit of the department of community safety and requires that certain processes such as registration and accreditation by the department be followed."
He said neighbourhood watches are established to be the eyes and ears of the police and should not to act outside the law by making illegal arrests as such actions may be unlawful and expose themselves as well as SAPS to civil action.
"They need to provide specific information upon which the police may lawfully act … SAPS made every effort to open a dialogue with the Dunoon Neighbourhood Watch and establish a mutually beneficial communication channel, which they unilaterally decided to abandon. We would however urge them to resume dialogue with SAPS in the interests of creating a safer environment in Dunoon," said Stander.
Dodgy people are suing us. Please support us by contributing to our legal costs and helping us to publish news that matters.
Letters
Dear Editor
Enough suffering for these people. Proper intervention is required and government in fact national treasury needs to give these people what they were promised decades ago. Decent living conditions and a supportive community policing forum and safe house for abused woman children and animals. Du noon is a mess and an eyesore. Life like this isn't acceptable.
© 2018 GroundUp.


This article is licensed under a Creative Commons Attribution-NoDerivatives 4.0 International License.
You may republish this article, so long as you credit the authors and GroundUp, and do not change the text. Please include a link back to the original article.