Dressing "sexy" to get a lift to school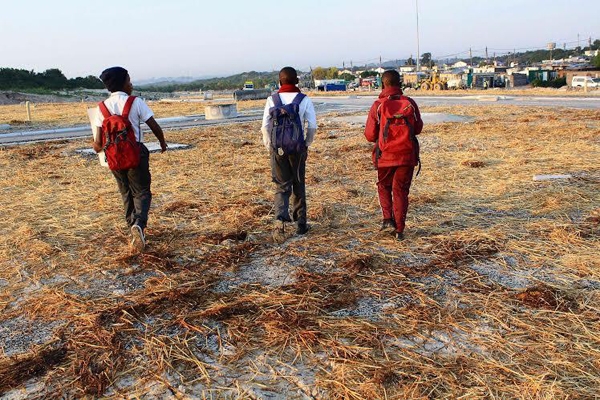 Many Mfuleni learners walk to and from school in Khayelitsha every day, but some have found their own mode of transport: they show their bodies to persuade drivers to give them money for transport or a lift.
"Sometimes if we are two girls it's easy to get money," a learner who identified herself only as Siya told GroundUp.
"When we get a lift, a driver would want to kiss one or both of us and we don't mind. We first see what he offers, then we decide what happens".
"At times he just kisses, or he would want to touch your chest, but it's nothing hectic and it's the most easy way to get at least R20," says Siya.
When GroundUp visited the area last week, five teenage girls were standing on the side of Spine Road, hitchhiking. Three were wearing the uniform of a Khayelitsha school and the others were in casual clothes: one was wearing a tight mini-skirt and short top and the other was wearing denim shorts and a very short shirt. All were carrying school bags.
A car coming from the opposite direction stopped and a middle-aged driver called the girl in the mini-skirt to the passenger window.
The other girls waited but the car left. The driver made a U-turn and stopped to watch from a distance.
A few minutes later another car with two men in it stopped and after a short conversation three of the girls got into the car which drove towards Mfuleni.
The other two girls turned and walked away and the car parked in the distance also left.
One learner told GroundUp that after school she goes to a friend's house in Khayelitsha to change from her uniform into something casual that would attract drivers on the road in order for her to get home.
Another said that walking was dangerous because they had to pass trees, bushes and open fields, and were at risk of being attacked and raped or killed.
"When we hike and the driver talks about sex or touches you and you get uncomfortable, you have a choice to react a certain way. But when you are walking and someone strangles you there is little you can do, especially when you are in an open field like the one near Mfuleni," said one learner.
Asked if they had ever been victims of an assault or knew of any learner who was victim of an assault during hitchhiking, they did not respond.
Another girl, who identified herself as Akhona, said that she had got used to hiking and that at times it was exciting because she met "interesting" drivers with whom she exchanged telephone numbers and later that day they would meet to go out.
"Some drivers give us a lift and later would like to see us without our uniforms. It depends on how the driver behaves. If he is polite then we give him our numbers but not all the time. And the one who gets called doesn't tell the story of what happens after. It's none of our business," said Akhona.
Dodgy people are suing us. Please support us by contributing to our legal costs and helping us to publish news that matters.
© 2016 GroundUp.
This article is licensed under a
Creative Commons Attribution-NoDerivatives 4.0 International License
.