Dogs stand in line for anti-rabies vaccinations
Government on a drive to prevent rabies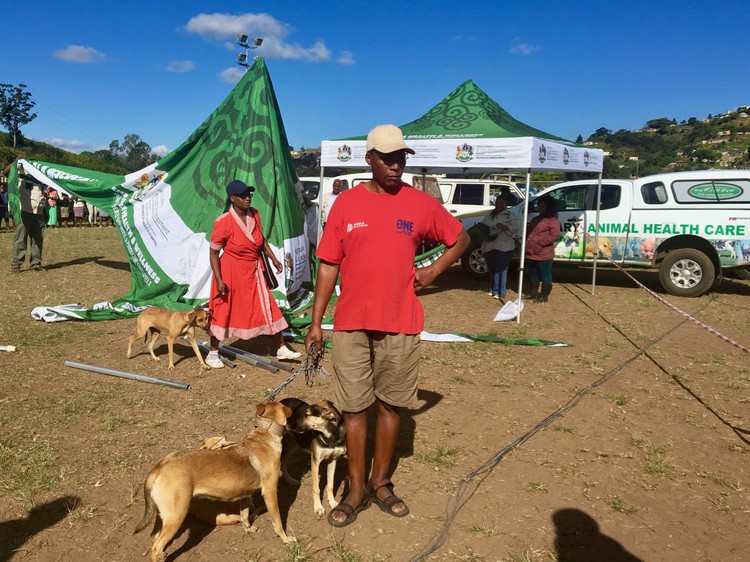 "Dogs protect us from crime. Our homes are not fenced … You return from work only to find that your home has been broken into. So dogs are our security, but we cannot turn a blind eye to them also being dangerous. We are grateful that they will be vaccinated against rabies," said Clement Mnomiya.
He was one of many residents of Etsheni-elimnyama, Marianhill near Pinetown, who stood in line in May to have their dogs vaccinated in a pilot project by the Kwazulu-Natal Department of Agriculture and Environmental Affairs to reduce rabies cases.
Etsheni-elimnyama is a small community with a large number of dogs. Many households appear to have more than one – three to five is typical according to resident. They are used for security. But some residents have been victims of dog attacks, because many are not on leashes, and some have become strays.
Residents say that five years ago a woman died after she was attacked by a dog infected with rabies.
Nobuhle Mazibuko said she was attacked by about four or five dogs a few weeks ago. She had to go to a clinic for treatment. "There was no way I could go back because they would have attacked anyway if I had tried to escape from them. They started barking and I screamed, and that is when they attacked me on my leg. The problem is that almost all the households have dogs, and the houses are not fenced."
More than 500 dogs were injected as community members came in their numbers.
MEC Themba Mthembu said the project would be run throughout the province.
Rabies is fatal and incurable but if people are treated immediately after being exposed, it can be prevented. According to the National Health Laboratory Services (NHLS) about 55,000 people die of rabies worldwide annually, mostly in Asia and Africa. However, the disease is rare in South Africa, with only about a dozen cases a year.
© 2017 GroundUp.

This article is licensed under a Creative Commons Attribution-NoDerivatives 4.0 International License.
You may republish this article, so long as you credit the authors and GroundUp, and do not change the text. Please include a link back to the original article.