Does Zweli Mkhize have the integrity to be president?
He has put his own political interests above public health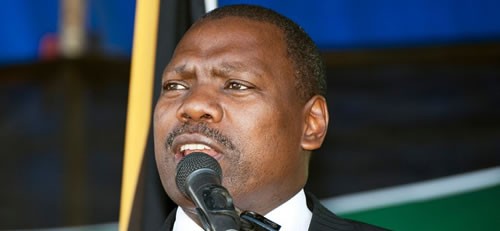 Stephen Grootes suggests in Daily Maverick that Zweli Mkhize, Treasurer-General of the ANC and former premier of KZN, could be the next president of South Africa. Grootes says that Mkhize gives the impression that he has the "integrity" to "speak out when necessary".
But there are two events, of which I have personal knowledge, that cast doubt on Mkhize's integrity: his unprincipled stance in the Treatment Action Campaign (TAC) prevention of mother-to-child transmission of HIV (PMTCT) court case in the early 2000s while he was the KZN MEC for Health, and the rollout of a dangerous circumcision device while he was KZN premier in the late 2000s.
In May this year Mkhize called on Thabo Mbeki to apologise for his Aids denialism. In this open letter Mkhize described his own efforts to get Mbeki to take a rational position on HIV.
The TAC's mobilisation for antiretrovirals for pregnant women to reduce the risk of their babies being born with HIV culminated in litigation in 2001 through 2002. Seven of the nine provinces opposed our case. The Western Cape supported the TAC's position. The KZN position was confused. Control of the province was shared between the ANC and IFP. The premier, the IFP's Lionel Mtshali, supported the TAC application. Mkhize, who was MEC for Health, opposed it. This was the province with the highest number of people living with HIV and the most infants at risk of infection. Within the main court case there was a sub-plot of Mtshali and Mkhize battling each other.
Mkhize writes in his letter to Mbeki: "Many of us were caught in the middle of the fight. In KwaZulu-Natal, premier Lionel Mtshali joined the TAC in court. A strange situation arose wherein the premier and MEC were on opposite sides of the same issue in court."
"This was embarrassing!" wrote Mkhize. Actually it was deadly: thousands of babies became infected and died because of the state's intransigence on PMTCT. Mkhize knew this, as he admitted in his letter to Mbeki. In the letter he described how health workers "pleaded that their consciences did not allow them to sit and watch as children died". It was "a view I shared," wrote Mkhize. But he could not bring himself to break ranks with Mbeki publicly, not then anyway. The PMTCT case was an occasion when it was necessary for Mkhize to speak out, but he didn't.
To his credit, Mkhize addressed a large congress for HIV treatment organised by the TAC and Cosatu in 2002. His presence there was a morale boost for the fight for treatment, and evidence that neither he nor the ANC was at one with Mbeki's views. Over the subsequent years Mkhize gradually positioned himself more forthrightly as a proponent of HIV treatment. We in the TAC were pleased when he became KZN premier in 2009. Here was someone we could work with.
And then came the Tara KLamp.
By the late 2000s three large clinical trials showed that medically circumcising men reduced their risk of contracting HIV. In a policy decision supported by the World Health Organisation, the country's HIV doctors and the TAC, the health department began to offer medical circumcision. This likely has helped reduce the number of new HIV infections.
There was great excitement when King Goodwill Zwelithini came out in support of the circumcision programme. In contrast to Xhosa culture, circumcision was not at the time popular among Zulu men. The king's support sent a message that circumcision was acceptable for Zulus too.
But the excitement soon turned to alarm. The KZN health department decided to implement circumcision using a device that had been tested in a clinical trial near Johannesburg by leading circumcision experts. It was found to be unsafe, causing, unnecessary pain and complications compared to the much safer, tried and tested surgical methods of circumcision.
Despite pleas and condemnations, the KZN government continued to use the Tara KLamp. The TAC confirmed and published reports of injuries. We ran adverts in KZN newspapers urging people to get circumcised but not with this device. Top HIV clinicians supported us. But the provincial government refused to back down.
The response by then KZN MEC for Health Sibongiseni Dhlomo to a letter from the TAC was astonishing: "[W]e are committed to massive Medical Male Circumcision in KZN as directed by His Majesty our King. We will do it medically as the Majesty instructed us. The king has instructed us that no one should die as a result of our MMC intervention but he did not instruct us that no one should have pain."
Evidence of corruption surfaced. The Mail & Guardian (through AmaBhungane) published details of the dodgy Tara KLamp tender. And the Zulu edition of the Sunday Times exposed how the director of the company that sold the Tara KLamp to the KZN government gave King Zwelithini a gift of a R1 million car.
On 16 November 2010 a group from the TAC, including three people injured by the Tara KLamp, met Mkhize at the provincial government offices in Pietermaritzburg to explain our concerns. We saw a disturbing side to him. He entered the room and then spoke for 1 hour 20 minutes of the next 1 hour 35 minutes before leaving. This seemed to be a tactic to avoid having to answer difficult questions. He told us the matter had received more publicity than it warranted, that TAC's response was disproportionate, and that no one had died. He said he was suspicious of our motives.
Traditional leaders in the province continued to hold large events to get village boys circumcised with the Tara KLamp.
There was likely corruption in the Tara Klamp deal. Mkhize was not to my knowledge personally party to this crookedness but he had the power to put an end to the use of the device and likely calculated that it wasn't in his best political interests to do so.
There was something particularly macabre about the Tara KLamp incident: making money by inflicting pain is not mundane corruption. Had the youths who were injured by this device been from Kearsney College rather than rural villages I doubt many columnists would think of Mkhize as a man of integrity.
There may be good arguments for Mkhize to succeed Jacob Zuma. But with the desire to end the reign of our deeply flawed president we must not fall into the trap of being uncritical of his potential replacements.
Dodgy people are suing us. Please support us by contributing to our legal costs and helping us to publish news that matters.
© 2016 GroundUp.

This article is licensed under a Creative Commons Attribution-NoDerivatives 4.0 International License.
You may republish this article, so long as you credit the authors and GroundUp, and do not change the text. Please include a link back to the original article.