Diepsloot children taught water safety after Angel Sibanda's drowning
Water safety to be part of school curriculum from 2018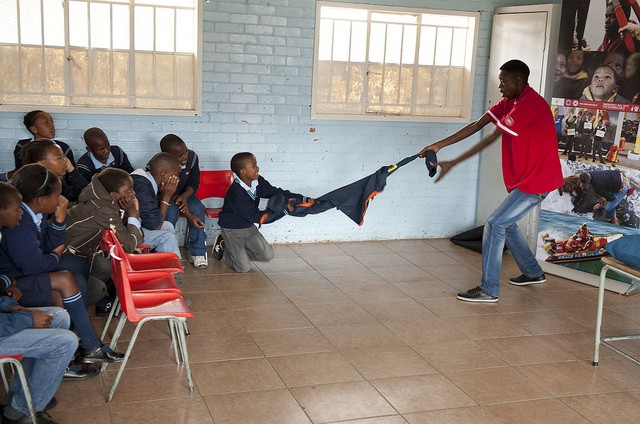 The National Sea Rescue Institute (NSRI) is leading a call for government to support regular water safety demonstrations at all schools across the country. This follows the tragic death of six-year-old Angel Sibanda who drowned in February while she was trying to cross a river that was in flood, to go home after school.
Her death sparked criticism of government in Diepsloot, where she lived, because among other issues, there was no footbridge built over the river that claimed her life. Residents also demanded water safety lessons be taught to their children because many of their shacks are located near the Jukskei River.
The Jukskei River is one the largest in Gauteng, with numerous tributaries that discharge into it. It is prone to flash floods during the rainy season.
Speaking on behalf of the NSRI, Andrew Ingram told GroundUp that in the days after Angel's death, the organisation paid for an instructor from the WaterWise Academy to visit her school to demonstrate critical water and life saving techniques.
"We funded Percy Mthombeni [from the academy] to travel to [Diepsloot Primary School] and teach the children. He reached 1300 children that day," Ingram said.
The WaterWise Academy is the educational initiative of the NSRI and was formed to reduce the incidents of drowning in the country. The academy consists of 10 full time paid instructors and 9 volunteers.
Ingram said the NSRI also appealed to the Department of Basic Education to include water safety in the school curriculum and the department agreed to place the subject in the open source life orientation textbooks. Ingram said the subject material was expected to be completed by 2018.
"We are very happy that water safety will be brought into schools… but we need help to get our instructors into as many schools as possible each day."
Ingram said that the NSRI is pushing for the department to facilitate water safety lessons at schools on a frequent basis. "Ask Diepsloot Primary School. They felt that the lesson was so valuable that they have asked us to return regularly."
Ingram said the students learned never to cross any river that was in flood, regardless of its size. He said Mthombeni also provided basic CPR lessons and equipped pupils with a plan of action should one of them find themselves in a perilous situation. This was called peer rescue and focused on teaching students how to rescue a peer without endangering their own lives.
He said while the content of the training session was focused on children, many teachers also stayed for the lesson and learnt something as well.
"It is surprising how many people do not know what number to call for an ambulance [10177 from cell or landline] and how to do CPR."
Ingram said WaterWise Academy have demonstrated to over one million children around the country. "Each year [we] teach about 260, 000 children."
© 2016 GroundUp.

This article is licensed under a Creative Commons Attribution-NoDerivatives 4.0 International License.
You may republish this article, so long as you credit the authors and GroundUp, and do not change the text. Please include a link back to the original article.