Dial-a-Ride users say the service is deteriorating
Vehicles easily confused with MyCiTi buses put disabled commuters in danger, say passengers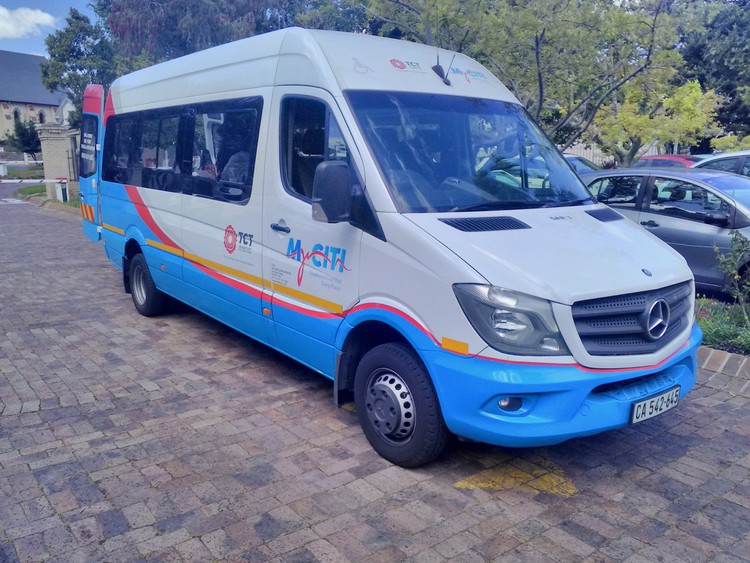 Some members of the Dial-a-Ride User's Forum have expressed concerns about the safety and quality of the service as well as fee increases under the current contractor.
Members of the forum say the service they get from Dial-a-Ride, which provides transportation to people with disabilities, has deteriorated since HG Travelling Services won the tender on 1 December 2015.
In April, users protested against the provincial government about the use of MyCiTi branding, availability, cost and safety. A Dial-a-Ride bus was attacked recently in a housing protest.
Debbie Bedien, a member of the forum, said that buses used to be plain white with yellow Dial-a-Ride logos. "Whether it was taxi strikes, public strikes,or bus strikes, we weren't affected," Bedien said. But the buses now have the colour scheme and the logo of MyCiTi buses.
HG Travelling Services referred GroundUp to the City of Cape Town for comment. The City said the vehicles were clearly marked on the back and sides. However, a Dial-a-Ride vehicle which GroundUp photographed did not have these signs on the right side (it did have a sign on the left side).
Brett Herron, Mayoral Committee Member for Transport, said, "The MyCiTi logo features on all of those vehicles that are contracted by the City to provide a public transport service to the public."
Dial-a-Ride Forum members also complained about the rising cost of the service. Since 2015, a 20km trip with Dial-a-Ride has gone from R8.80 to R13; for a trip under 5km it has gone from R6.70 to R9.
Members of the forum complained that the service was very booked up and Cape Town's other public transport services were mostly inaccessible, a situation not set to change for several years.
"By 10:30am all rides [for the next week] are fully booked," said Bedien.
About 800 people use the service on a "regular or ad hoc basis" according to Herron. He said HG Travelling Services had increased capacity for wheelchair users from 72 to 102 since gaining the contract. It currently operates 21 vehicles, 20 of which can accommodate passengers using wheelchairs.
Elroy Lodewyk, also a member of the Dial-a-Ride forum, said bookings were sometimes missed. He said some commuters had even lost their jobs due to the lack of reliability of Dial-a-Ride.
But Herron said, "The City was not informed about any commuter who has lost his/her job as a result of the Dial-a-Ride service."
He said financial penalties could be imposed by the City should HG Travelling Services fail to provide adequate service.
Dial-a-Ride users say that passengers can be on the bus for hours. Another member of the forum, Luwie Links, said, "They pick up something like nine people. If you are first to be picked up at 5:10am in the morning, you will arrive at work at 8 or 8:30am."
Members of the forum are also unhappy that Dial-a-Ride now requires users to be assessed by an occupational therapist every two years, even in cases where users' disabilities are permanent.
Lodewyk said, "I'm 22 years in a wheelchair. What, after 23 years I will walk again?"
See also: Behind the special needs bus attack
Dodgy people are suing us. Please support us by contributing to our legal costs and helping us to publish news that matters.
© 2017 GroundUp.

This article is licensed under a Creative Commons Attribution-NoDerivatives 4.0 International License.
You may republish this article, so long as you credit the authors and GroundUp, and do not change the text. Please include a link back to the original article.