On denialism: the journey of Patricia de Lille
Mayor has chosen expediency over justice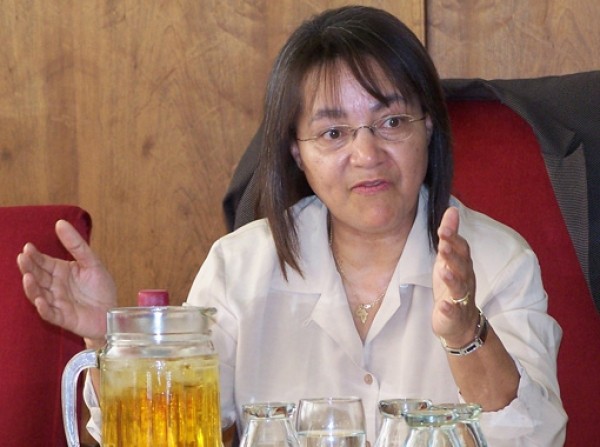 In early 2010, under then leader Patricia de Lille, the Independent Democrats (ID) said it was 'alarmed and deeply concerned' about sanitation in Cape Town. The ID accused the City of Cape Town of "manipulating statistics for appearances" while "over-reporting and under-delivering…" It was in response to this statement by Cape Town Mayor, Dan Plato: "…100% of households enjoy access to basic levels of sanitation and water."
The ID was so disturbed it raised the issue with Mayor Dan Plato directly in council:
"Cllr B Herron … enquired whether the discrepancy between the annual report of the City, which claimed a 100% delivery on basic sanitation, and the independent report, which indicated that 37% of households in informal settlements had no access to basic sanitation could be clarified … The Executive Mayor [Dan Plato] commented that according to the City's in-house research in respect of services to informal settlements, 100% of the 225 informal settlements do have the necessary basic services…" (See the minutes here.)
Just over a year later, Patricia de Lille became Mayor of Cape Town. After a brief period of admitting problems and promising action, in August 2013 she released this statement: "…100% of households within informal settlements in the City of Cape Town have access to adequate sanitation."
Politicians often lie. But denialism is more than a few lies. It is an intricate web of carefully repeated untruths, deflections, and distortions. It rejects all facts and logic, intended on creating a new and false logic entirely.
At the heart of de Lille's denialism is a fixation with the short-term political imperative of whataboutery, constructing the mythical story of Cape Town, fiercely competing for the extraordinary prize of being the least bad. Rational arguments or facts have become irrelevant for the sake of immediate political expediency.
This has paralysed her administration on informal settlements. City officials remain trapped and unable to do anything different as long as the denialism exists. Informal settlements therefore remain as they are in perpetuity.
The Social Justice Coalition (SJC), and many thousands of residents, have asked for something very clear: a plan for long-term sanitation infrastructure in informal settlements. A plan. People often don't believe us when we explain that the City has no plan for long-term infrastructure. They display real shock that the City not only flatly refuses to produce one, but also viciously attacks us for asking.
By the time the August 2013 statement came out, Africa Check had already debunked the claims by the Mayor's former Chief of Staff, Paul Boughey on sanitation. The SAHRC's national report noted the unreliability of the Water Affairs report on which de Lille's statement was based. And as I found out after meeting with the officials who authored the Water Affairs report, its 'data' came from the City itself – comical given that it was Dan Plato's officials who would have provided the first batch of 'data' to them back in 2010.
But the following year, de Lille went on to solidify many of her central themes. In July 2014, the SAHRC made findings against the City as a result of the SJC's social audit on Mshengu toilets the previous year. She attacked the Deputy Chairperson accusing her and the SJC outright of effectively being part of an ANC conspiracy to "undermine elected governments and their electoral mandate". Ironic given that SJC had also just concluded with public hearings at the Khayelitsha Commission of Inquiry into policing after a bruising two-year legal and political battle with the Minister of Police, over Saps, a national government function.
When the complaint was sent back to the Western Cape office for reinvestigation due to procedural issues, de Lille simply lied and claimed she had been 'vindicated' on rights violations and sanitation services, even after the SAHRC itself repeatedly explained that this was untrue.
Paul Boughey personally emailed SJC General Secretary, Phumeza Mlungwana and I, demanding to know details about SJC's funding. De Lille's statements accusing the SJC of misrepresenting facts in order to get money, quoted staff costs from our audited financial statements, and blamed international donors – a page from Thabo Mbeki's book if ever there was one.
The ad hominem attacks and complete refusal to engage constructively with evidence got so bad that many others spoke out against this disturbing behavior. Would you believe that the main demand from the janitorial service social audit at that time was simply for MAYCO Member, Cllr Ernest Sonnenberg, to develop an implementation plan for the janitorial service? You would think participants of the audit were trying to commit high treason!
It was with the City's budget however - perhaps because she felt especially threatened by what the SJC had found - that all connection to reality was lost. Last year, in response to hundreds of budget submissions and a detailed analysis of the sanitation capital budget, de Lille mocked those who participated in the budget process, saying in Council that they should 'buy calculators' and learn how to 'read a budget'. Hearing a Mayor speak so unashamedly was alarming. We also then found out that all 502 submissions had been misrepresented and silenced.
In response to the SJC's submission, she hurled an unprecedented and venomous barrage of insults, amongst other things, declaring 'international donors' and 'puppet masters' responsible for it all. How insulting to say that residents of Khayelitsha can't think for themselves.
These attacks weren't made in the heat of the moment. They were printed in black and white in her speech. A Weekend Argus editorial questioned why de Lille chose to respond "with petulance rather than maturity", finding "it necessary to deride…engaged, civic-minded citizens". She responded in the paper defiant: "I stand by every word I said in the council chamber…"
Indeed, the City and Western Cape Provincial Government jumped so far off the cliff with de Lille they launched citywide (and expensive) advertising campaigns to show off. The massive billboards that towered over informal settlements in Khayelitsha, bragging to the residents below about access to water or toilets, was surely the most disturbing, yet pertinent sign of the level of crude absurdity the government had reached.
As we approached the tabling of the 2016 budget, she went as far as disputing what was printed in the City's own budget documents. On national television, displaying Donald Trump confidence, she told Justice Malala that the SJC was making up the R15 million that is allocated for capital spending for sanitation in informal settlements. She said: "I will challenge anybody to come and show me tomorrow in the budget of Cape Town, where is the 18 million and that we've reduced it to 15 million!" (It is in fact in Annexure 1, p. 42 at the bottom of the page.)
I joined SJC members this Wednesday to listen to the budget speech and its debate in Council, perhaps naively thinking that for the first time in three years we might see engagement with reality rather than myth. Three thousand residents from informal settlements made submissions this year. As she insulted the SJC once again and tried to misrepresent the arguments, it became so clear to me: de Lille is truly blinded to the fact that the submissions came from real people like Zukiswa Qezo and Asithandile Xakatugaga. And that real people are asking for something both reasonable and possible. The one thing standing in their way is Patricia de Lille. See for yourself.
Dodgy people are suing us. Please support us by contributing to our legal costs and helping us to publish news that matters.
© 2016 GroundUp.

This article is licensed under a Creative Commons Attribution-NoDerivatives 4.0 International License.
You may republish this article, so long as you credit the authors and GroundUp, and do not change the text. Please include a link back to the original article.