Deadly highway soccer game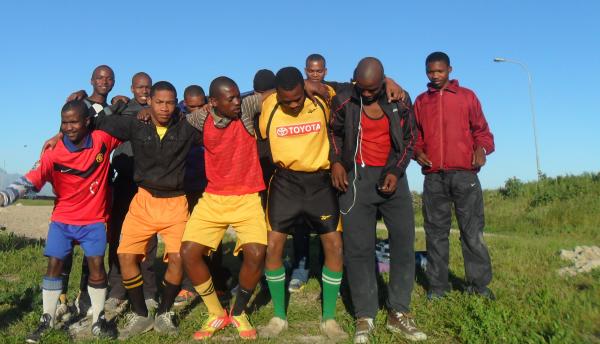 Founder and coach of the Brothers of Peace soccer team, Innocent Benya, said that lack of sporting facilities and resources in the Khayelitsha community nearly cost one of the team players his life last year when he chased a ball towards the road and collided with a Golden Arrow bus. He was hospitalised and out of action for three months.
If you drive along the N2 near Khayelitsha, you can often see soccer players practising on the grass dangerously close to the highway.
Benya explains, "Because there is only one ground [in Khayelitsha] which is used for the league's tournaments by all the 32 teams in the league, every team is expected to find its own training ground. It is for this reason we are training in this dangerous area close to the freeway. The Khayelitsha C ground was revamped and artificial grass was put down, but we are not allowed to train there because it lacks the capacity to hold all the soccer teams in the Khayelitsha community," he added.
Sibongiseni Apols, who plays left-wing and mid-field, said that their team was named Brothers of Peace to encourage unity, peace and harmony among the players. It was formed in 2007 with the objective of removing young boys from the peer pressure of crime, drugs and gangsterism. They train every week from Monday to Thursday from 5pm to 7pm. "We are in Lingelethu Association League which consists of 32 teams divided into two streams. First division houses 16 teams and super league division also houses 16 teams. Our team qualified for the super league division in December last year," he said.
"A joining fee of R3,500 [per club] is required to affiliate to the league, which later uses the money to pay the tournament prizes. We fund-raise and depend largely on donations because most of the team players are students and some are unemployed," said Siphelo Maphanga who plays centre mid-field in the team.
Vice-captain of the team Xolani Twala said that the challenges they are facing do not bring down this committed team. Their parents and community are very supportive. They go to watch the team's tournaments in the stadium.
Twala emphasised that their ground is very bad, dangerous and not cost effective as they have to buy a new ball every week. They are always losing balls to the vehicles which rip them open when they are accidentally kicked towards the freeway. The ground does not have goal posts and they have resorted to using small sticks instead. He said another challenge is a training kit. The one they have lacks soccer boots and shin guards and they have to borrow these items from friends every time they have a tournament. They also lack bottles, yet are supposed to take fresh water to every tournament.
Founder Benya said he has been looking for sponsors since he established the club but with no success. He covers many club expenses out of his own pocket. He runs a spaza shop. He said the club has 54 members, all active and committed.
As GroundUp drove past the N2 freeway, we noticed two more soccer teams training in this dangerous area, illustrating the lack of community sporting facilities.
Dodgy people are suing us. Please support us by contributing to our legal costs and helping us to publish news that matters.
© 2016 GroundUp.
This article is licensed under a
Creative Commons Attribution-NoDerivatives 4.0 International License
.