The day the students stormed Parliament
|
Ashleigh Furlong, Tariro Washinyira andPasqua Heard
News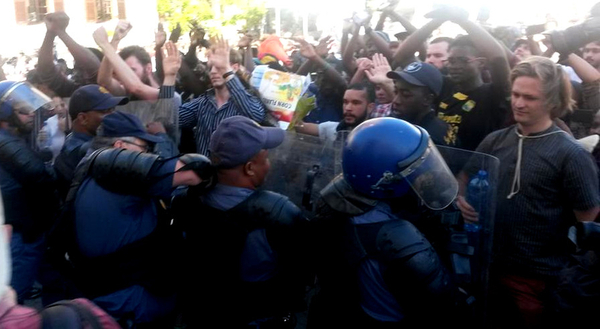 Students pushed their way through the gates of Parliament today as universities across the country closed down in the face of nationwide protests against proposed fee increases.
The students, from the University of Cape Town and the Cape Peninsula University of Technology, marched through the streets of Cape Town and the Company's Garden to the gates of Parliament. Some of them came in the University of Cape Town's Jammie Shuttle buses.
Chanting "We want Blade", they called for the Minister of Higher Education Blade Nzimande to address them. The student have rejected the 6% cap on university fee increases announced by Nzimande yesterday after a meeting with university vice-chancellors.
Some students pushed through the gates of Parliament and reached the steps of the National Assembly before being dispersed by riot police with stun grenades and tazers. Several students were arrested.
Outside the gates the protesters sang the national anthem, while inside Parliament, Minister of Finance Nhlanhla Nene delivered his "mini-budget" speech in spite of calls by opposition MPs to postpone the speech and debate the fee crisis as a matter of urgency. MPs from the Economic Freedom Fighters were removed from Parliament after chanting "fees must fall" before the minister's speech.
Protesters marched through Cape Town's Company's Garden on their way to Parliament. Photo by Mathieu Dasnois.
After the speech Parliament adjourned. MPs were asked to go to their offices or use side doors to leave the building to avoid protesters.
Addressing the media after the adjournment, Thandi Modise, chairperson of National Council of Provinces, said that as mothers with students at university, Parliament sympathised with the students and their parents. "I think we should remember that we were once students ourselves," she said in response to a question about security at Parliament, adding that the students were not targeting Parliament but asking to speak to ministers who were in Parliament. MPs should be honoured that South Africans who were unhappy came to Parliament, she said.
Modise urged university councils to review the fee issue. She said parliamentary committees would look at issues of education and young people.
Modise added that police had assured her that no tear gas or rubber bullets had been used against protesters.
The protest at Parliament followed earlier protests today at UCT when students marched to various residences and campuses, calling the few students who were studying to join them.
UCT protesters also disrupted an accounting exam taking place in Newlands.
The students are also calling for services at the universities to be performed by employees of the universities instead of being outsourced to private companies.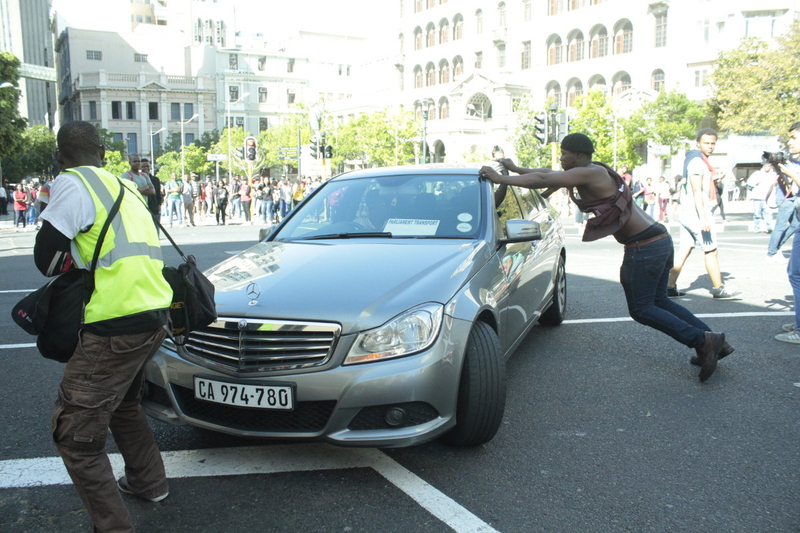 A protester confronts a Mercedes Benz at Parliament. Photo by Masixole Feni.
Protesters also secured the release of G4S workers, the campus security, to participate in the demonstrations, with full pay, after a heated discussion between protesters and the manager of G4S at UCT.
Ntebogang Segone, a protester at UCT, said that the 6% cap proposed by Nzimande was not good enough.
"Ultimately we want free education. It is through education that the daughter of a domestic worker can become a doctor. It is through education that the son of a mineworker can become a lawyer. And we can't do that when we are being financially excluded by this institution because we can't pay the fees," said Segone.
He said free higher education would take time "but we have got to start somewhere". A 0% increase in fees would be the start of a movement towards free education.
Segone said all vice-chancellors and the Finance and Higher Education Ministers should come together to find a way to prevent any fee increase.
"Treasury does not prioritise education. We want free education in our lifetime," said Alex Hotz, another protester..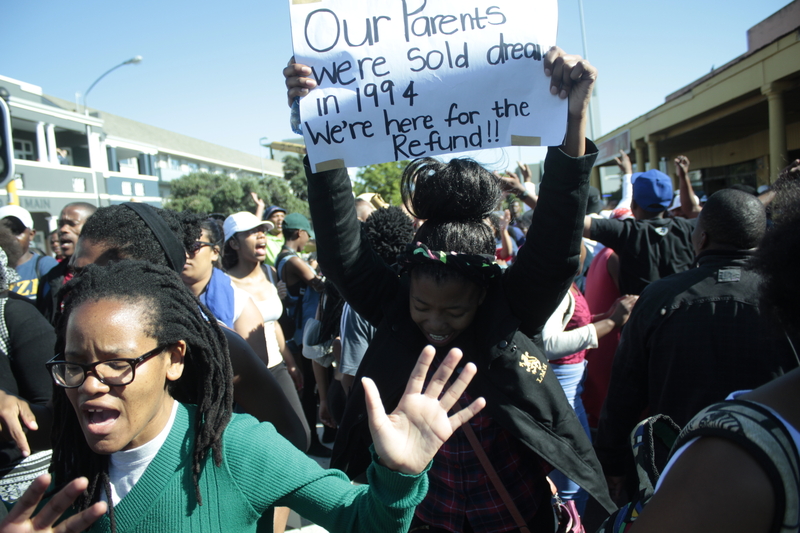 Students marched on several UCT residences before moving on to Parliament. Photo by Masixole Feni.
She said that the government should find more money for education and university vice-chancellors earned "way too much".
"Blade must stop shifting responsibility," she added.
Yesterday Nzimande promised that a task team from the universities and the government would report back in six months.
Some students said they agreed with the protests but did not want to get involved because they had to study for exams.
"My dad is paying my fees and I think that the best appreciation I can give him is to get good marks," said a first-year student who did not want to be named.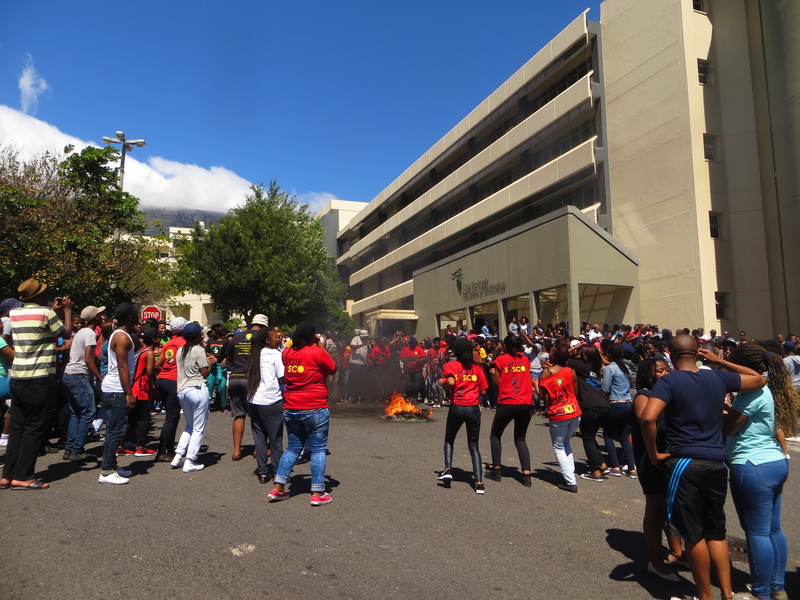 Students demonstrate at the city centre campus of the Cape Peninsula University of Technology. Photo by Pasqua Heard.
The entrance to the Cape Peninsula University of Technology (CPUT) city centre campus was blocked today by several hundred students in a bid to prevent lectures from taking place.
One of the students, Lwando Nkasana, said fees should be reduced. "We want free education. By increasing fees they are chasing students away from the university. This will encourage the students to become criminals as they will end up roaming the streets with nothing to do."
He said students also wanted security and cleaning to be done by staff of the university and not outsourced. He said cleaners and security guards employed by labour brokers were "exploited".
"Some of them have been working for more than nine years but when they are dismissed they go without any benefits. They work under difficult conditions and sometimes without protective clothing. Other people on the same level with them are getting benefits and better wages. We would like CPUT to employ them," he said.
At the CPUT Bellville campus, hundreds of students who had gathered to protest against fee hikes and to complain about vice-chancellor Prins Nevhutalu were joined by students from CPUT's nursing programme in Athlone.
Some of the students said they had been there since 4am this morning.
Eight police vehicles blocked the entrance to the campus. At one point students burned a dustbin at the entrance while police stood in a line.
Student protesters did not want to give their names, saying they feared punishment by the university administration.
"They want to increase the fees, but we cannot even afford the current fees. We are planning on staying here as long as our needs are not met," said a student from the Economic Freedom Front.
"If we can't pay our fees we are academically excluded. We have about 330 workers here at CPUT and they can't afford to send their children here. This is not an enterprise - it's a public institution, so it should be free," said one student from the Pan Africanist Student Movement of Azania.
Another student from the same movement said of the vice-chancellor, "Whenever there is a problem here, he flies to another city. He doesn't listen to us," said the student.
Students at the University of the Western Cape joined the nationwide protest against fee increases. Photo by Tariro Washinyira.
At the University of the Western Cape, students marched around the campus and then forced their way into the student centre, overpowering security guards after a tussle. They started to sing and called on other students to join them.
Lwando Nkasana said he was protesting because he had heard fees would be increased and his parents could not afford this. "I might try other options like getting a loan to pay for my fees but it is not the best option for me. How can I start off my career with a big debt?"
He said other students who had loans from the National Student Financial Aid Scheme battled to pay the loans back after graduation because they were unemployed.
Qaqamba Nungu, a fourth year law student, said he was supposed to be studying for exams but the protest was very important to him.
Nungu said, "Right now it is not guaranteed that if I pass this year, next year I will continue with my studies because of high fees introduced. I feel like UWC is moving away from its history of being an affordable institution which accommodates poor students."
Photos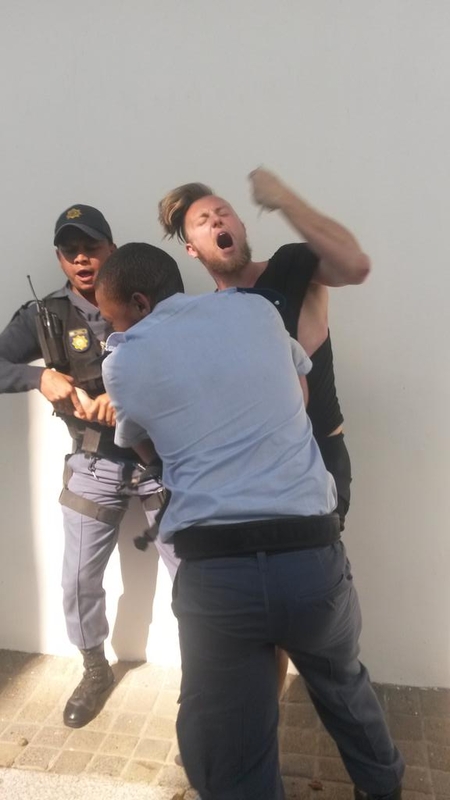 Police were going to arrest this man at Parliament, but then released him. Photo by Ashleigh Furlong.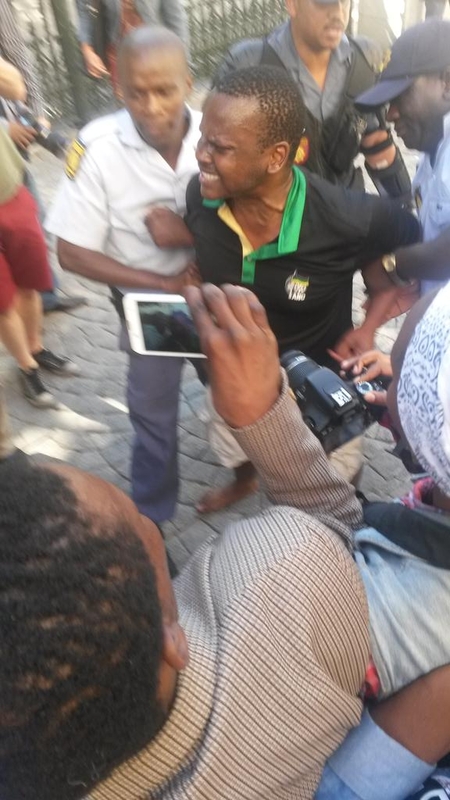 Police did arrest this man. Photo by Ashleigh Furlong.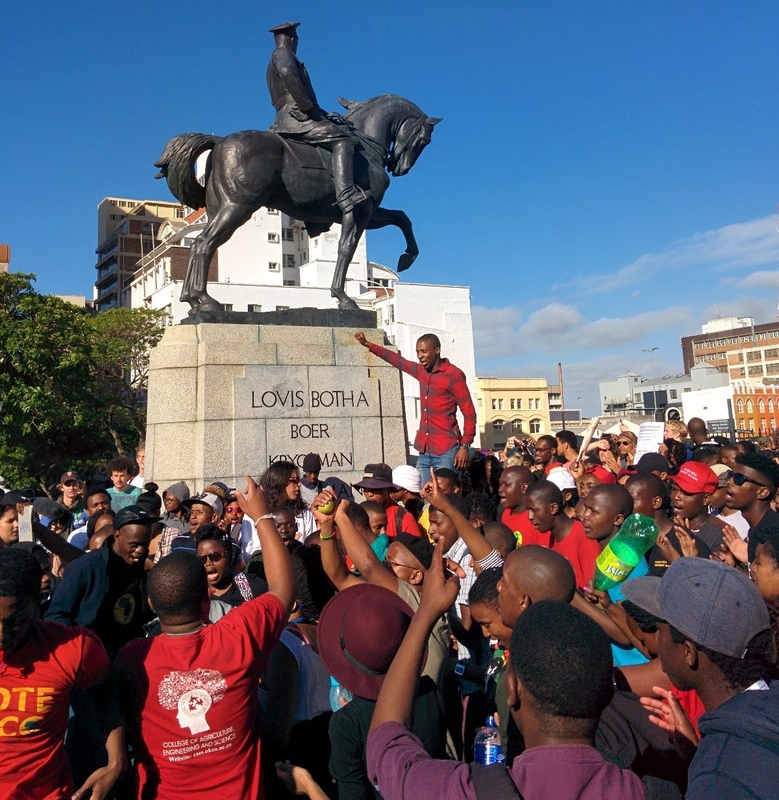 Students protest in front of the statue of Louis Botha outside parliament. Photo by Mathieu Dasnois.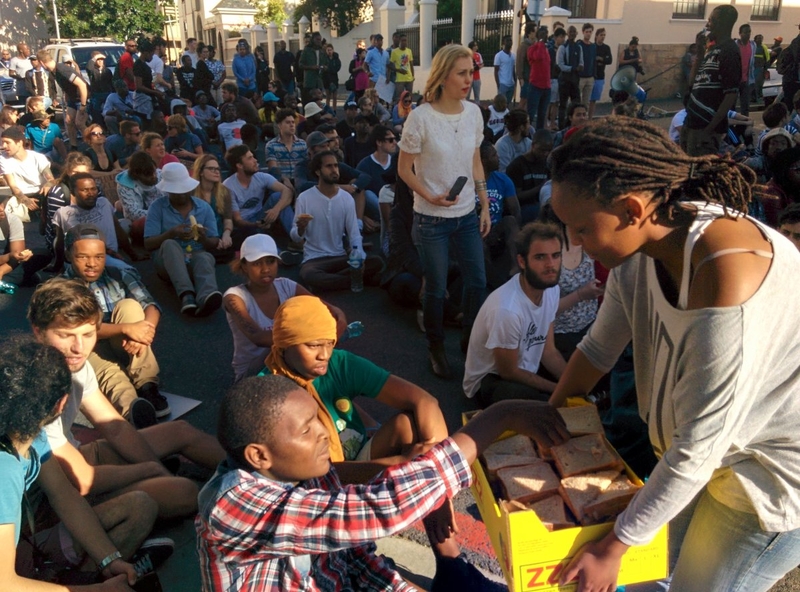 Sandwiches, oranges and water were distributed to protesters sitting at the exit from Parliament today. Photo by Mathieu Dasnois.
© 2016 GroundUp.
This article is licensed under a
Creative Commons Attribution-NoDerivatives 4.0 International License
.