Last-minute delay to court hearing on eviction of homeless people on Cape Town's streets
The Socio-Economic Rights Institute of South Africa, representing about 120 homeless people, wants the City to provide "proper alternative accommodation"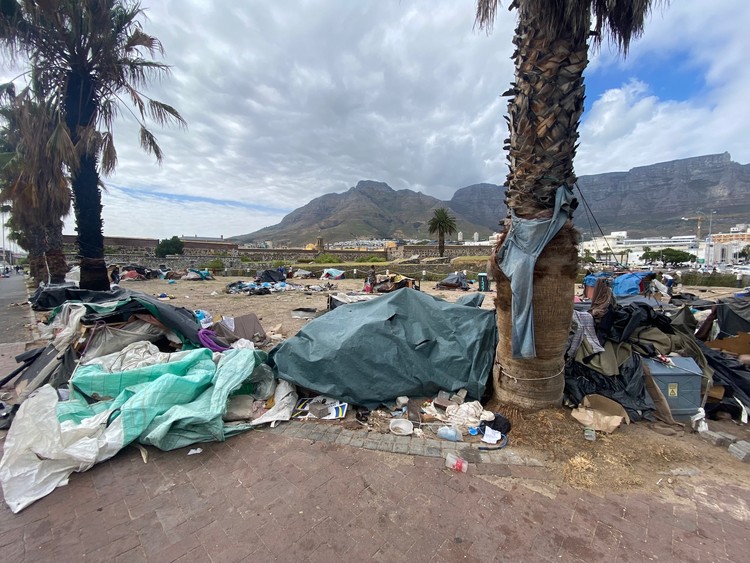 The City of Cape Town's application to evict people living on several sites in the city centre has been delayed by several months.
The matter was to have been heard in court on Wednesday.
But at the last minute the Socio-Economic Rights Institute of South Africa (SERI), representing the group of about 120 homeless people, filed an intention to oppose the eviction.
The court has given the homeless people until June to file answering affidavits.
A group of homeless people, represented by the Socio-Economic Rights Institute of South Africa (SERI), have delayed the hearing of an application by the City of Cape Town to have them evicted from several public sites.
In February, the court granted the City's application for eviction notices to be served at "various unlawful occupations in the Central Business District". These sites in the city centre include Buitengracht Street, FW De Klerk Boulevard, Foregate Square, the Taxi Rank and Foreshore, Helen Suzman Boulevard, Strand Street, Foreshore/ N1, Virginia Avenue and Mill Street Bridge.
The application for the final eviction was to be heard in the Western Cape High Court on Wednesday. But the hearing has now been pushed back several months after SERI filed its notice of intention to oppose the eviction this week.
Cape Town Mayor, Geordin Hill-Lewis, in a statement on Wednesday said it was unfortunate that the City's plan to increase "dignified transitional shelter and help more people off the streets" would now be delayed".
"The City remains of the view that no person has the right to reserve a public space as exclusively theirs, while indefinitely refusing all offers of shelter and social assistance.
"Our city's public places serve important social and community purposes and must be open and available for all. Illegal occupations of City open spaces impact the safety of traffic and pedestrians, as well as local businesses critical to growing the economy. Accepting social assistance to get off the streets is the best choice for dignity, health, and well-being," he said.
Hill-Lewis said that "a late filing such as this not only wastes state resources but causes severe delays in the matter. In the City's view, the net effect of this will be to keep people on the streets much longer through the Cape winter".
In the statement, he said Social Development officials had made repeated offers of social assistance to people occupying public spaces in the city centre, including transitional shelter at night shelters run by civic organisations and City-run Safe Spaces.
Khululiwe Bhengu, an attorney at SERI, is representing the group of about 120 homeless people. She told GroundUp that SERI had been approached by the people living at the seven sites to oppose the eviction. "Right now, it might seem to many that they are homeless. But they've got shelter at the seven sites. It may not be brick and mortar, but those are their homes."
She said that the group had highlighted a number of issues with the safe spaces, such as the opening and closing hours. She said they needed to be provided with "adequate alternative accommodation" by the municipality.
Bhengu explained that it was important that the group be given time to file their answering affidavits. "We went to court to postpone the matter because it was on the unopposed [court] roll and now it needs to be on the opposed roll. Once we've filed our answering affidavits then the City will be given an opportunity to file its replying affidavit." SERI is to file its answering affidavits to the court by no later than 30 June.
"The ideal situation in these circumstances is for the City to provide proper alternative accommodation. There needs to be a long term solution. You can't keep people in temporary accommodation forever," she said.
The matter is now set to be heard in October.
Dodgy people are suing us. Please support us by contributing to our legal costs and helping us to publish news that matters.
Letters
Dear Editor
The way people living in the Green Point and Sea Point areas are treated is disgusting. On Tuesday evening at 02:00, I was awoken by two guards from a private security company kicking and pepper spraying me. When I asked why they just told me to eff off. This is inhumane!
© 2023 GroundUp. This article is licensed under a Creative Commons Attribution-NoDerivatives 4.0 International License.
You may republish this article, so long as you credit the authors and GroundUp, and do not change the text. Please include a link back to the original article.
We put an invisible pixel in the article so that we can count traffic to republishers. All analytics tools are solely on our servers. We do not give our logs to any third party. Logs are deleted after two weeks. We do not use any IP address identifying information except to count regional traffic. We are solely interested in counting hits, not tracking users. If you republish, please do not delete the invisible pixel.