Compensation Fund has failed stab victim
Thamsanqa Mtyobeni's fate part of "huge national crisis" says hospital director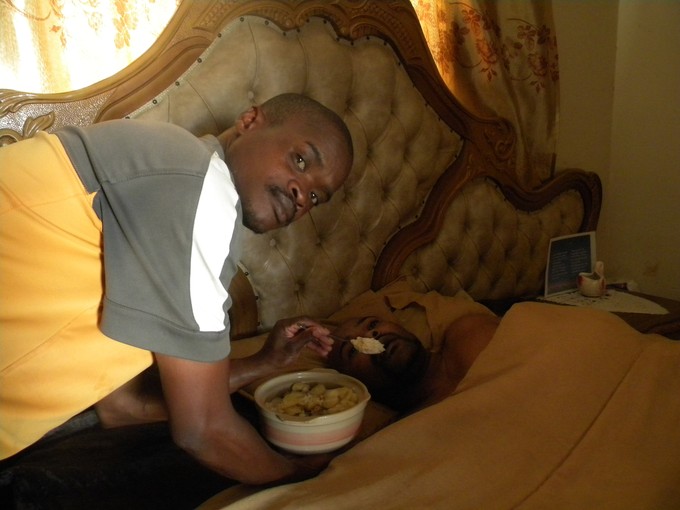 Thamsanqa Mtyobeni has spent the past ten years lying on his bed after he was stabbed in the back during a robbery in Mossel Bay. He is 37. He was working for a private security company as a guard. The single stab damaged his spinal cord, affecting his bladder and leaving his lower half paralysed. He has to be helped even to sit up in bed.
At his family home in Wells Estate, Port Elizabeth, Mtyobeni spoke about the day in November 2006 that changed his life.
"I was stabbed by a knife in the back by one of the four robbers. I was guarding a tavern in KwaNonqaba township … I spent a couple of months recovering in a Mossel Bay hospital before I requested in February 2007 to be transferred to Port Elizabeth where my family lives. I was admitted at Aurora hospital the same month."
He says after his discharge, he spent the following four years without an income as his application to the Compensation Fund took very long to process. He had worked for the security company for nearly five years.
"I eventually approached a lawyer to help," he said. "We agreed with the lawyer that he would deduct 20% from my compensation. I eventually got R100,000 in 2011 as a payout for my injuries, and the lawyer deducted his R20,000 commission.
For Mtyobeni's serious disability the Compensation Fund is supposed to pay him a monthly pension of 75% of his wages.
"Everything was moving smoothly until last year when the hospital and the pharmacy where I used to get treatment stopped doing so. The service providers said the Compensation Fund was owing money in unpaid bills to many hospitals including them. I have not received medication or a medical check-up since March last year," he says.
He says his body is weakening by the day.
"Besides medication, I also need regular physiotherapy," said Mtyobeni.
He says he has approached the fund several times for a referral to another hospital, but without success. He lives with his brother, Mabuti Sokunentsa, in their late parents' house. Sokunentsa is unemployed and looks after his brother around the clock. He does the shopping. He hand feeds him. He bathes him and empties the neurogenic bladder his brother has to use.
The Compensation Fund, which falls under the Department of Labour, compensates people or their families who have been disabled or killed while working.
Dr Ros Campbell, medical director of Aurora Hospital, said he could not speak specifically about Mtyobeni's case. But, he said, the administration of the Compensation Fund had deteriorated to a point where there were very few private practitioners still prepared to look after patients injured on duty.
"The problem is that the Compensation Fund is not administering the accounts.There are vast delays in paying the accounts, more often not paying at all," said Campbell.
"We need authorisation from the Compensation Fund for our patients to have letters of authorisation to pharmacies to get medication."
"At times, we have literally had to wait for two to three years to get that authorisation."
Campbell said the hospital was desperate. "We have been to Pretoria on numerous occasions where we met with the Compensation Fund. We have pleaded with them and even offered to help."
"We had an incident in which a patient who wanted an urgent operation had to wait for 25 months to get the authorisation. Our problems is that there are times when we phoned, faxed and emailed repeatedly to follow up on certain cases. The majority of times you can't even get through to their medical department. It is part of a huge national crisis," said Campbell.
Schuin Villa Pharmacy where Thamsanqa used to collect his medication said, "Mr Mtyobeni was contacted via phone and SMS to let him know that we will be needing a new script and authorisation letter [from the Compensation Fund]."
The deputy director of communication for the Compensation Fund, Dikentsho Seabo, said, "Kindly send the hospital information to me, because our system shows payments that have been made to Aurora. It will be appreciated if we get proof of those claims where payment was not made."
Dodgy people are suing us. Please support us by contributing to our legal costs and helping us to publish news that matters.
© 2016 GroundUp.

This article is licensed under a Creative Commons Attribution-NoDerivatives 4.0 International License.
You may republish this article, so long as you credit the authors and GroundUp, and do not change the text. Please include a link back to the original article.