Claremont Mosque calls for religious leaders to respond to Cape Flats violence
Vigil held for city's residents "trapped" in conflict areas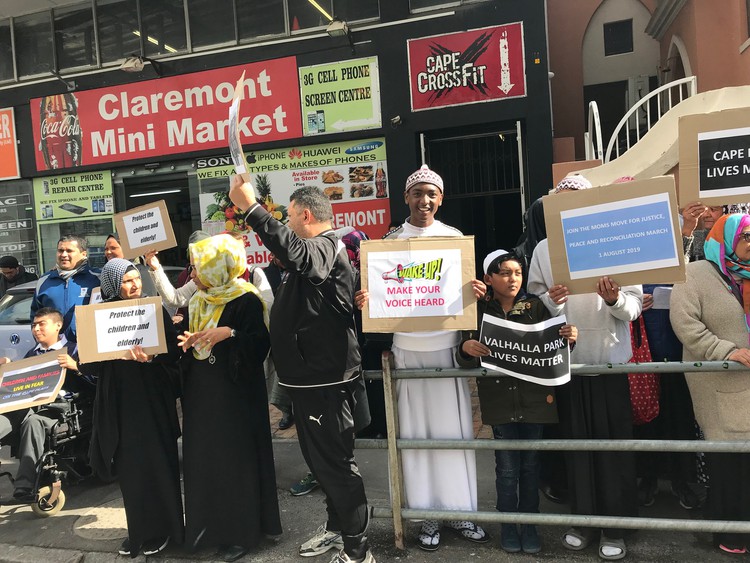 The Claremont Main Road Mosque has for decades been one of Cape Town's centres of resistance and conscience. On Friday about 300 people gathered at the mosque to express their concern at what a press statement called the "war" on the Cape Flats.
"The state has responded with military solutions – more police, army deployment, more raids, arrests and crackdowns. These are desperate and short term solutions that do not address systemic change," said the statement by Jaamia Galant, Salih Solomon and Rashied Omar, the mosque's imam.
Henriette Abrahams, a community leader in Bonteheuwel, delivered the pre-khutbah talk on problems facing working class communities in Cape Town.
After the congregational prayer a protest vigil was held along the main road outside the mosque. Participants called for greater support and solidarity for those "trapped" in the city's conflict areas. They held placards saying "Bonteheuwel lives matter", "Valhalla Park lives matter", "Khayelitsha lives matter".
Abrahams said that social solidarity is part of the Muslim religion. She also noted that it is the 50th commemoration of Imam Haroun who fought for "poor and downtrodden" people in the city. "The time has come for our Muslims to pick up Imam Haroun's spear and lead in actively bringing about social justice for our poor."
Referring to the deployment of the SANDF on the Cape Flats, she said that communities have been traumatised by years and years of abuse, violence, crime and poverty. "The government should send in an army of social workers, psychologists, psychiatrists, sociologists and trauma counsellors."
"Our youth and adults are jobless and hopeless leaving our children malnourished, prone to ill health, lack of concentration at school and open to abuse by criminal elements, caregivers and some sex pests," said Abrahams.
The mosque called on faith leaders across the city to respond to the conflict on the Cape Flats. "They need support to grapple with their plans and strategies to bring about change. They need recognition that their lives matter too."
Ali Bekko from Wynberg, one of the participants in the vigil, said that she has family and friends living in the city's gang areas who encounter fights and crime on a daily basis. "I think army deployment is a positive intervention from the government, but I am hoping it won't have a negative impact on communities by restricting people from freely moving and curfews," she said.
Sharon Daniels from Ocean View described a robbery that took place on Friday morning in her neighbourhood. Nevertheless, she said that she is not comfortable with the deployment of soldiers.
"If the army is standing with their weapons, what does it do to our children who are already traumatised by guns? It speaks of war," she said.