Langa land claimants accuse government of divide and rule
But deputy minister says delays in handing over the land are the result of disagreements between claimants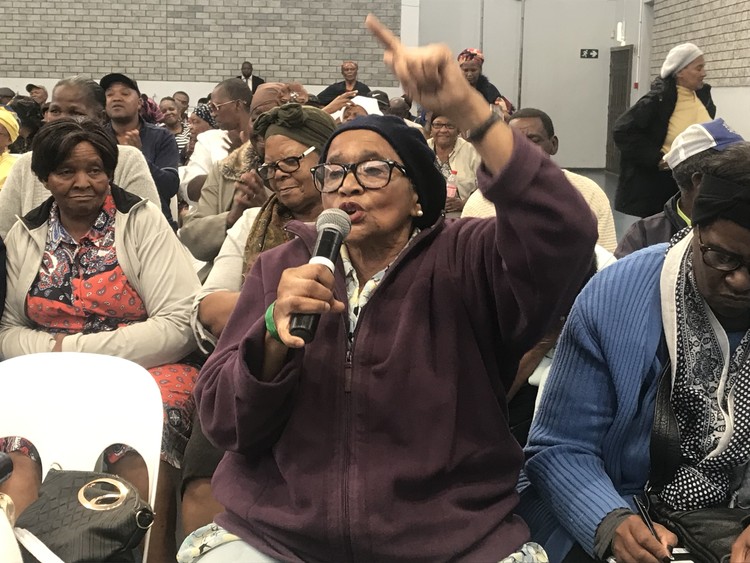 People who were forcibly removed from land in Maitland, Cape Town, some 80 years ago are accusing government officials of delaying the hand over of their land by causing division and confusion among beneficiaries.
Hundreds of people gathered at a community hall in Langa last week, where Deputy Minister of Rural Development and Land Reform Mcebisi Skwatsha listened to complaints over delays in getting their land. Issues repeatedly raised by attendees include delays in finalising the claim, a lack of transparency and unhappiness with the actions of members of the independent trust tasked with overseeing progress on the claim.
Ronnie Mbele, a fourth-generation claimant, proudly showed GroundUp a weathered document of his great-great-grandparents' marriage certificate dated 1919.
The story of the land claim is told in court papers lodged in 2018 to identify the rightful beneficiaries. The Ndabeni community were forcefully removed between 1927 and 1936 from Maitland and relocated to Langa. In 1942, the land – 54.8-hectares opposite Maitland Cemetery – was transferred to the local council, which subdivided the land and sold various portions.
At the time the land claim was lodged there were 587 claimants. After verification by the Commission and the Land Claims Court, they were grouped into 249 households. The court papers stated that on 13 October 2001, after an extensive process, the Ndabeni Community's claim was settled, and the Ndabeni Community Property Trust was established to "serve the interests of the claimants".
Since 2004, the Trust has legally reclaimed ownership of the land following a successful claim through the Land Claims Commission in terms of the Restitution Act of 1997. But the beneficiaries have yet to reap any benefit.
Although the Trust is in possession of the title deeds to the land, claimants are still not able to do anything with the land. Hundreds of shack dwellers have occupied a part of the land and are protesting for basic services.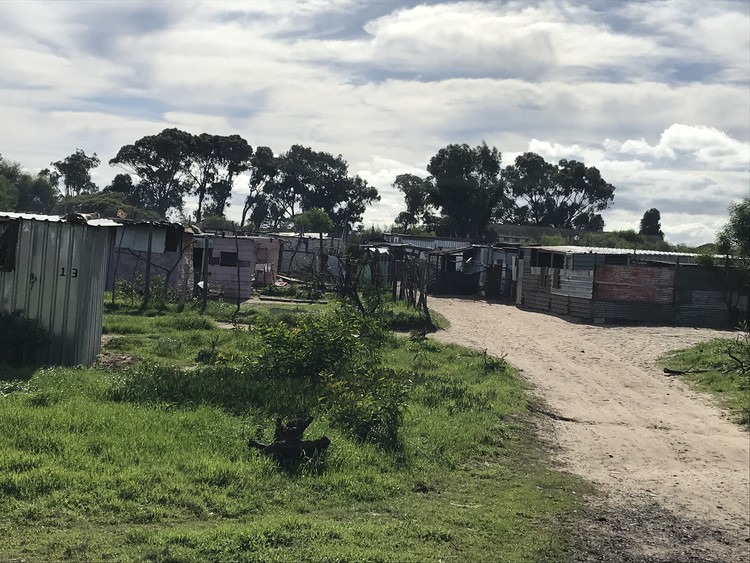 Give us our land
Mbele, 66, recalled hearing stories from his family of how traumatising the forced removals had been. He said that most of those who had lived through the removals were already dead. "My great great grandparents, aged 27 and 33, got married in 1919 and lived in Ndabeni. I'm claiming on behalf of them and my family," he said.
Mbele said the land reform department officials have caused confusion among claimants by introducing an independent trustee and making individual offers of cash compensation to some claimants.
"Some beneficiaries said officials from the department visited them in February [2023] and [they] were persuaded to take monetary compensation instead of the land. But they refused. We had meetings after meetings but there is still no progress," he said.
Felix Joseph, 73, said, "Our grandparents were forcefully removed from the land along Oude Molen in Pinelands, Koeberg and Maitland. The Department is holding us back. Newer claims have been finalised before ours. It's been 28 years of problem after problem and nothing to show. We are very upset."
Joseph said they are tired of hearing excuses from the government.
"The community is fighting, yet they [officials] are the ones dividing us for their own benefit. We are still taken for granted over 20 years after the claim was settled in court. This unfair treatment has caused a hell of a delay," he said.
During the meeting, Regina Mama Joja accused the department and Skwatcha of only meeting with them now because of the upcoming 2024 election. "You are coming to us so that we can vote for the ANC. We have held meetings upon meetings and nothing comes out of it," she said.
Mpangazita Butsaka said, "Whenever there is progress and we're on the brink of receiving what is rightfully ours, the officials cause infighting. They do not consult us. When the officials attend meetings we are not given the minutes of previous meetings. The department also creates division by paying other beneficiaries."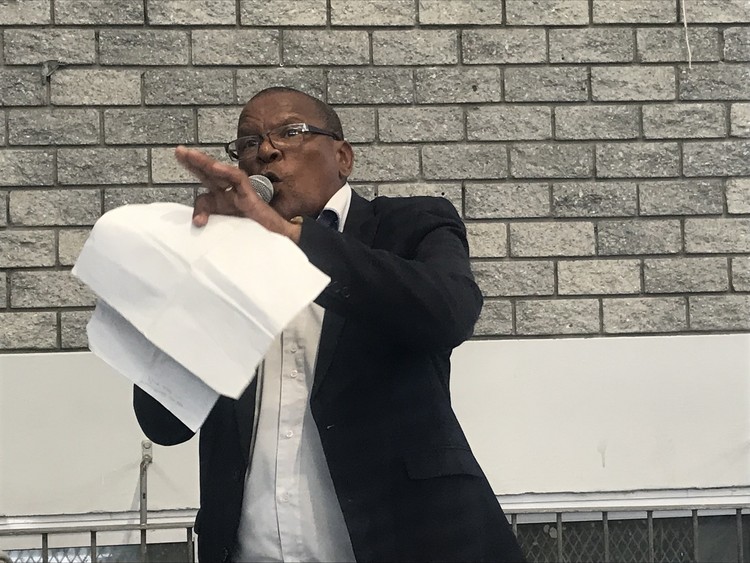 Government responds to claimants
Chief Land Claims Commissioner Nomfundo Ntloko Gobodo explained that independent trustees had been appointed by the court "to assist to regularise the process" because the process entrusted to the nominated trustees had failed.
Asked how long the verification of beneficiaries would take, she said, "We usually have a group from the community to help identify claimants in terms of the linage. So as soon as the community agrees on who is going to assist us, the process at most should not take more than three months to finalise everything."
Minister Skwatsha said that the purpose of the meeting was to clarify issues regarding the verification of beneficiaries.
Responding to concerns about the independent trustees and their mandate, Skwatsha said, "A date will be arranged for beneficiaries to meet and get a report from the independent trust. All we want from you are people who can guide the independent trustees during the verification process."
Asked about allegations that officials deliberately delayed the process, Skwatsha said, "The only people stalling the process are the people of Ndabeni with their own divisions. On the accusations of corruption. What corruption? There is no money here, this is land; there is no money and business yet."
Skwatsha noted that officials had to intervene a few years ago when the previous trustees had tried to sell the land for under R80-million when the land was valued at about R300-million.
"There are independent trustees now and they must be united … Less than 40 km from here is Richmond next to Edgemead where there was also a land claim. That group is now benefiting from dividends on their land," he said.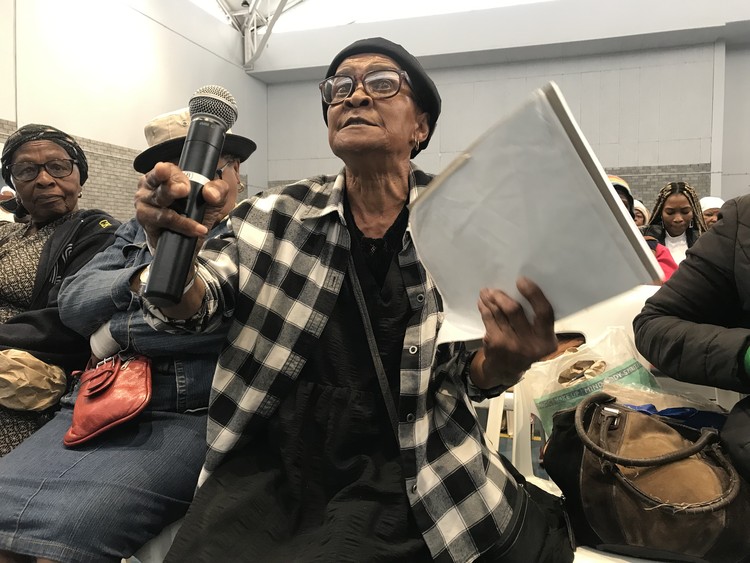 Dodgy people are suing us. Please support us by contributing to our legal costs and helping us to publish news that matters.
© 2023 GroundUp. This article is licensed under a Creative Commons Attribution-NoDerivatives 4.0 International License.
You may republish this article, so long as you credit the authors and GroundUp, and do not change the text. Please include a link back to the original article.
We put an invisible pixel in the article so that we can count traffic to republishers. All analytics tools are solely on our servers. We do not give our logs to any third party. Logs are deleted after two weeks. We do not use any IP address identifying information except to count regional traffic. We are solely interested in counting hits, not tracking users. If you republish, please do not delete the invisible pixel.