Civil society organisations rally against Zuma
Speakers in Soweto urge people to take to the streets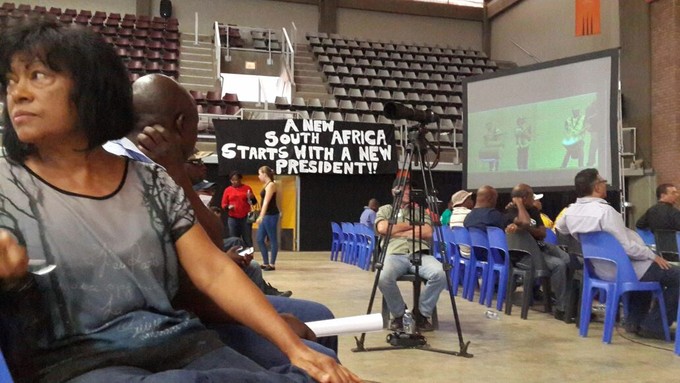 About 1,000 people from over 70 organisations met at the University of Johannesburg's Soweto campus this morning to call for President Zuma to resign. There was also a call for the National Assembly to dissolve.
Speakers from faith-based organisations, trade unions and civil society activists were in attendance.
The gathering started off in song "(Steve) Biko would cry if he saw us like this".
Dinga Sikwebu and Ferrial Adams chaired the meeting. Addressing a crowd of over 1,000 people, Sikwebu said: "As a country, we are at a crossroads. More than 50 years ago our organisation and our leaders said that the time comes in the life of any nation where there remains two choices: submit or fight. I want to summons to all to fight."
He said the democracy that many people died for was being stolen from citizens.
Sikwebu said the Constitutional Court's ruling against Zuma presented South Africans with a political crisis.
"This assembly is one among many that are happening in different parts of the country … over the future of this political crisis". He urged ordinary people to speak out. "We cannot have a president who flouts the Constitution. What are the means to show Jacob Zuma the door?" he asked the audience.
Adams said citizens must dictate the poltical agenda of South Africa. She quoted an adage: "First they ignore you, then they laugh at you, then they fight you, and then they win. … We are going to get Zuma to go. If Zuma won't listen to the people, we need to make our voices heard."
Moss Nthla, chairperson for the SA Christian Leadership Alliance led the meeting in prayer, asking for divine intervention in removing Zuma. Nthla quoted Justice Moegoeng Moegoeng's ruling adding the Zuma was under the false impression that "he is our boss."
"[Zuma is the cause of] all the problems we have with corruption and illegality," he said.
Nthla also criticised Police Minister Nathi Nhleko's "bogus report which exonerated" Zuma. He called for Zuma's allies in government to be dismantled and brought to book. "We must start with helping our President to retire to the very expensive quarters that we've built for him."
Zwelinzima Vavi former Cosatu trade union leader, was expected to address the crowd, but had a family death to attend to.
Naledi Mahooa, Chairperson of Wits Students for Law and Social Justice, said young citizens had a duty to lead the demand to call on Zuma to resign with immediate effect. "What we really need to be doing is hitting the streets with ordinary South Africans."
Gita Pather, a representative for creative artists, urged people to gather in homes and places of work to lead the protest against Zuma. "I dont think this is about Zuma. Somebody else will replace him. It's about changing the values of the ANC."
John Appolis from the United Front called for fresh elections to take place.
Genius Dlangalala, a North-West University student, said, "Zuma musty go and then what? It will be futile for us to be assembled here and leave his oppressive system intact. We must remove the root of the rot which is the capitalist system."
Vishwas Satgar from the South African Food Sovereignty Campaign said, "We must fight peacefully and non-violently. This fight cannot be a once-off rally. It has to be rolling mass action. We have to remind our rulers and politicians, not just Jacob Zuma, that … democracy is people's power." Satgar called for food profiteers to fall with Zuma.
Mark Heywood, from SECTION27 said Zuma empowered others who were just as corrupt as he is. He called for all of them to fall with the president. His statement was met with wide applause.
The People's Movement (PEMO) called for South Africans to rise up to demand Zuma's resignation. In a printed flyer, PEMO stated: "The ANC President thinks we the people, are fools, telling us that he was always prepared to pay for the Nkandla upgrades. PEMO rejects his apology with the contempt it deserves. His actions are a blatant abuse of power."
In its statement to the media, the People's Consultative Assembly for Democracy called for citizens to gather on Freedom Day, 27 April, to protest for Zuma to fall.
Advocate Dali Mpofu of the Economic Freedom Fighters also joined the meeting.
The meeting coincided with the launch of the ANC manifesto in Port Elizabeth today, where the president is speaking. According to the Mail & Guardian on Twitter, about 30,000 people attended the latter event.
© 2016 GroundUp.

This article is licensed under a Creative Commons Attribution-NoDerivatives 4.0 International License.
You may republish this article, so long as you credit the authors and GroundUp, and do not change the text. Please include a link back to the original article.