Civil society leaders support march to end Zuma regime
"We intend for the character of our march against the Zuma Presidency to be educational, embracing, inclusive and diverse"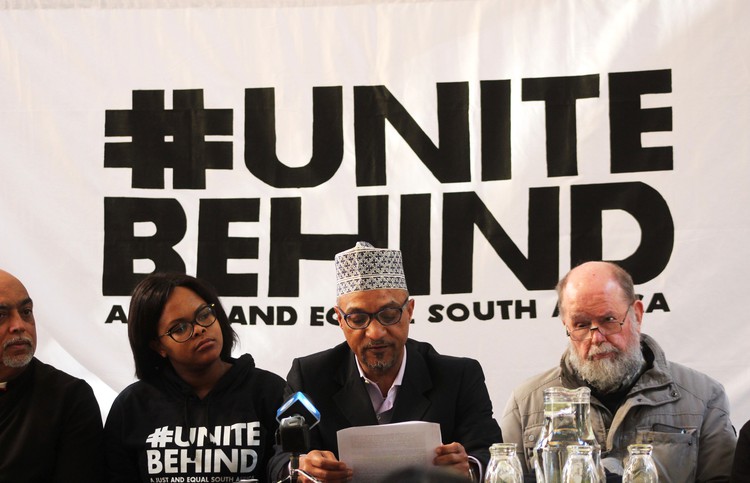 Leaders of civil society came together at a press conference ahead of the "People's March" on Monday, calling for the country to continue to mobilise against corruption after the march.
"The removal of Jacob Zuma should signal to [those in government] that even stealing a pencil from a department cannot be acceptable when we know that there are young people who are going to school and do not have stationary," said Tshepo Motsepe, the general secretary of Equal Education.
Motsepe was joined by multiple other leaders of civil society and religious organisations at the St George's Cathedral. They will be marching on 7 August in Cape Town under the banner of #UniteBehind, calling for the removal of President Jacob Zuma. On 8 August Members of Parliament hold a no confidence vote on the president.
Motsepe said that Zuma is "corrupt to the core" and that this "rot runs so deep" that even government clerks are stealing. This affects the poor and working class, said Motsepe. He said that we need to ask what kind of government we want in the future and not demobilise after the march but continue to put pressure on the government.
This was echoed by Phumeza Mlungwana, the co-chair of the press conference, who said that while marching was important, it was not the only tool that needed to be used. She said that "we must make sure that we address the systemic challenges of our country".
Mandisa Dyantyi, Deputy General Secretary of the Social Justice Coalition, said the government needs to "step up and represent the needs of the people".
"We are marching on the 7th because we have had enough," she said.
Imam Rashied Omar of the Claremont Main Road Mosque said they are "not naïve to believe that this one march will get Jacob Zuma to go." He also said that simply getting rid of Jacob Zuma and the Guptas would not mean that the country's problems were solved. Once the short-term goals were achieved, people needed to redouble their efforts to hold government to account. Omar said that he believed that the reason why South Africa is currently in this position is because civil society retreated and placed its faith in politicians.
At a recent gathering of the South African Council of Churches members were called on to withdraw their moral support from the government and to call for new elections. Omar emphasised that the march on Monday has "nothing to do with the planned marches by political parties". He said: "We refuse to be co-opted onto the political agenda of any political party."
On 8 August political parties will lead a march that is also calling for the recall of Zuma. #UniteBehind decided not to join in the 8 August march after they were unable to reach an agreement with the Democratic Alliance on the logistics and nature of the march.
"We intend for the character of our march against the Zuma Presidency to be educational, embracing, inclusive and diverse; instead of listening to a line-up of leaders from every political party, who will understandably be using the platform to promote their organisations," #UniteBehind explained in a statement.
The People's March on Monday is set to start at 3pm at Keizersgracht Street.
Dodgy people are suing us. Please support us by contributing to our legal costs and helping us to publish news that matters.
© 2017 GroundUp.

This article is licensed under a Creative Commons Attribution-NoDerivatives 4.0 International License.
You may republish this article, so long as you credit the authors and GroundUp, and do not change the text. Please include a link back to the original article.