City acts to clarify discrepancy in Rietvlei water quality tests
Tests conducted by Milnerton club contradict City's tests that found high E. coli levels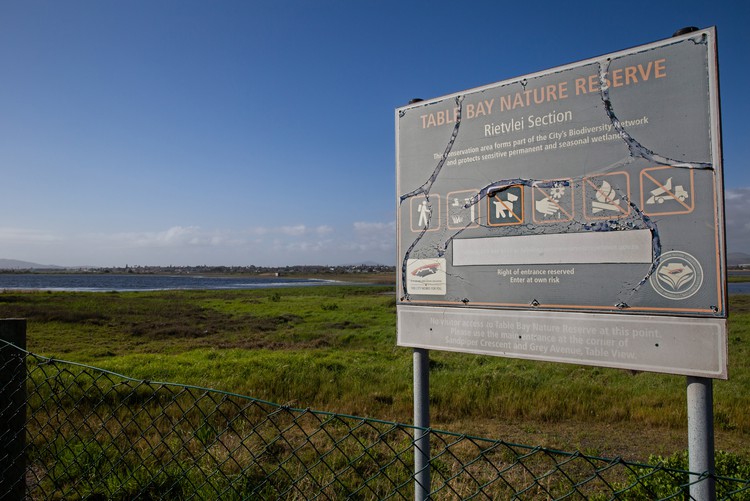 City of Cape Town scientists engaged in a joint sampling effort at Rietvlei on 3 February alongside officials from the South African Bureau of Standards (SABS), the national Department of Water and Sanitation (DWS), and the Milnerton Aquatic Club (MAC).
Independent tests have cast doubt on the City's decision to close Rietvlei and other water bodies in Cape Town after City laboratories found unsafe levels of E. coli.
Rietvlei, a popular recreational water body in Milnerton, was closed to the public on 24 June last year after water quality analysis undertaken by the City Scientific Services Branch laboratory showed high levels of sewage pollution.
Other recreational water bodies such as Zandvlei in Muizenberg, Zeekoevlei next to Grassy Park, and Milnerton Lagoon have also been closed for extended periods for the same reason.
Rietvlei was reopened on 17 November when City tests showed E. coli levels had dropped below 4,001 colony forming units (cfu) per 100ml, which is the upper limit for safe recreational activity. However, it was again closed on 29 December after samples analysed at the City laboratory again showed E. coli above acceptable levels.
Historically, during the dry summer months Rietvlei water quality stays well within acceptable levels as it is not connected to the Diep River, which may be polluted by sewer overflows and storm water pollution from upstream informal settlements, and from fertilisers and pesticides used on agricultural lands outside the City limits.
Tests conducted independently by MAC were at odds with the City's results as they revealed minimal E. coli pollution. Rietvlei is a popular summer destination for professional European windsurfers. Its closure has had a significant economic impact, and MAC has struggled to survive.
The gulf between the City's sample results and those obtained by MAC cast doubt on the City's decision to close other water bodies as a result of the City's laboratory analysis.
MAC conservation officer Katja Haslinger said the closure of the vlei on 29 December was based on results from the City's water quality samples taken on 23 December. Haslinger said the City again took samples on 29 December. When MAC compared these results to the analysis of the samples they had taken on 31 December, there was "a huge discrepancy" in results, she said.
MAC then accompanied the City to take samples on 17 January. Both parties took samples at the same place and time. The City's results showed E. coli levels ranging between more than 1,000,000 cfu/100ml and 690,000 cfu/100ml from three sampling points. MAC's samples, analysed by the Water Analytical Laboratory in Stellenbosch, could not detect E. coli in the samples.
Dr Kevin Winter from UCT's Future Water Institute undertook further analysis, taking samples at three of the City's sampling points on 25 January. He too found low levels of E. coli.
Correspondence between MAC and the City led to the joint sampling effort on 3 February, this time involving the City scientific services, SABS, DWS, and MAC.
MAC commodore Brian Weber said labelled two-litre containers were used to take samples at various points, with the water being dispensed back on shore among the four teams.
Each of the four teams would analyse the same samples, said Weber. "The results should be identical."
He said the results should be available on Monday 7 February.
If the City's laboratory does prove to be at fault, he is not sure MAC will take legal action to recoup losses incurred due to Rietvlei's closure. MAC leases its land within the Table Bay Nature Reserve from the City, and the lease is up for renewal in two year's time.
"So we have to eat a bit of humble pie," said Weber, as the 500-odd club members want the lease to be renewed.
He said MAC has been inviting club members and surrounding residents to hire the venue for events such as birthday celebrations and wedding receptions in order to survive the closure of the water body, which would attract sailors and windsurfers who would use the club restaurant and bar.
City Mayoral Committee Member for Water and Sanitation, Zahid Badroodien, said the joint sampling was to address MAC's concerns "in a scientifically sound manner with the participation of relevant stakeholders".
Badroodien said all parties have sent their samples to their relevant laboratories for analysis.
He said the City's Environmental Management Department can only open Rietvlei based on sampling results from the City's Scientific Services Branch and upon recommendation from the City's Department of Environmental Health.
© 2022 GroundUp. This article is licensed under a Creative Commons Attribution-NoDerivatives 4.0 International License.
You may republish this article, so long as you credit the authors and GroundUp, and do not change the text. Please include a link back to the original article.
We put an invisible pixel in the article so that we can count traffic to republishers. All analytics tools are solely on our servers. We do not give our logs to any third party. Logs are deleted after two weeks. We do not use any IP address identifying information except to count regional traffic. We are solely interested in counting hits, not tracking users. If you republish, please do not delete the invisible pixel.